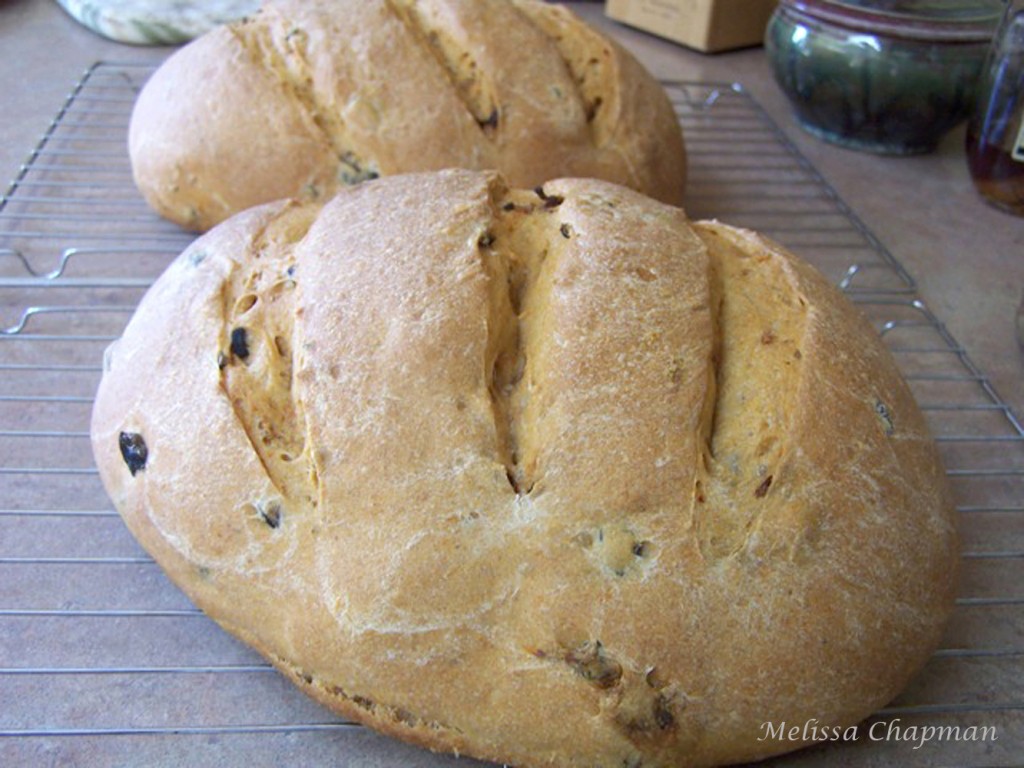 Day #3 – 30 Days of Vegan Cooking.  Today's recipe features kalamata olives and sun-dried tomatoes baked into a loaf of delicious bread.  I like to serve it with a hearty soup or stew — or the roasted vegetable chili from yesterday's post!
Rustic Peasant Loaf with Black Olives and Sun-Dried Tomatoes
from Vegan Planet by Robin Robertson
Makes 2 loaves
Typical of the artisan breads popular in bakeries and gourmet markets, this rustic loaf is studded with bits of piquant olives and sun-dried tomatoes.
 Ingredients
2¼ teaspoons (1 packet) active dry yeast
2 cups warm water
1 tablespoon natural sugar
3 tablespoons olive oil
1 tablespoon salt
5 cups unbleached all-purpose flour, plus more for kneading
1 cup whole-wheat flour
½ cup oil-packed or rehydrated sun-dried tomatoes, chopped
½ cup black olives, pitted and chopped
Directions
1. In a large bowl, combine the yeast and ¼ cup of the water. Add the sugar and stir to dissolve. Let the mixture stand for 10 minutes, then stir in the remaining 1¾ cups water, the olive oil, and the salt.
2. In a separate large bowl, combine the flours and stir until well mixed. Add about half of the flour to the liquid mixture, stirring to combine, then work in the remaining flour to form a stiff dough. Transfer to a lightly floured board.
3. Place the sun-dried tomatoes and olives on the dough and, using your hands, knead briefly to incorporate them. Continue to knead until smooth and elastic, 8 to 10 minutes. As you knead, keep your hands and work surface lightly floured so that the dough does not stick.
4. Place in a lightly oiled large bowl and turn over once to coat with oil. Cover with a clean kitchen towel or a piece of lightly oiled plastic wrap. Let rise in a warm place until doubled in bulk, 1 to 2 hours.
5. Lightly oil two small baking sheets. Punch the dough down and turn out onto a lightly floured work surface. Divide the dough in half, shape into 2 round or long loaves, and place on the prepared baking sheets. Flatten the loaves slightly and cover with clean damp towels or lightly oiled plastic wrap. Set aside in a warm place and let rise again until doubled in bulk, about 1 hour.
6. Meanwhile, preheat the oven to 375°F. Use a sharp knife to cut one to three ¼-inchdeep diagonal slashes in each loaf. Bake on the center oven rack until golden brown, 40 to 45 minutes. Tap the bottom of the loaves—if they sound hollow, the bread is done. Remove from the sheets and let cool on a wire rack before slicing.