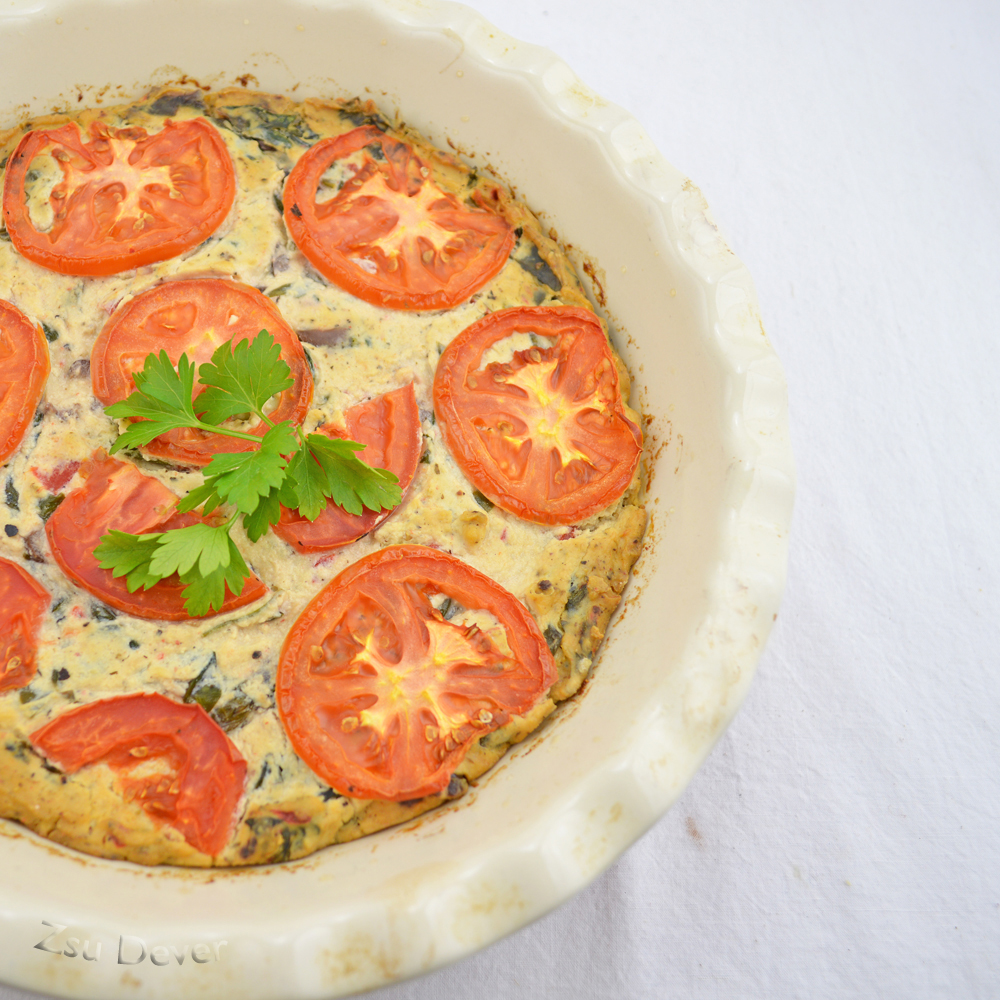 We're coming into the home stretch of the 30 Days of Vegan Cooking.  Today, the featured recipe is Spinach Frittata. It makes a great brunch or light supper.
Spinach Frittata
from Vegan Planet by Robin Robertson
Serves 4
Ingredients:
1 tablespoon olive oil
1 small sweet yellow onion, chopped
3 large garlic cloves, crushed
1 teaspoon dried basil
1 teaspoon dried oregano
1 (12- to 16-ounce) package firm tofu, drained and pressed
2 tablespoons nutritional yeast
1 tablespoon cornstarch
1 tablespoon fresh lemon juice
Salt and freshly ground black pepper
4 to 6 cups fresh baby spinach
1 roasted red bell pepper, chopped
3 to 4 tablespoons chopped pitted kalamata olives
1 plum tomato, sliced very thin
 Directions:
1. Preheat the oven to 350°F. Lightly oil a deep-dish pie pan or shallow baking dish and set aside.
 2. Heat the olive oil in a medium-size skillet over medium-high heat. Add the onion and saute until softened, about 5 minutes. Add the garlic, basil, and oregano and cook until fragrant, 1 minute longer.
 3. Transfer the mixture to a food processor or high-speed blender. Add the tofu, nutritional yeast, cornstarch, lemon juice, and salt and pepper to taste. Process until smooth. Scrape the mixture into the prepared pie pan.
 4. In the same skillet, saute the spinach until wilted, then transfer to a cutting board and coarsely chop. Blot the spinach dry and mix it into the tofu mixture along with the roasted bell pepper and olives. Spread the mixture evenly, smoothing the top. Bake until firm and golden brown, about 45 minutes. Arrange the tomato slices on top and bake 10 minutes longer, or run under the broiler for a minute or two. Serve hot.