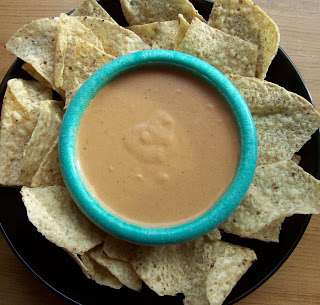 Although my television will be tuned to Downton Abbey instead of football on Sunday, I can't ignore any occasion that involves fun food! One of my favorite  Superbowl Party menus is the one in  Party Vegan. It features an olive-enhanced guacamole, finger-lickin' tempeh fingers, a refreshing super-slaw, a spicy chili, corn muffins, and these Man-Size Chocolate Chip Cookies.
But it's the slow cooker that may be considered Super Bowl Snack Central.  In addition to several tasty chili recipes that will "keep warm" right in the slow cooker for game-day noshing, there are also recipes for fabulous warm dips.  Two of my favorites are the Spicy Tomato Queso Dip (pictured above, photo by Melissa Chapman) and also the Warm and Creamy Artichoke-Spinach Dip.  These dips are comfortably made in those smaller 1 to 2 quart slow cookers, but if you're having a crowd over, you can double or triple the recipe and make it in a 3 to 4 quart slow cooker.  There are also recipes for crunchy nuts, party mixes, and even the delectable Artisanal Sweet and Spicy Weiner Balls.
Here's the recipe for Spicy Tomato Queso Dip.  Whether you'll be watching football or Lady Mary's eyebrows, this makes a great dip to enjoy with your favorite chips.
Spicy Tomato Queso Dip
This is a quick and delicious dip that assembles easily.  It also lends itself to variations such as the addition of crumbled vegan chorizo or cooked black beans. This recipe is from Fresh from the Vegan Slow Cooker by Robin Robertson © 2012.
Slow cooker size: 1 1/2 quart
Cooking Time: 2 hours on Low
One 14.5-ounce can diced tomatoes with green chilies, drained
1/2 cup nutritional yeast
3 tablespoons oat flour
1 teaspoon prepared yellow mustard
1 teaspoon onion powder
1 teaspoon garlic powder
1/2 teaspoon ground cumin
1/2 teaspoon chili powder
1/2 teaspoon salt
1 cup nondairy milk
1 tablespoon fresh lemon juice
Puree the tomatoes in a blender or food processor until smooth. Add the remaining ingredients, except the nondairy milk and lemon juice, and blend until smooth.
Transfer the mixture to a lightly oiled 1 1/2 quart slow cooker.  Stir in the nondairy milk until well incorporated.  Cover and set the cooker on Low and cook, stirring occasionally, for 2 hours, or until the mixture is thick and hot.  If the mixture isn't thickening after 2 hours, turn it up to High, remove the lid, and cook uncovered for 20 to 30 minutes longer.
When ready to serve, spoon about 1/3 cup of the queso into a small bowl, stir in the lemon juice, then stir back into the slow cooker.  Taste and adjust the seasonings, if needed.
Makes about 2 cups