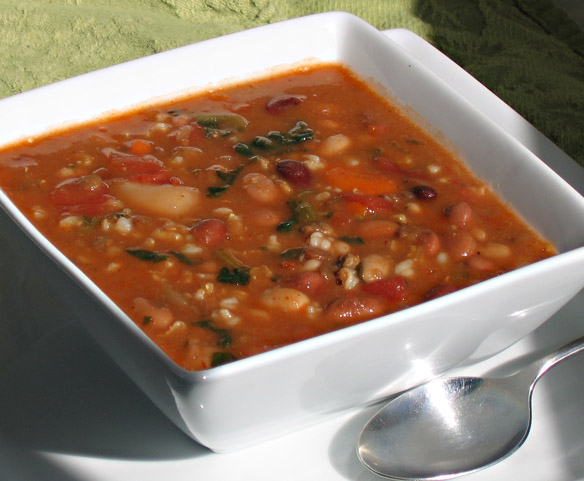 Within a few days of Jon and I remarking about what a "mild winter" we were having, the frigid air descended upon us.  (I guess we forgot to knock on wood…)
The cold weather combined with a slammin' schedule this week could only mean one thing.  Well actually, two things:  1) comfort food and 2) the slow cooker.
I've been in a bit of a soup rut lately, but I'm not complaining.  Just about every week for the past several weeks, I've made a huge a pot of my Million Bean Soup.  I've posted about it before but I can't find the link, so I'll recap: Into a 6-quart slow cooker I combine a 1 pound bag of dried "15-beans" (after soaking overnight and draining); a  large chopped onion, 2 chopped carrots; 1 chopped celery rib; 2 or 3 smashed garlic cloves and enough water to cover by at least one inch.  I then stir in about 1 tablespoon of Better Than Bouillon vegetable base paste, some salt and pepper, and some dried herbs, usually marjoram or oregano and basil. I then let the slow cooker work its magic and about an hour before the soup is done cooking, I stir in some frozen chopped spinach, a can of fire-roasted diced tomatoes, and about 1/2 cup or more of marinara sauce for added richness.  I also add a teaspoon of Liquid Smoke and then taste to see if it needs more of any seasoning.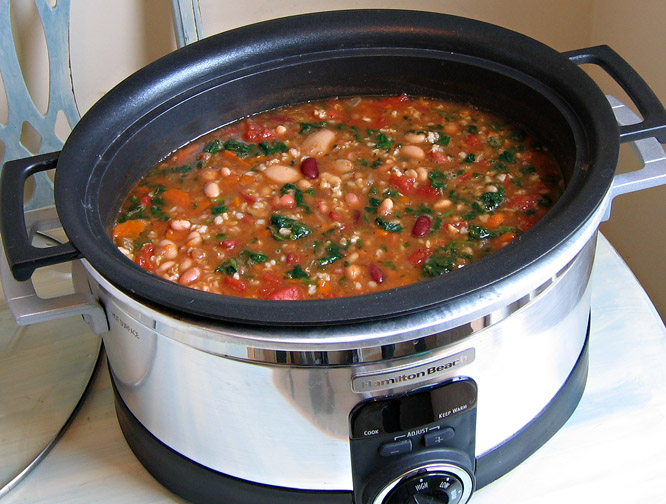 That makes enough soup for us to enjoy all week long — and we don't get tired of it mostly because it's so good, but also because I change it up a little each time.   I just heat enough for two bowls each day and depending on our mood and what's on hand, I might add some cooked rice or quinoa, or pasta.  Often we douse it with some hot sauce.  Today, we stirred in some vegan sour cream and Tabasco — wow! It's a quick, easy, and satisfying lunch for cold and busy days like this.
While I was chopping veggies to make the soup, I also put on a second slow cooker with stroganoff, using the recipe from Fresh from the Vegan Slow Cooker, although instead of making it with seitan, I made it with soy curls.  I didn't get a chance to take a photo, but here's a tester photo of the stroganoff taken by Melissa Chapman: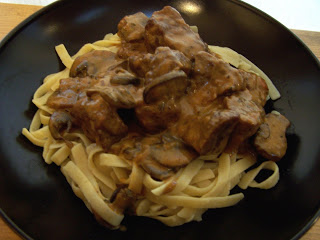 The stroganoff was so delicious!  I served it over some noodles with steamed broccoli.  Yum! Two days later, I used the leftovers to make a quick Shepherd's Pie.  I steamed some vegetables to add to the stroganoff mixture and then "baked" a couple of potatoes in the microwave and mashed them for the topping.  Just a few minutes of prep, and into the oven for another hearty and comforting meal.  I didn't get a photo of the Shepherd's Pie because it was dark out by dinnertime — the winter is no friend of the food blogger!