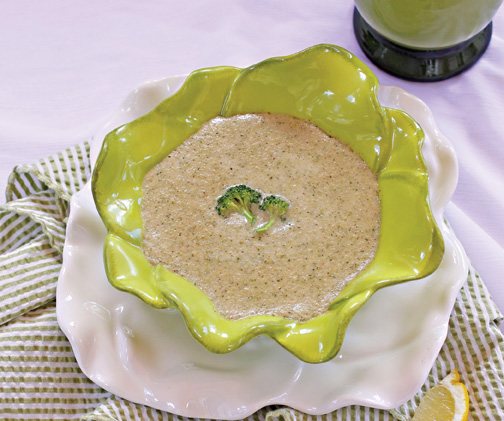 The official publication date of Nut Butter Universe is still nearly four weeks away, but I'm so excited for this book to come out, I decided to share a recipe from it today.  And since the weather is cold, damp and soon-to-be snowy, what better type of recipe to share than a nice warming soup?
This is one of my favorite soups in Nut Butter Universe, perhaps because the nut butter in this particular recipe is so unexpected and rather than being a dominant flavor, it actually just melds into the overall lusciousness to make a creamy "cheesy" broccoli soup.  I hope you enjoy it as much as I do.
btw… Nut Butter Universe is available for preorder now on Amazon.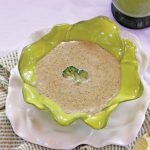 Cheesy Broccoli Soup
Almond butter adds extra richness to this flavorful soup. Just as you don't need dairy cream to have a creamy soup, you don't need dairy cheese to add a cheesy flavor to recipes.
Ingredients
1

tablespoon

olive oil or 1/4 cup water

1

medium yellow onion, coarsely chopped

1

medium russet potato, peeled and finely chopped or shredded

1

pound

broccoli, trimmed and coarsely chopped

3

cups

vegetable broth

Salt and freshly ground black pepper

1/2

cup

nutritional yeast

1/4

cup

almond butter

1

tablespoon

lemon juice

1

teaspoon

Dijon mustard

2

cups

plain unsweetened almond milk
Instructions
In a large soup pot, heat the oil or water over medium heat. Add the onion, cover, and cook until softened, about 5 minutes. Add the potato and stir in the broth. Season with salt and pepper, to taste. Bring to a boil, then reduce the heat to low, add the broccoli and simmer, uncovered, until the vegetables are tender, about 15 minutes. Use a slotted spoon to remove 1/2 cup of small broccoli florets and set aside.

Add the nutritional yeast, almond butter, lemon juice, and mustard to the soup. Use an immersion blender to puree the soup directly in the pot or transfer to a high-speed blender or food processor and puree, in batches if necessary, then return to the pot. Stir in the almond milk, then taste and adjust the seasonings, if necessary. Reheat the soup over low heat until hot. To serve, ladle soup into bowls, garnish with the reserved broccoli florets. Serve hot.
Recipe Notes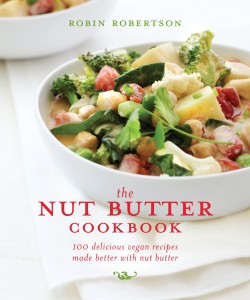 This recipe is from The Nut Butter Cookbook by Robin Robertson (c) 2013. Photo by Lori Maffei