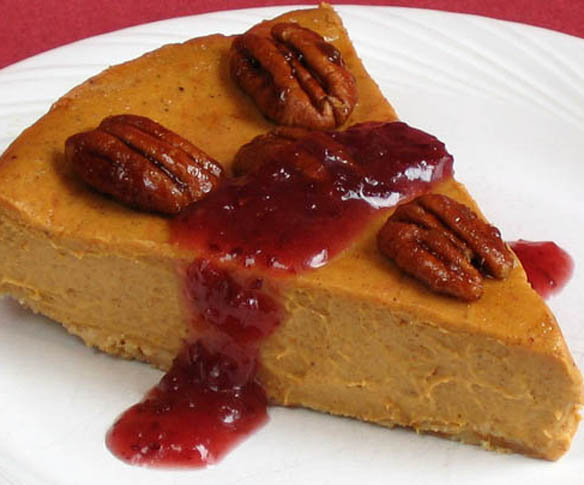 For most of last week's Thanksgiving posts, the subjects were savory.  Today we get to the important stuff: dessert!
One of the great thing about traditional Thanksgiving desserts is that they are easy to veganize and they can be a wonderful way to introduce omnis to the wonders of vegan food.
The problem at my house is limiting the holiday dessert to just one, especially since we all have our favorites.  Jon loves apple pie, I'm crazy for pumpkin cheesecake, and I heard a rumor that one of our guests this year is craving pecan pie.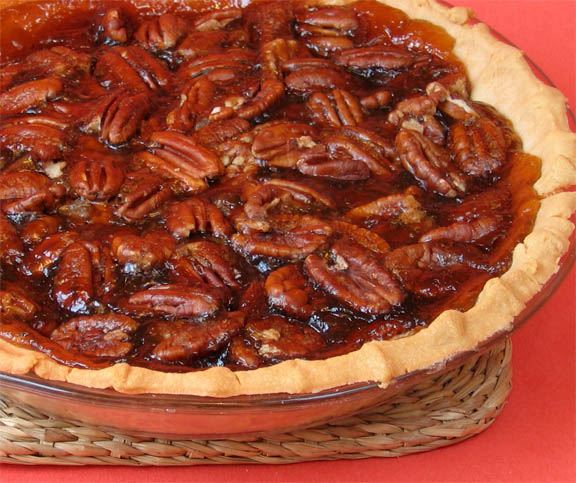 If I have time, I may end up doing mini-versions of each so that I can serve a variety.  We may just want to skip dinner and go right to dessert.  The Pumpkin Cheesecake with Cranberry Drizzle and the Pecan Pie are just two of the recipes that can be found in my book, 1,000 Vegan Recipes.  Here's the pecan pie recipe in case you don't have it handy:
Pecan Pie
This super-rich, nutty pie needs no embellishment, but adding a scoop of vanilla is hard to resist.  To save time, you can substitute a ready-made vegan pie shell instead of making it from scratch. This recipe is from 1,000 Vegan Recipes by Robin Robertson.
For the crust:
1 cup all-purpose flour
1/4 teaspoon salt
1/4 cup vegan margarine, cut into small pieces
3 tablespoons cold water
For the filling:
3 tablespoons cornstarch
3/4 cup plus 1/4 cup water, divided
3/4 cup maple syrup
1/2 cup light brown sugar
1/2 teaspoon salt
2 tablespoons vegan margarine
1 teaspoon pure vanilla extract
2 cups pecan halves or pieces
For the crust: Preheat the oven to 400°F.  Place the flour and salt in a food processor and pulse to combine.  Add the margarine and process until crumbly.  Add enough of the water to form a soft dough.  Roll out the dough on a lightly floured surface and fit the dough into a pie plate.  Trim the dough and flute the edges. Prick holes in bottom of dough with a fork.  Bake until golden, about 10 minutes, then remove from the oven and set aside.  Reduce the oven temperature to 350°F.
For the filling:  In a small bowl, combine the cornstarch and the 1/4 cup water and set aside. In a medium saucepan, combine the remaining 3/4 cup water, maple syrup, and brown sugar, and bring to a boil over high heat. Boil for 5 minutes then stir in the salt and the cornstarch mixture. Cook, stirring until the mixture thickens and becomes shiny. Remove from the heat and add the margarine and vanilla, stirring to melt the margarine.  Add the pecans, stirring to coat. Pour the pecan mixture into the prebaked crust, spreading evenly. Bake for 30 minutes. Cool on a rack for about 1 hour, then refrigerate until chilled.

THANKS-GIVEAWAY: To celebrate Thanksgiving and share the bounty of vegan recipes in my ultimate vegan cookbook, I've having a Cookbook Giveaway this week for a chance to win a copy of 1,000 Vegan Recipes.
To enter: just leave a comment at the end of this post — you can leave any comment you like, from your favorite Thanksgiving dessert to what you are thankful for this year.  A winner will be chosen at random on Sunday 11/25 at midnight and announced on Monday 11/26.  Even if you have a copy of 1,000 Vegan Recipes, you should enter.  It makes a great gift — or even a great prop: just hold it up whenever anyone asks "what's left to eat if you don't eat meat and dairy?"
For a second chance to win (and also to help spread the word) link to this giveaway on your own blog, or on Facebook, and/or Twitter, and then leave a second comment here.
Enter now!!   Good luck!