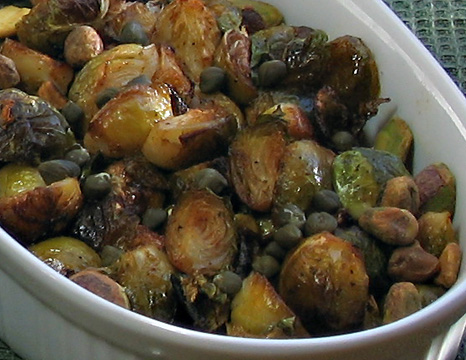 If pictures are worth a thousand words, then I've got about 9,000 words worth for you. Here's what we had for Thanksgiving Dinner yesterday. At top is a newcomer to our Thanksgiving table: Roasted Brussels Sprouts with Pistachios and Capers. It was soooo good — I think it will be a regular from now on. Other side dishes included my vegan re-do of Jon's family favorite, Green Bean Casserole: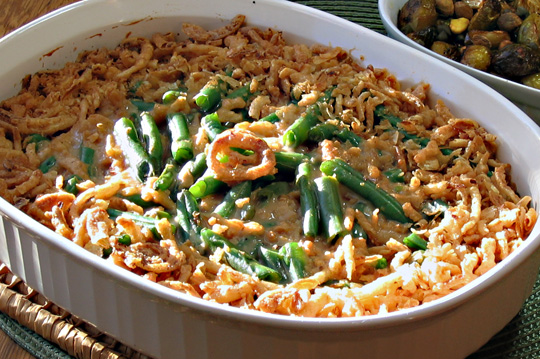 The Garlic Mashed Potatoes with Chives from Fresh from the Vegan Slow Cooker: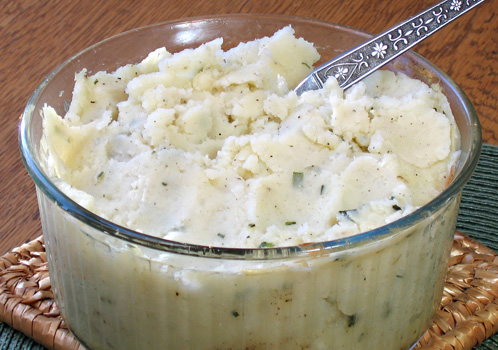 Roasted Sweet Potato Mash with a ring Pistachio Struesel Topping: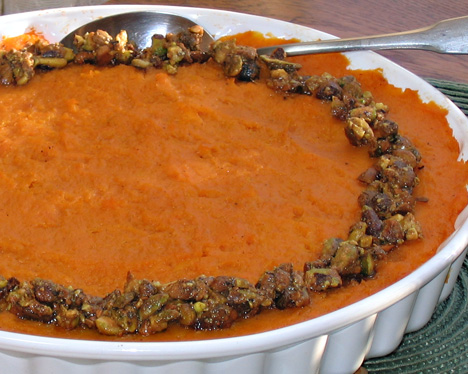 Lime-Enhanced Cranberry Sauce and Chunky Applesauce: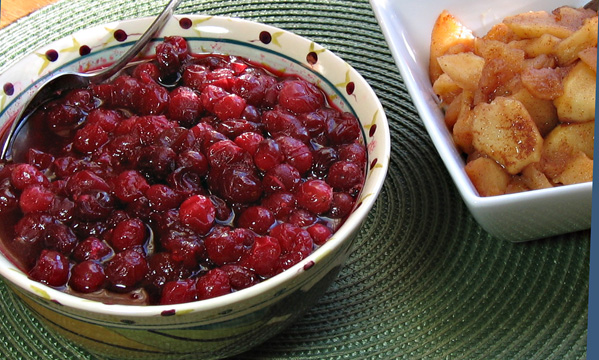 We also had a trio of desserts. This is the Pumpkin Cheesecake with Maple-Rum Glaze garnished with Pecans and Cranberries: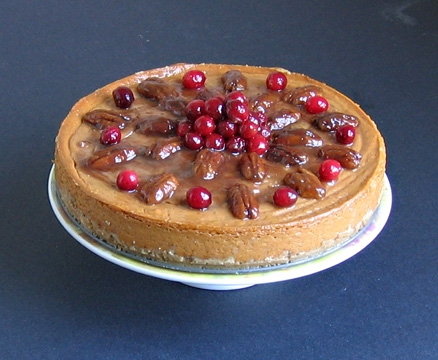 Here's Jon's Apple Pie and Pumpkin-Chocolate Pudding-Cakes with chopped maple- rum-glazed pecans: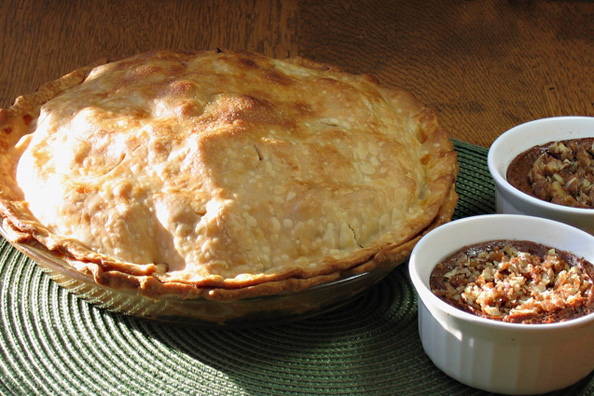 For the main event, I departed from my usual Seitan Wellington. I took the opportunity to address two of the most common problems people seem to have with Tofurky: 1) it's not big enough to serve a crowd, and 2) there's not enough stuffing (and it's not very good stuffing at that). To solve both problems, I slice a Tofurky in half lengwise, scooped out the stuffing and re-stuffed it with my homemade stuffing, then pressed the two halves together again. I then packed more stuffing onto both ends of the re-stuffed Tofurky, essentially doubling its size. I then wrapped it in two sheets of yuba (bean curd skin) and seared it in a skillet to seal it up and lightly brown it and then put it in the oven, lightly tented with foil so it didn't brown too much.  After baking, it rested for a few minutes.  I then used a serrated knife to slice it in half, and then cut the other half into slices. The end slices were basically yuba-wrapped stuffing, but to this stuffing-crazed crowd, that was the best part! (Of course I also made an extra casserole of stuffing — there's never enough!)
Here's what half of the "Double-Your-Tofurky" Roast looked like with a couple of the slices and my rich brown gravy: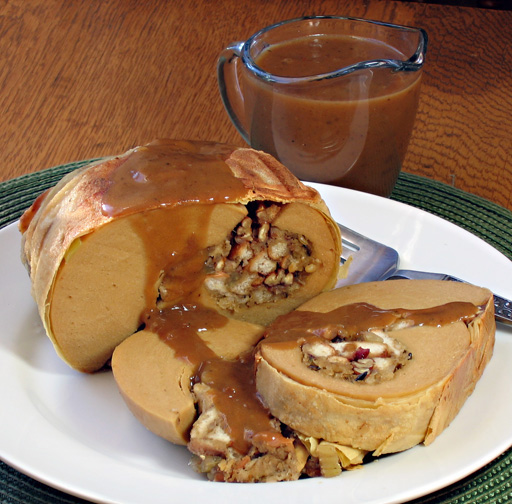 And finally, here's what Jon's plate looked like:

Hope you all had a wonderful Thanksgiving.  I'd like to thank all of you for your good wishes and kinds words about my work — I'm so thankful for all of you! It's also been so fun to see all your photos of dishes you made from my cookbooks for Thanksgiving. Keep 'em coming!
In the meantime, be sure to check back soon to see what I do with all the Thanksgiving leftovers! 🙂
REMINDER: There's still time to enter my "Thanks-Giveaway" to win a copy of 1,000 Vegan Recipes.