One of the only things I like better than Thanksgiving leftovers is pizza, so, hey, why not combine the two?  If you've followed my blog for awhile, you've seen me do some crazy stuff with Thanksgiving leftovers, like these spring rolls wrapped in yuba with cranberry dipping sauce:
And the infamous Leaning Tower of Thanksgiving:
And you've also seen some crazy pizza permutations as well! (Bahn-Mizza, anyone?)
For a post-Thanksgiving pizza (which sounds better than "Thanksgiving Leftovers Pizza") I actually had a few different ideas, so I tried them all. I guess you could say I've got Post-Thanksgiving Pizza Syndrome.
The photo receiving all the glory at the top of this post is my favorite, and it's really easy to make.  I used a 9-inch springform pan, but you can make it using just about anything you like, from an actual pizza pan, to a pie plate.  Here's what you do:
Preheat the oven to 375 degrees F. Spray your pan with nonstick cooking spray. Spoon a cup or two of leftover stuffing into the pan and press it firmly and evenly into the pan to make the "crust."  It can be as thick or thin as you like.  Mine was about 1/2-inch thick.  If you have an especially "loose" stuffing, you can pulse it in a food processor if you want to help it stay together better.
Spread a thin layer of gravy over the stuffing layer to keep it moist, then spread a layer of mashed potatoes (or mashed sweet potatoes, if that's what you've got.) I then added a few pieces of green beans and fried onions leftover from my green bean casserole.  At this point, I put it in the oven to bake for about 20 minutes or until hot.  While it's baking, chop up some of the leftover Tofurky (or Field Roast or seitan roast, etc.) and warm it on top of the stove with some gravy.  After the "pizza" comes out of the oven, spoon the Tofurky and gravy on top.  Dot with a few cranberries from your leftover cranberry sauce. Cut into wedges and serve.  This is definitely a "knife and fork" pizza.  It was really delicious!
The other pizza variations I made used regular pizza dough for the crust. Here's what I did:  Preheat the oven to 425 degrees F. I seasoned the dough liberally with ground thyme, sage, and rosemary (you can use a "poultry seasoning" spice blend if you like).  After shaping the dough, transfer it to a pizza pan.  Here's where you can get creative.  I made one pizza using a layer of garlic mashed  potatoes.  After baking the pizza, I added some chopped Tofurky slices and gravy, and then drizzled on a little cranberry sauce: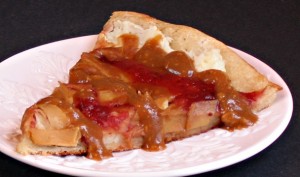 For the other one, I used a layer mashed sweet potatoes sprinkled with pistachios. While it was baking,  I cut out little rounds of this Tofurky slices (ala "pepperoni") and sauteed them in gravy, then I arranged them on the pizza before serving (with a side of cranberry sauce):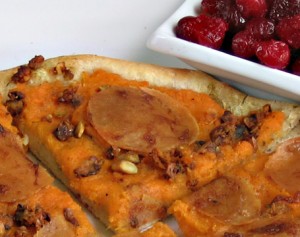 While all three were very tasty, the top one with the stuffing was hands-down the best.  Maybe because it tasted the most like Thanksgiving!
Moving on to the reason you're all here:  the announcement of the THANKS-GIVEAWAY WINNER!!!!  I'm very pleased to announce that the trusty "true random number generator" over at Random.org has picked as our winner:  #37 – Sandra Lee Childs.
Congratulations, Sandra!  Please e-mail me with your address so a copy of 1,000 Vegan Recipes can be mailed to you.
Thanks to everyone else who entered.  It was fun to ready everyone's favorite holiday desserts and inspiring to read what you all are thankful for.  I want you to know that I am thankful for YOU!!!