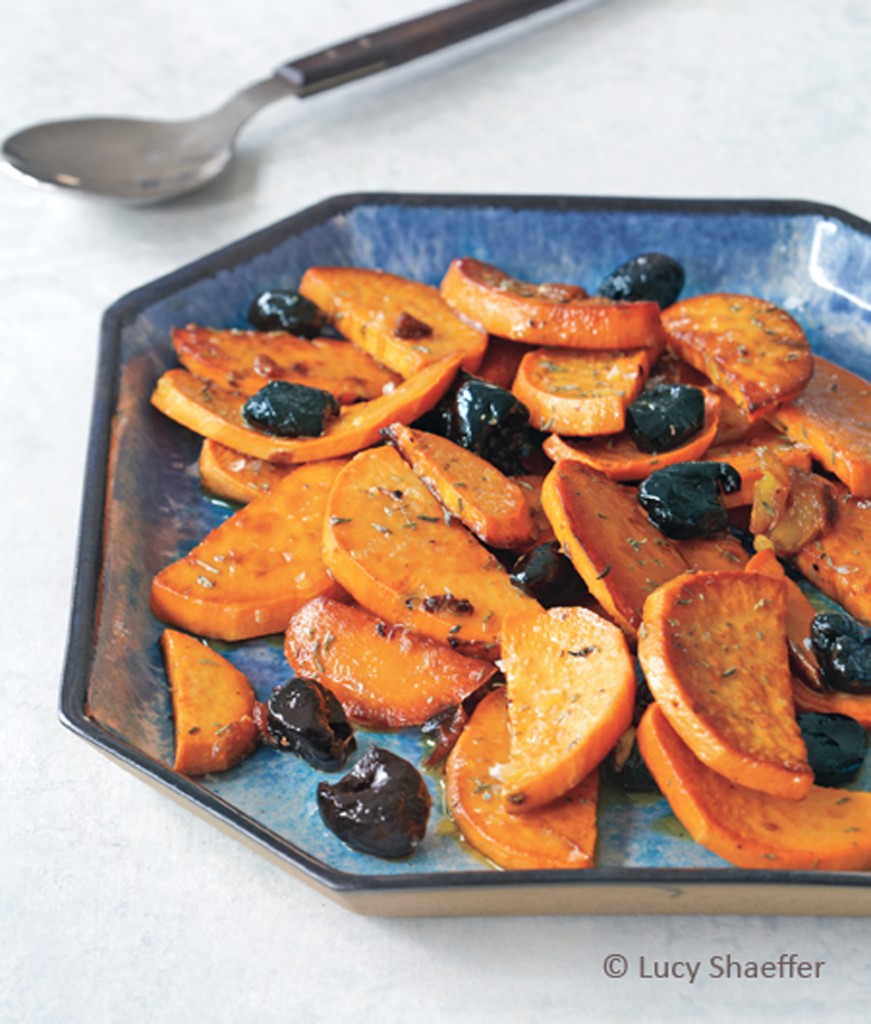 With just a week to go before the release of my new book, 100 Best Vegan Recipes, I want to share another one of my favorites from the book, Thyme-Scented Sweet Potatoes with Black Olives and Garlic. Packed with umami flavor, these delicious sweet potatoes are the polar opposite of those candied sweets that put so many people off this wonderful vegetable.
If you've never been a fan of sweet potatoes, I suggest you try them prepared in a savory rather than sweet way. You can simply bake sweet potatoes (in their jackets) or make healthy "fries" — just peel and cut lengthwise into strips and then toss in a little olive oil and bake on a baking sheet until just tender.
Or you can try this recipe, redolent of garlic and thyme and studded with kalamata olives. Excerpted from 100 BEST VEGAN RECIPES, © 2016 by Robin Robertson. Reproduced by permission of Houghton Mifflin Harcourt. All rights reserved.

Thyme-Scented Sweet Potatoes with Black Olives and Garlic
SERVES 4
1 1/2 pounds sweet potatoes
2 tablespoons olive oil, plus more for drizzling (optional)
3 garlic cloves, crushed
1 teaspoon dried thyme
Salt and freshly ground black pepper
1/3 cup pitted oil-cured black olives
Peel the sweet potatoes, halve them lengthwise, and cut them into 1/4-inch-thick slices. Heat the oil in a large skillet over medium heat. Add the sweet potatoes and garlic. Sprinkle with the thyme and season with salt and pepper to taste. Cook for 1 minute, stirring to coat. Decrease the heat to low, cover, and cook until the potatoes are tender, about 20 minutes, stirring occasionally. A few minutes before serving time, add the olives and taste to adjust the seasonings, if needed. Drizzle with a little additional olive oil, if you like.
Check out 100 Best Vegan Recipes for more favorites…