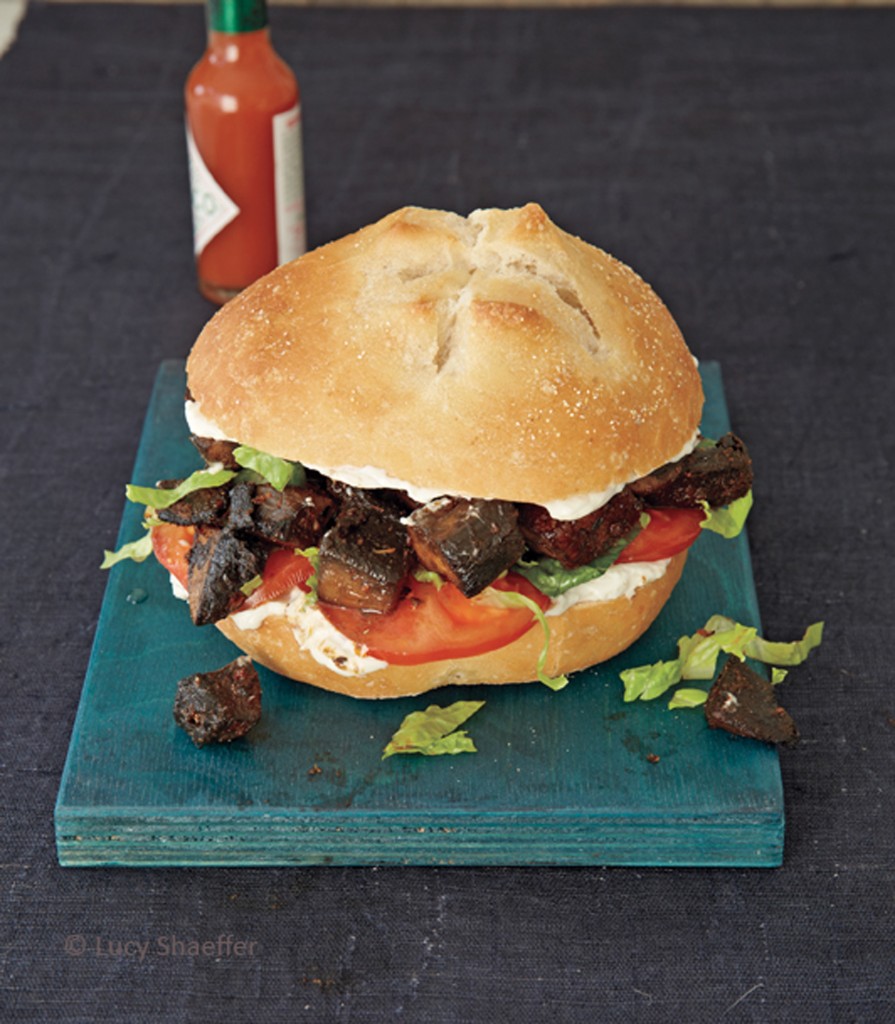 Today is Mardis Gras and the perfect time to make these Portobello Po'Boys.  Of course, any time is a good time to enjoy them — Mardis Gras or not!
From my upcoming book, 100 Best Vegan Recipes, this quintessential New Orleans sandwich is made vegan by using succulent Cajun-spiced portobello mushroom pieces in place of oysters.  Slather some vegan mayo on a crusty roll, add lettuce tomato, and a splash of hot sauce and a Portobello Po'Boy can be yours for the eating!  I'm excited to share this recipe with you. Happy Mardis Gras — Laissez le bon temps rouler!
Recipe excerpted from
100 BEST VEGAN RECIPES
, © 2016 by Robin Robertson. Photo (c) Lucy Shaeffer. Reproduced by permission of Houghton Mifflin Harcourt. All rights reserved.
Portobello Po'boys
SERVES 4
Juicy chunks of portobello mushrooms replace the traditional oysters in this flavorful interpretation of the Southern classic. Leave the Tabasco bottle on the table for anyone who wants an extra splash.
2 tablespoons olive oil
4 portobello mushroom caps, cut into 1 1/2-inch pieces
1/2 teaspoon Cajun seasoning blend
Salt and freshly ground black pepper
4 crusty sandwich rolls
Vegan mayonnaise, for spreading
4 tomato slices
1 1/2 cups shredded romaine lettuce
Tabasco sauce, for serving
1. Heat the oil in a large skillet over medium heat. Add the mushroom pieces and cook until browned and softened, about 8 minutes. Add the Cajun seasoning blend and salt and pepper to taste.
2. Spread the rolls with mayonnaise. Place a tomato slice on the bottom of each roll, and top each with some of the shredded lettuce. Arrange the mushroom pieces on top, sprinkle with Tabasco, and top with the roll tops.
REMINDER: 100 Best Vegan Recipes hits the shelves on March 8.  Preorder now!