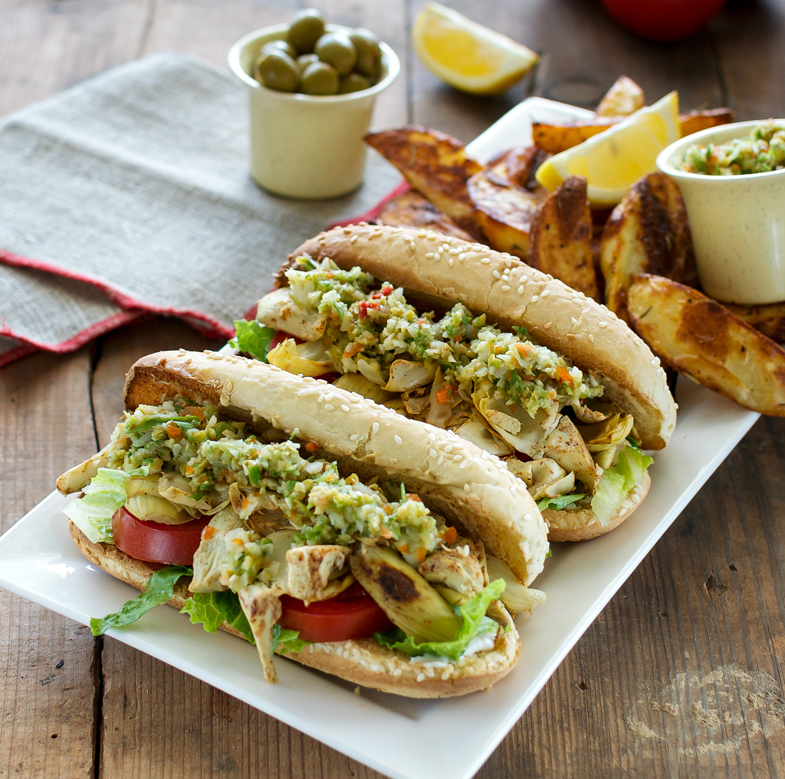 In less than a month my new book, Cook the Pantry, will hit the shelves.  In anticipation of that, I want to share one of my favorite recipes from the book: the Artichoke Muffaleta PoBoys.  It combines the best of two popular New Orleans culinary icons to create the ultimate sandwich. If you love artichokes and olives as much as I do, then this is the sandwich for you. I hope you enjoy it as much as I do!
With 100 recipes using on-hand ingredients and with gorgeous recipe photos by Ann Oliverio, Cook the Pantry is available for pre-order now on Amazon and will be available in mid-October wherever books are sold.
Artichoke Muffaleta Po' Boys
Makes 2 servings
Recipe from Cook the Pantry © 2015 by Robin Robertson. Photo by Annie Oliverio. Used by permission Vegan Heritage Press LLC.
3 scallions, chopped
1 garlic clove, crushed
1/3 cup pickled vegetables, well-drained
1/3 cup pimiento-stuffed green olives, well-drained
1 tablespoon olive oil
1 (14-ounce) can artichoke hearts, well-drained and halved
1/2 teaspoon Cajun spice blend
3 tablespoons Creole mustard
3 tablespoons vegan mayonnaise
2 small sub rolls
1 cup shredded lettuce
1 large tomato, thinly sliced
Pickled sliced jalapeños
Tabasco or other hot sauce, to serve
In a food processor, combine the scallion and garlic and process until finely minced. Add the pickled vegetables, olives, and pulse to make a relish. Set aside.
Heat the oil in a large skillet over medium heat. Add the artichoke hearts, season with the spice blend, and cook until nicely browned, about 5 minutes per side.
To assemble the sandwiches, spread the mayonnaise and mustard on the inside top and bottom of the bread. Spread the lettuce onto the bottom of each sandwich, followed by tomato slices. Top with the relish mixture, a few slices of jalapeños, and the artichokes. Serve at once with Tabasco.