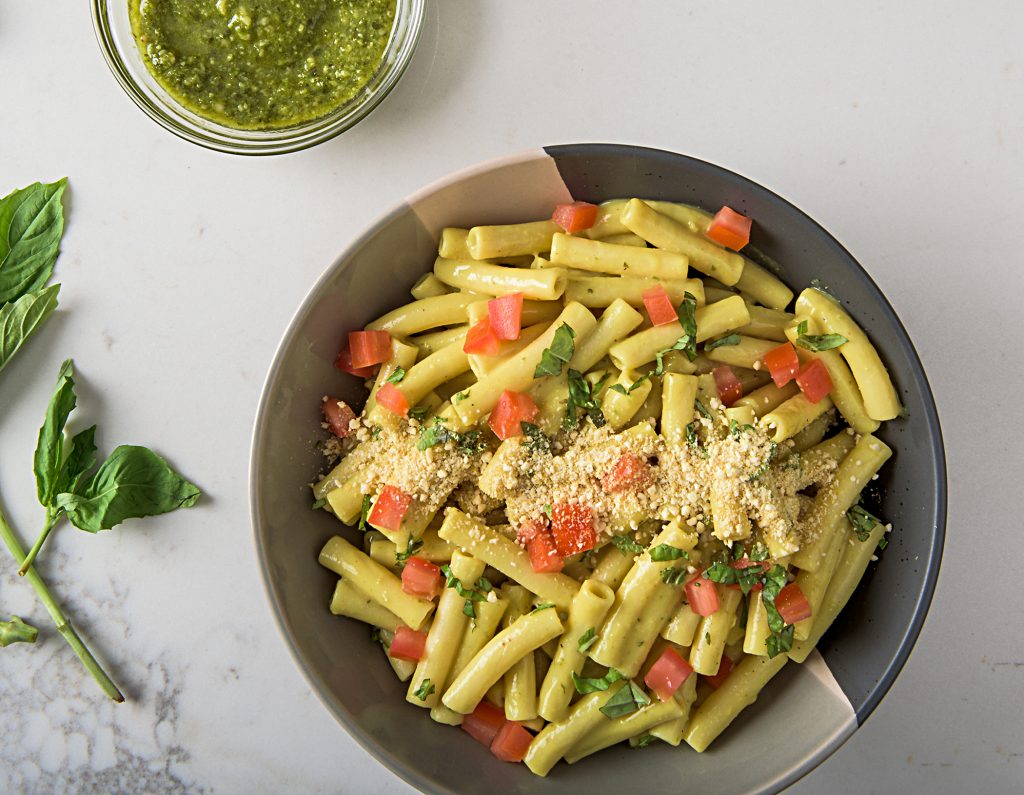 Just a few more weeks until Vegan Mac & Cheese hits the shelves.  To make the wait a bit easier, I'm sharing a recipe from the book that's perfect for late summer: Arugula Pesto Mac UnCheese.  In addition to a fragrant and delicious pesto, the recipe features chopped fresh tomatoes which are now in abundance.  If you're not a fan of arugula, you can swap it for spinach or go with a more traditional all-basil pesto.
BONUS RECIPES:  If you pre-order Vegan Mac & Cheese, you can receive Bonus Recipes.  Here's how.
Arugula Pesto Mac Uncheese
Makes 4 to 6 servings
This recipe is from Vegan Mac & Cheese by Robin Robertson (c) 2019, Harvard Common Press.
Pasta
16 ounces ziti, or other small pasta
Sauce
3 tablespoons vegan butter
1/4 cup unbleached all-purpose flour
4 cups plain unsweetened nondairy milk, or more
1 teaspoon salt
1 teaspoon white miso paste
1 teaspoon almond butter
1 teaspoon garlic powder
1/2 teaspoon onion powder
1/2 teaspoon ground turmeric
1/4 teaspoon ground black pepper
1 teaspoon fresh lemon juice
1/2 cup nutritional yeast
1/2 cup Arugula Pesto (recipe follows)
1 cup chopped fresh tomatoes
1/2 cup Nut Parm (recipe follows)
1/2 cup chopped fresh basil
To make the pasta: Bring a large pot of salted water to a boil over high heat. Add the pasta and cook according to the package directions until just al dente. Drain the pasta well and return it to the pot. Set aside.To make the sauce: In a saucepan over medium heat, melt the butter. Whisk in the flour and cook for about 1 minute. Whisk in the milk, salt, miso, almond butter, garlic powder, onion powder, turmeric, and pepper. Cook, whisking, for 1 to 2 minutes to blend.Whisk in the lemon juice, nutritional yeast, and pesto. Add more milk or pesto to achieve desired flavor and consistency. Pour the sauce over the pasta.Add the tomatoes and toss to combine. Place the pot over low heat and cook for 2 minutes, or until the pasta is hot. Transfer to a serving dish and sprinkle with the nut parm and basil
Arugula Pesto
Makes about 1½ cups
Arugula makes a flavorful pesto that can also be used on pizza or in salads, dressings, or soups. Portion and freeze any leftover pesto for later use.
3 garlic cloves, crushed
1/4 cup toasted walnut pieces
1/2 teaspoon salt
2 cups coarsely chopped arugula
1 cup fresh basil leaves
2 tablespoons olive oil
1 tablespoon fresh lemon juice
1/4 teaspoon freshly ground black pepper
Warm water, as needed
In a food processor, combine the garlic, walnuts, and salt and process to a paste.
Add the arugula, basil, olive oil, lemon juice, and pepper and process to a paste.
If needed, add a little warm water, 1 tablespoon at a time, to reach the desired consistency.
If not using right away, transfer to a container with a tight-fitting lid, cover, and refrigerate until needed.
Nut Parm
1 cup unsalted blanched almonds, or unsalted raw cashews
1/3 cup nutritional yeast
1/2 teaspoon salt
1/4 teaspoon onion powder
Combine all the ingredients in a food processor and pulse until the mixture has a fine crumbly texture, stopping to scrape down the sides, as needed.
Transfer to a shaker jar or other container with a tight lid. Store in the refrigerator.