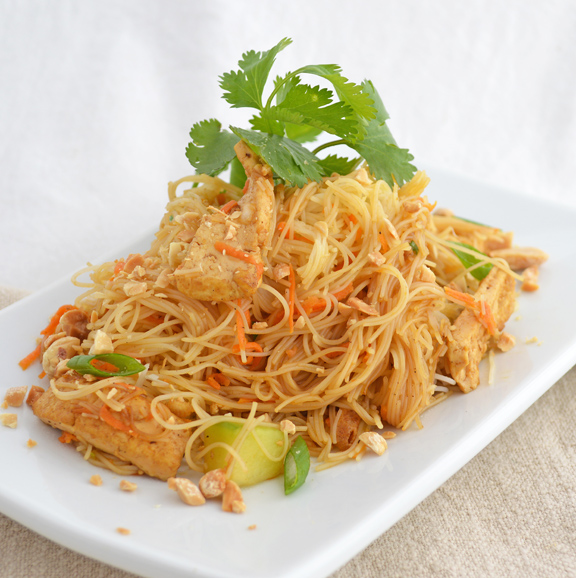 This recipe for Banh Mi Noodles from More Quick-Fix Vegan is  one of my favorites from the book.  I simply can't resist the flavors of that seductive Vietnamese sandwich in whatever form it takes.  Over the years, in addition to making the traditional sandwich, I've done banh mi interpretations in a deconstructed salad, a wrap, crostini, and even a pizza. Now, all the flavors of my favorite sandwich get tossed with noodles!
Thanks to Zsu Dever for the great photo.  Now, here's that noodle recipe.
Banh Mi Inspired Noodles
From More Quick-Fix Vegan by Robin Robertson (c) 2014, Andrews McMeel Publishing.
Serves 4
8 ounces rice noodles or linguine
2 large carrots, peeled and coarsely shredded
1 cucumber, peeled, seeded, and chopped
1/3 cup chopped scallions
2 teaspoons minced fresh ginger
1/3 cup chopped fresh cilantro
2 tablespoons rice vinegar
2 teaspoons dark sesame oil
2 teaspoons natural sugar
1 tablespoon neutral vegetable oil
8 ounces extra-firm tofu, drained and cut into thin strips
1/3 cup hoisin sauce
3 tablespoons soy sauce
3 tablespoons water
1 to 2 teaspoons sriracha sauce
3 to 4 tablespoons crushed roasted peanuts
Cook the noodles according to package directions. Drain well and return to the pot. Add the carrots, cucumber, scallions, ginger, cilantro, vinegar, sesame oil, and sugar. Toss to combine and set aside.
Heat the vegetable oil in a large skillet or wok over medium-high heat. Add the tofu and stir-fry quickly to brown it on all sides.
In a small bowl, combine the hoisin, soy sauce, water, and sriracha, stirring to blend. Pour the sauce mixture onto the tofu and stir-fry 2 minutes longer.
Combine the tofu mixture and the cooked noodle mixture and stir-fry until heated through, about 2 minutes longer. Serve hot, sprinkled with the peanuts.
I hope you enjoy this recipe from More Quick-Fix Vegan.