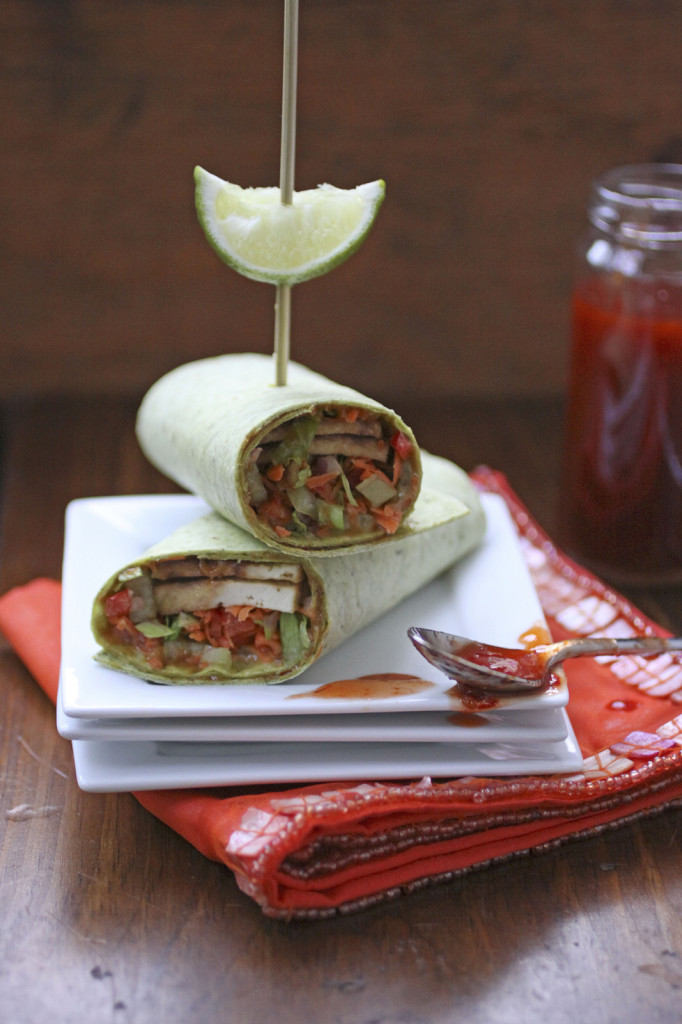 With all this cold weather, soup has been a regular on my lunch menu — usually a hearty stick-to-your ribs bean soup or a minestrone loaded with vegetables.
This week, however, I was craving something with a little crunch, but I wanted more than a salad.  That's when I remembered how much I love the Thai Tofu Wraps from Nut Butter Universe, featuring baked tofu strips, a creamy, spicy nut butter spread, and lots of crisp veggies wrapped in a tortilla or levash.
If you don't want to bake your own tofu, you can use the packaged baked marinated tofu or add strips of seitan instead.  Or skip them both and just enjoy it as a salad wrap.  Here's the recipe:
Thai Tofu-Vegetable Wraps
These wraps envelop crisp fresh vegetables and a zesty sauce for a yummy lunch or a light supper. To make this gluten-free, use gluten-free flatbreads. This recipe is from Nut Butter Universe by Robin Robertson © 2013, Vegan Heritage Press. Photo by Lori Maffei.

 Serves 2
8 ounces extra-firm tofu, cut into strips
2 tablespoons tamari soy sauce, divided
Salt and ground black pepper
3 tablespoons cashew butter or peanut butter
1 tablespoon fresh lime juice
1 teaspoon natural sugar
1 teaspoon Asian chili paste, or more to taste
1 cup shredded lettuce
1/2 cup shredded carrot
1/4 cup chopped red bell pepper
1/4 cup bean sprouts (optional)
2 tablespoons finely minced red onion or scallion
2 lavash flatbreads or large flour tortillas
Preheat the oven to 375°F. Lightly oil a baking sheet or spray it with cooking spray. Arrange the tofu strips on the pan, drizzle them with 1 tablespoon of the tamari, and season with salt and pepper to taste. Bake until lightly browned, turning once about halfway through, about 20 minutes total. Remove from the oven and set aside to cool.
In a small bowl, combine the cashew or peanut butter, remaining 1 tablespoon of tamari, lime juice, sugar, and chili paste. Blend well.
In a medium bowl, combine the lettuce, carrot, bell pepper, bean sprouts, if using, and onion. Toss to combine.
Spread the sauce mixture onto each flatbread, dividing evenly. Top with the vegetable mixture, spreading on the lower third of each wrap. Top the vegetables on each flatbread with strips of the reserved tofu.
Roll up the sandwiches and use a serrated knife to cut them in half. Serve at once.