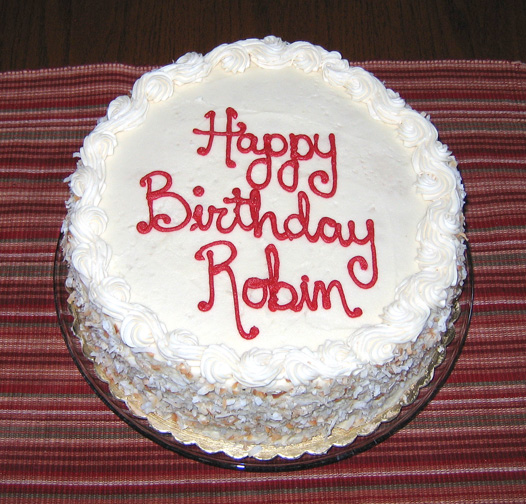 My birthday was yesterday and it was a big one.  Milestone birthdays can be difficult, especially ones that start to sound "old."  Usually Jon and I just celebrate our birthdays by taking each other out for a nice dinner and maybe a day-trip to somewhere in the area.  On a previous birthday, we drove to Cyrus McCormick's farm (you remember learning about him in grade school, right?). For Jon's birthday last year, I took him to Paris — Virginia, that is.
This year, my birthday was the best ever:  Jon threw me a surprise party over the weekend!  I seriously can't believe he pulled it off right under my nose — I must be getting old! Somehow, he managed to convince a dozen of my favorite people to journey out to rural Virginia.  At first he told me that two of our friends were visiting this weekend, then the day before the party he said there "may" be a few "extra" people for dinner.
Late Saturday afternoon, our house began to fill with friends (some of whom I haven't seen in years).  It was fabulous.  I've never been so surprised, or touched, in my life.  Jon even managed to coordinate the menu — he ordered a coconut cake (my favorite) from Sticky Fingers (shown above) and one of our DC friends picked it up on her way to the party.  Several people offered to bring food, so there was lots of delicious goodies to enjoy, from homemade vegan sushi, to a gorgeous bowl of fresh fruit with mint.
Unknowingly, I had made the main dish for my own party!  On Friday Jon told me to "make extra" for our Saturday dinner guests.  Clever boy!  I also ended up making a "second" birthday cake — actually it was a tester cake for an upcoming book project, and I had planned to serve it as dessert (not knowing there was a Sticky Fingers cake in my future!).  So guests had a choice of coconut or chocolate cake — most of us chose to have a slice of both! (We washed it down with a birthday toast of Dom Perignon — a gift from a special friend.)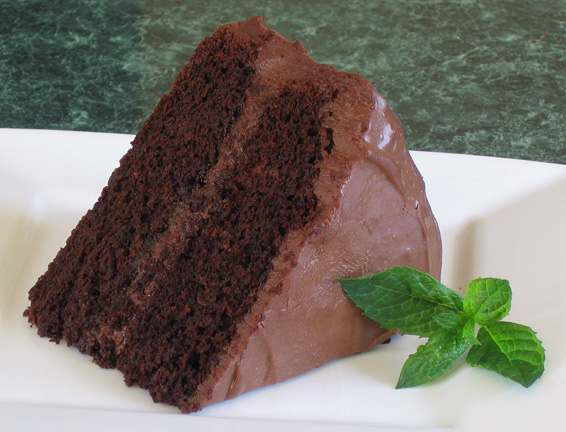 A great time was had by all: fabulous company, great food, gorgeous weather, and Margaret, the original party animal, was in the midst of it all.  (The other cats were hiding!)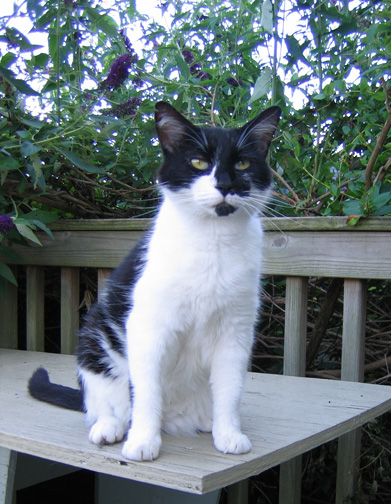 As an interesting side note: I guess it's no secret I'm a "food person" — here are some of the fabulous food-related gifts I received this year: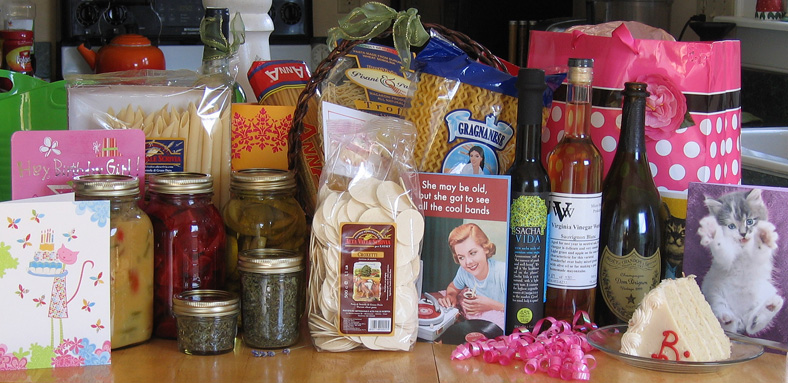 Thanks to everyone who came to my party (you know who you are!) and thanks also to everyone who send me special birthday messages, cards, e-mails, and Facebook greetings.  Your good wishes, love, and friendship mean the world to me!