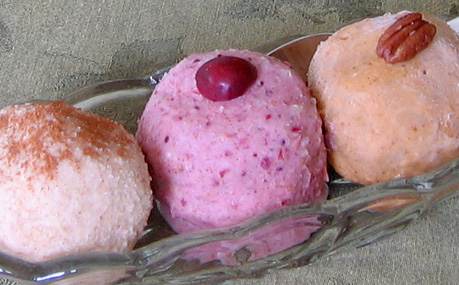 I called this post "Christmas in July" for two reasons.  One is that I'm finally getting around to showing you the "sweet from savory" ice creams I made last winter using leftover cranberry sauce, apple sauce, and mashed sweet potato casserole.  By blending some of each of these sides dishes with frozen bananas, I made some great tasting frozen treats.  I didn't use a recipe — just combine about 1/2 cup of cranberry sauce with several chunks of frozen bananas in the food processor, and it made a delicious (and very PINK!) cranberry ice cream.  I did the same with some leftover applesauce, adding some extra cinnamon on top.  It was very refreshing. The sweet potato version was fabulous, too.  I think it would be especially good with some warm pecan sauce on top, don't you?
The other way this post is Christmas in July is because of the huge box of food items I received from Veestro, a new company that makes prepared vegan meals and ships them to your door.  Of the nine items sampled, I liked the Kale and Beet Salad the best. (The dressing was amazing!)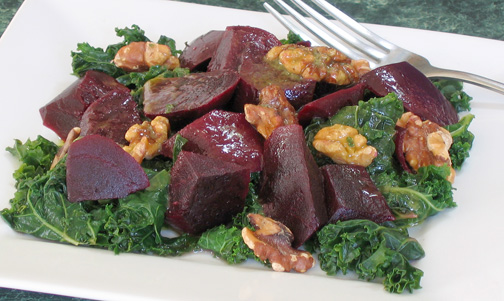 The lentil soup was very good, as were the oatmeal chocolate chip cookies and the noodles with peanut sauce.  The flavor of the cheesecake was good, but the crust was soggy — maybe not the best choice for freezing and transporting?  All in all, the flavors were great, although we found the portions of many of the offerings to be a little small, especially for the price.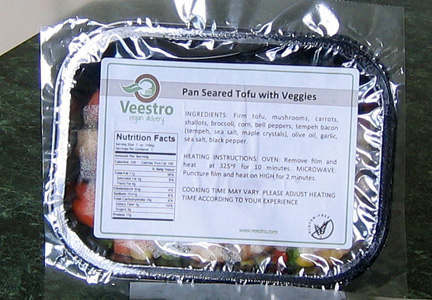 It also feels like Christmas because I've completed the edits on two of my upcoming projects: MORE Quick-Fix Vegan and the improved and updated Vegan Planet: Revised Edition.  At this moment, I'm only working on one new book project (more on that to come).   So with only one project (instead of three) on my desk, there may be some summer out there left for me to enjoy yet!
For now, I'll leave you with a little Christmas in July gift…a teaser photo from my current book project (TBA) — it's especially appropriate for this hot summer weather: Watermelon Paletas (photo by VeganAide):