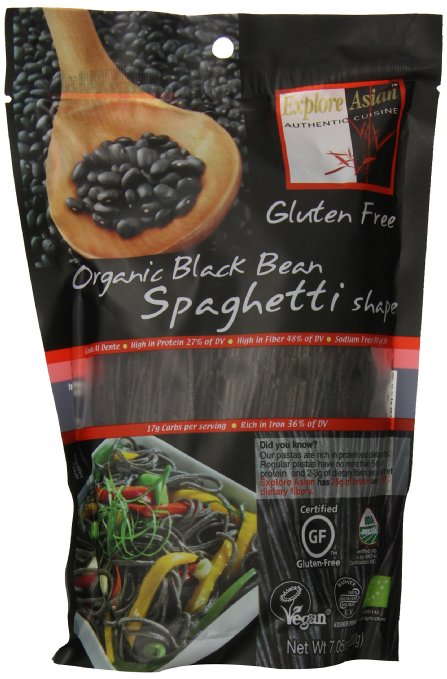 If you're looking for a fun dish to make on Halloween, look for these black bean noodles.  They're made with just black beans and water — no additives — and they're vegan, gluten-free, high in protein, and low in carbs. I buy them on Amazon, but I"ve heard they are also available at Costco.
My favorite way to use these noodles is in Asian dishes like a noodle salad or stir-fry.  I even featured them in my book Cook the Pantry in a recipe called Manchurian Black Bean Noodles.  (I generally don't use these noodles in Italian recipes because I'm a purist when it comes to Italian food, and the taste and texture is different from Italian pasta.)
So I made the Manchurian Noodles for dinner last night with the addition of some diced carrots for Halloween — but I forgot to take a photo!  Coincidentally, my FB friend Birgit also made the Manchurian Noodle recipe from my book last night — but SHE remembered to take a picture.  So, with her permission, I'm sharing her photo of the dish — her's doesn't have the carrots in it, but I highly recommend adding some cooked carrots, sweet potatoes, or butternut squash if you make this for Halloween.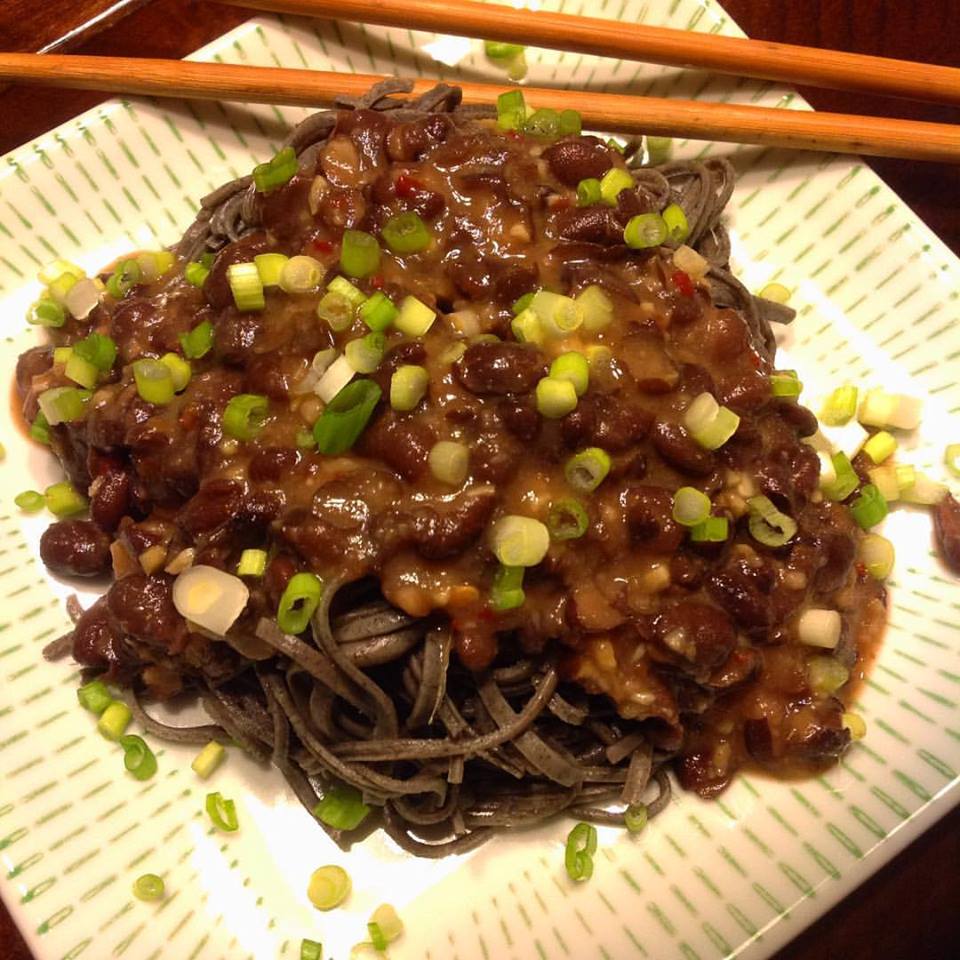 Here's the recipe:
Manchurian Black Bean Noodles
Serve with a green salad or make it a one-dish meal and top it with a cooked orange veggie for Halloween!
Note: If you don't have black bean linguine, you can use any noodles you may have on hand. This recipe is from Cook the Pantry by Robin Robertson © 2015, published by Vegan Heritage Press.
1 (8-ounce) package black bean linguine (or other pasta)
1 tablespoon safflower oil
5 cloves garlic, minced
1 tablespoon grated ginger
2 1/2 tablespoons soy sauce
2 tablespoons sambal oelek
1 1/2 tablespoons ketchup
2 teaspoons rice vinegar
2 teaspoons sugar
1/2 teaspoon onion powder
1/4 teaspoon cayenne
1 (15-ounce) can black beans, rinsed and drained
1/2 cup water
2 tablespoons chopped scallion, optional
2 tablespoons chopped cilantro, optional
Cook the pasta according to package directions.
While the pasta is cooking, heat the oil in a skillet over medium heat. Add the garlic and
ginger, and cook until fragrant, 30 seconds. Stir in the soy sauce, sambal oelek, ketchup,
vinegar, sugar, onion powder, and cayenne. Add the black beans and water and bring just
to a boil, stirring to mix well. Partially mash the beans while stirring to make a thicker
sauce.
When the pasta is cooked, drain it and transfer to a large serving bowl or individual shallow
bowls. Top with the sauce and garnish with scallions and cilantro, if using. Serve hot.