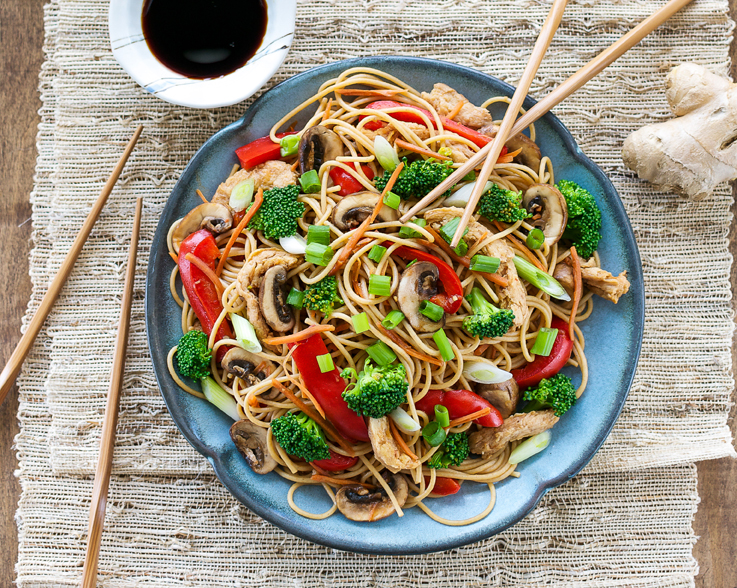 Today I'd like to share my recipe for Spaghetti Lo Mein from Cook the Pantry.  It's one of my go-to weeknight dinners and can be ready in the time it takes to get Chinese takeout.  Only this version isn't loaded with oil and msg!  Another thing I like about this recipe is its versatility.  You can make it with any noodles you like such as rice noodles or other gluten-free noodles; you can change up the veggies too, using cauliflower, zucchini, asparagus, or another favorite in place of the broccoli.  You can also include some stir-fried tofu, seitan, or tempeh instead of the optional Soy Curls. And of course, you can adjust the heat and other seasonings to suit your own taste.
Before we get to the recipe, it's time to announce the winner of Proteinaholic, the great new book by Dr. Garth Davis and Howard Jacobson.  The Random Number Generator has chosen: Birgit Davis.  Congratulations, Birgit!  Email me with your address and a copy of Proteinaholic will be sent out to you.
Now, here's that recipe for Spaghetti Lo Mein from Cook the Pantry.  If you already have Cook the Pantry, I hope you'll do me a favor and post a review of the book on Amazon to help spread the word.  And if you don't have Cook the Pantry yet, check it out — it's only $12.76 on Amazon and is loaded with easy recipes using on hand ingredients that get you in and out of the kitchen in 20 minutes or less!
Spaghetti Lo-Mein
Makes 4 servings
If you don't have fresh vegetables on hand for this recipe, substitute frozen stir-fry vegetables, cooked according to package directions. This recipe is from Cook the Pantry by Robin Robertson © 2015, published by Vegan Heritage Press. Photo by: Annie Oliverio.
8 ounces spaghetti
2 cups small broccoli florets
2 tablespoons tamari or other soy sauce
3 tablespoons hoisin sauce
1 teaspoon toasted sesame oil
1 teaspoon sriracha (optional)
1/4 cup water
2 tablespoons dry sherry (optional)
1 tablespoon safflower oil
3 cloves garlic, minced
1 red bell pepper, cut into strips
2 cups sliced mushrooms
1 carrot, shredded
1/3 cup sliced scallions
2 teaspoons grated fresh ginger
1 cup reconstituted Soy Curls (optional)
Cook the spaghetti in a large pot of boiling salted water until just tender. About 3 to 5 minutes before the pasta is done cooking, add the broccoli. Drain the pasta and broccoli and set aside.
While the pasta is cooking, combine the tamari, hoisin, sesame oil, and sriracha, if using. Add the water and sherry, if using. Mix well and set aside.
Heat the safflower oil in a large skillet or wok over medium-high heat. Add the garlic, bell pepper, mushrooms, carrot, scallions, and ginger. Cook, stirring frequently, until tender, about 3 minutes. Add the Soy Curls, if using and stir to combine. Stir in the reserved noodles and the sauce mixture, and cook for a few minutes, tossing gently to combine until heated through. Taste and adjust the seasonings, if needed. Serve hot.