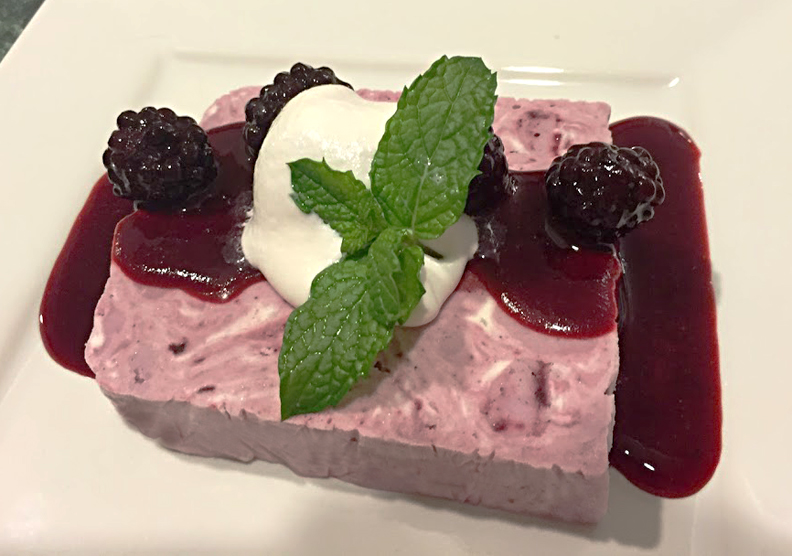 When I opened the latest box of tasty treats from the nice folks at So Delicious and saw a container of mixed berry ice cream next to a container of whipped topping, I instantly thought "semifreddo."
Semifreddo is an ethereal Italian dessert whose name means "half cold" (or semi-frozen). It's made by combining equal amounts of softened ice cream and whipped cream and then transferring to a mold (or individual molds) and re-freezing.  The resulting confection has a texture that is somewhere between an ice cream and a mousse, but  in my opinion, better than either one.
Since I had just made a batch of fresh blackberry coulis, it was a foregone conclusion that I would make a berry semifreddo topped with the coulis and a spoonful of the leftover whipped topping. (Thanks to Elissa Free for taking the above photo of the Berry Semifreddo.)
This is one of the most easy and elegant desserts there is.  Plus it's infinitely versatile — use whatever flavor vegan ice cream or sorbet you want in equal proportion to your favorite vegan whipped cream and top with a complimentary sauce, such as chocolate, caramel, lemon, or berry.  Sprinkle on some nuts, if you like, and top with whipped cream and mint.
That's all there is to it!
Here's Simon checking out the So Delicious goodies: