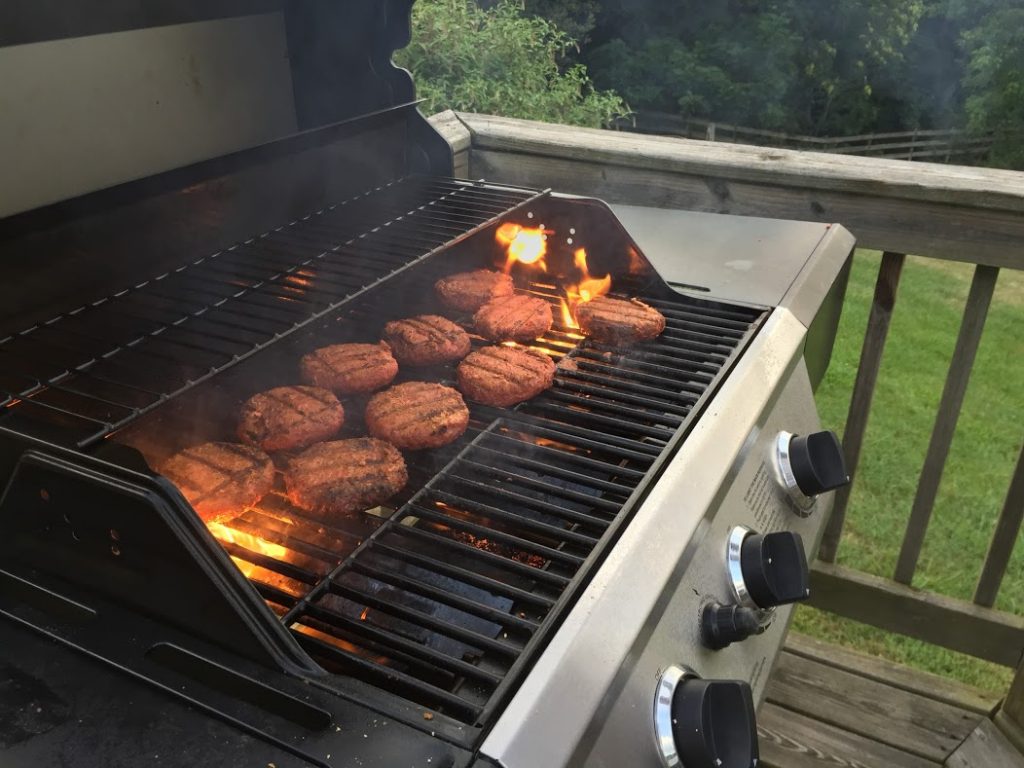 This hottest summer on record has put a bit of a damper on our al fresco dining — it's just been too hot to eat outside.  But that doesn't mean we haven't been braving the heat for a few minutes to do some grilling! In addition to many meals consisting solely of grilled vegetables, we've also enjoyed a few cookouts featuring the new Beyond Burgers from Beyond Meat, thanks to our dear friends Elissa and Bill who generously ferry otherwise impossibly-to-find vegan victuals out to the countryside from the DC area (one of the new places in the country where they are available).  These vegan burgers may appear almost too meat-like for some people, complete with a pink center, thanks to beet juice. They sure do great on the grill!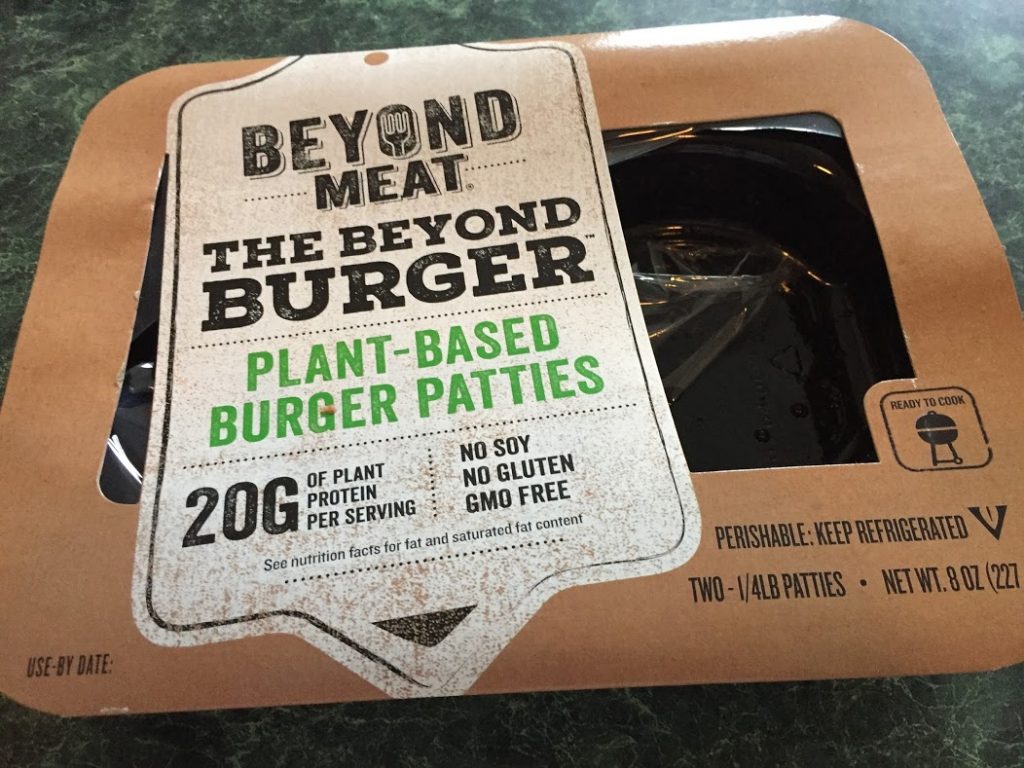 We've been serving them with all the fixings, including toasted buns, fresh lettuce, tomato, onion, and condiments.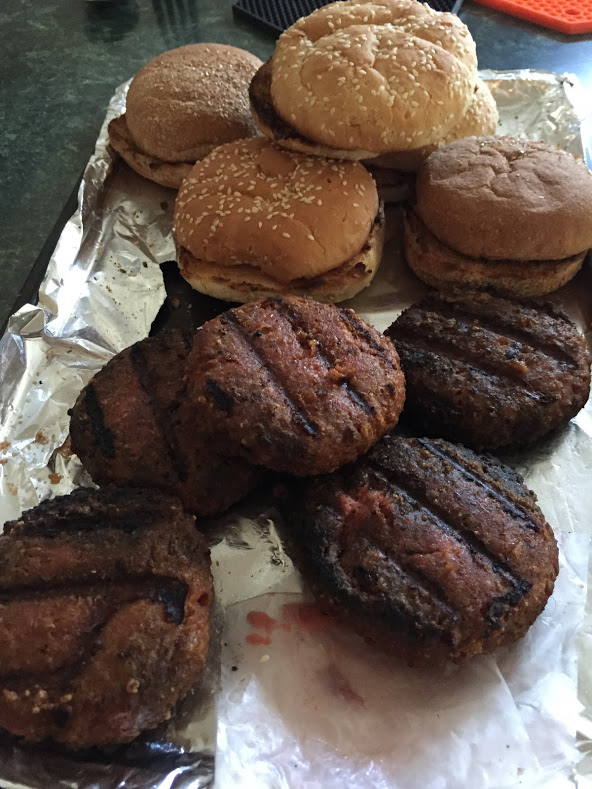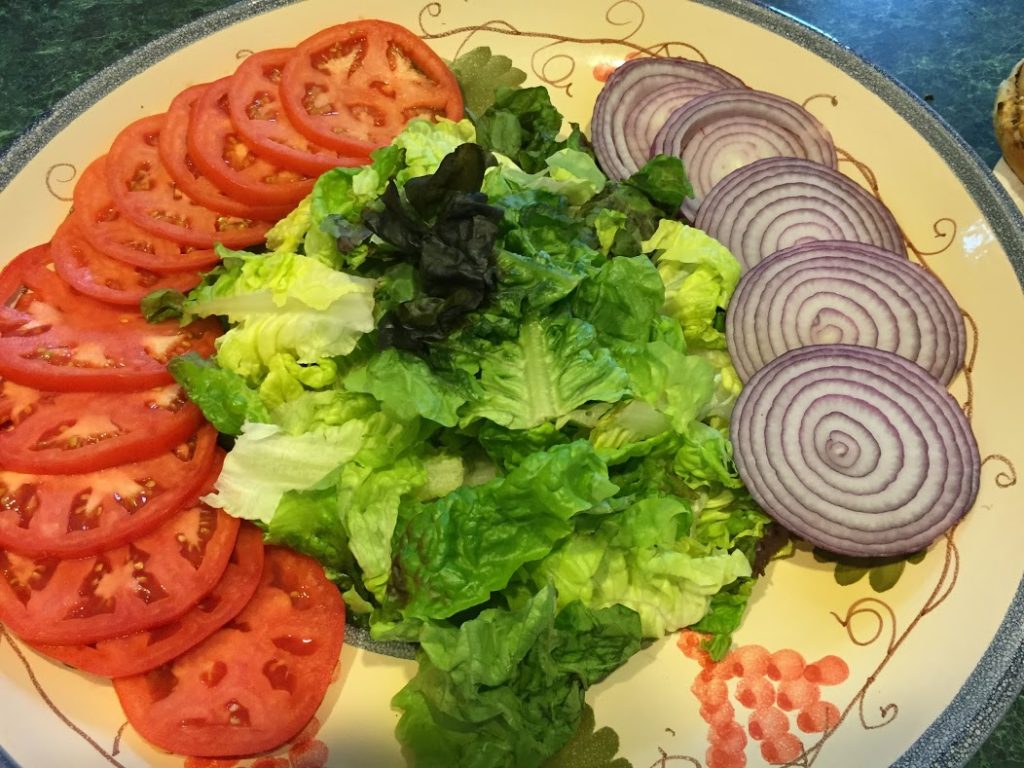 And great side dishes including this wonderful cucumber salad Elissa made with fresh-picked local cukes. (Elissa also took all of these food photos, too!)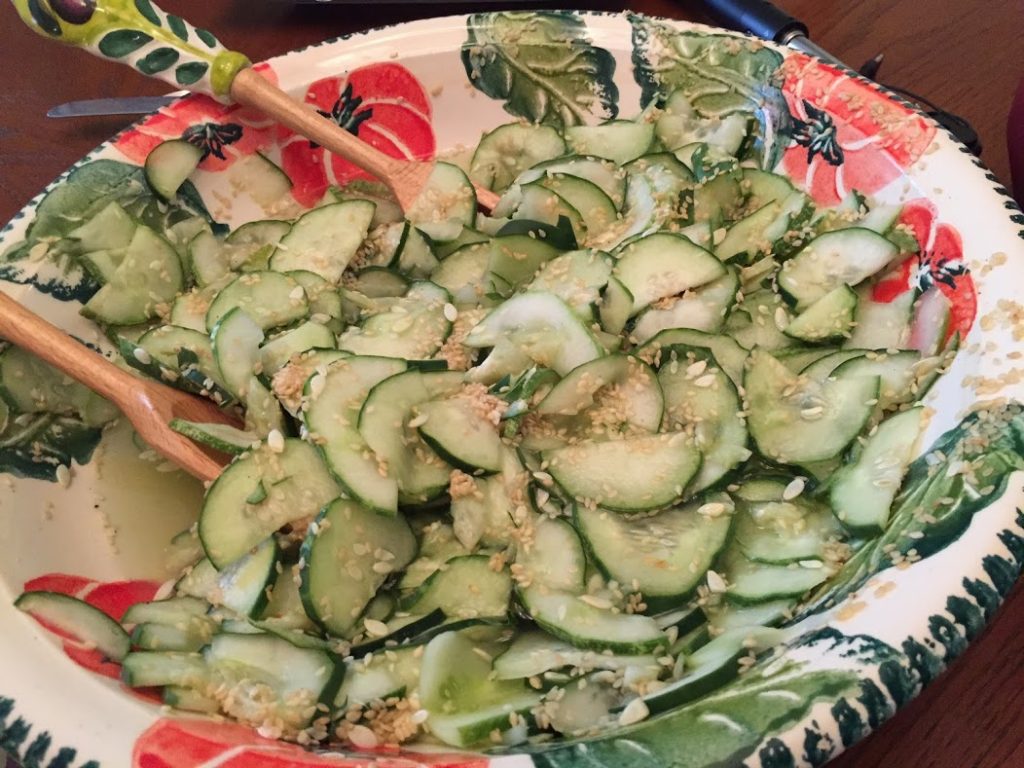 We also enjoyed these fries I made with my new air-fryer (perfect for no/low-oil cooking + hot weather!)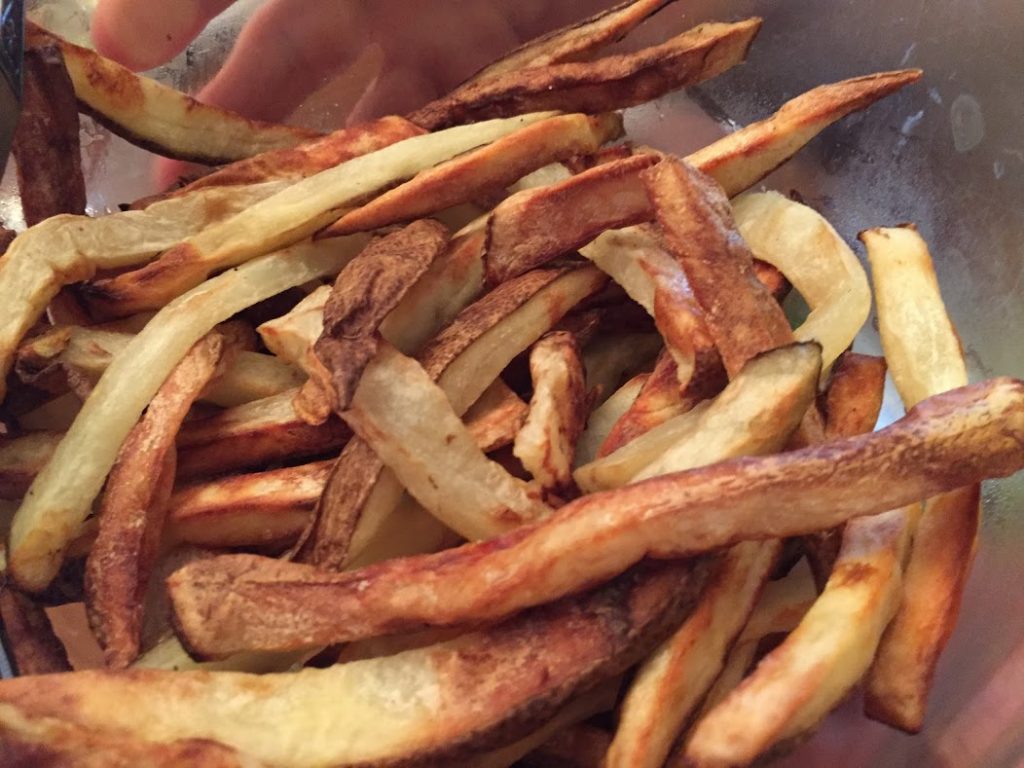 Another favorite dish at these get-together has been my merger of two Southern favorites: corn pudding and summer squash casserole. I call it "Corn and Summer Squash Bake."
Anyone familiar with the original knows that in addition to the goodness of the namesake vegetables, these dishes are traditionally loaded with butter, eggs, milk, and other not-so-great ingredients.  I had an idea to combine what I liked best about both dishes into one delicious bake that has all the flavorful richness of the originals without any of the baggage.  Here's the recipe:
Corn and Summer Squash Bake
2 cups chopped yellow summer squash
1/2 cup minced onion
Salt and ground black pepper
3 cups frozen yellow corn, thawed, divided
2 tablespoons nutritional yeast flakes
2 tablespoons cornstarch
1/2 teaspoon baking powder
1/2 teaspoon onion powder
1/4 teaspoon turmeric
1/4 teaspoon smoked paprika
1 tablespoon ground flax seed + 2 tablespoons warm water
1/4 cup nondairy milk
2 tablespoons minced jarred pimento or roasted red bell pepper
1 tablespoon chopped fresh parsley
1/3 cup panko bread crumbs
1/3 cup shredded vegan cheddar (optional) (I didn't use any)
Preheat the oven to 425 degrees F.  Spread the yellow squash and onion on a baking sheet lined with parchment paper.  Spray lightly with cooking oil spray and season with salt and pepper to taste.  Roast until the vegetables are soft, about 15 minutes.  Remove from the oven and set aside to cool. Lightly oil an 8-inch baking pan and set aside.
In a food processor, combine the cooled squash and onion with 1 cup of the thawed corn kernels. Add the nutritional yeast, cornstarch, baking powder, 1/2 teaspoon salt, onion powder, turmeric, paprika, black pepper (to taste), flax mixture, and nondairy milk.  Process until smooth and creamy.
Transfer the mixture to a large bowl and stir in the pimientos, parsley, and remaining corn kernels.  Mix until well combined. Transfer the mixture to the prepared baking pan, using a spatula to evenly spread it in the pan.  Sprinkle the top with panko and shredded cheddar, if using.  Bake for 30 minutes or until set. Let it cool for about 10 minutes before serving.
Makes 6 servings
I hope you're enjoying your summer and managing to stay cool!