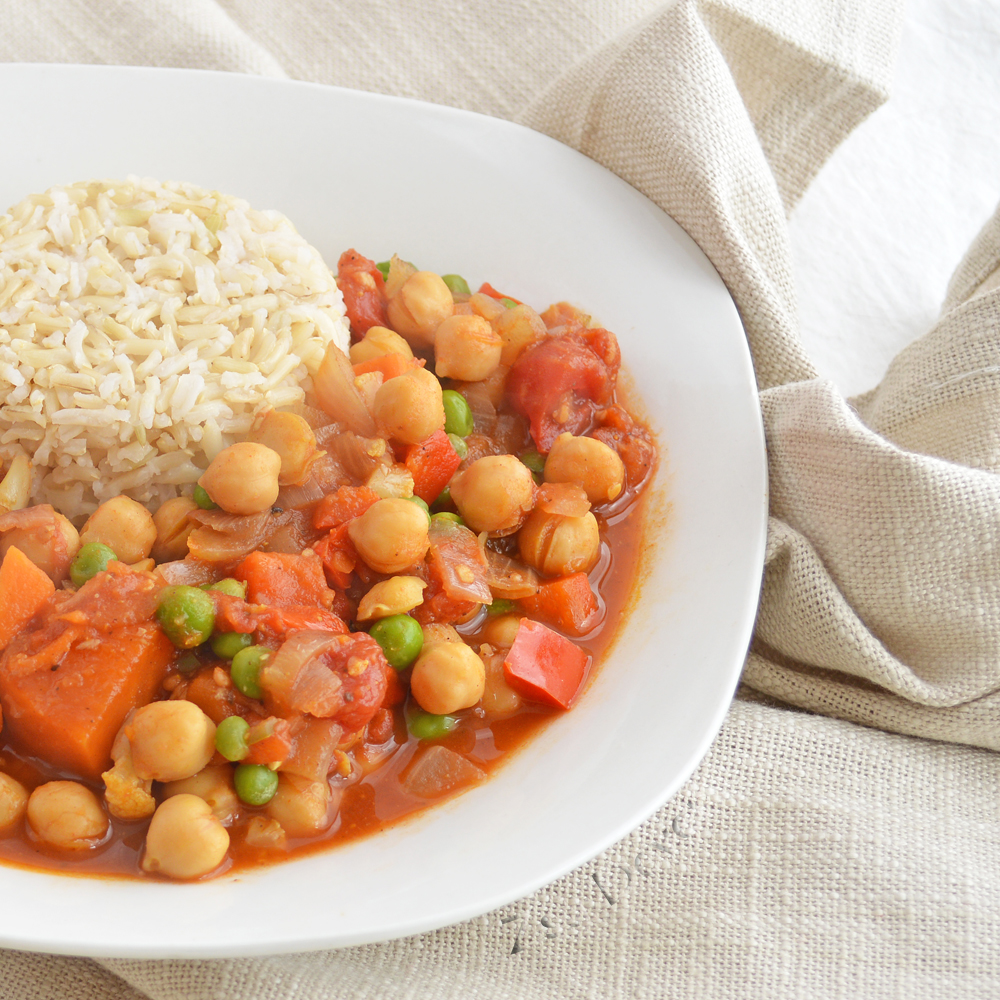 30 Days of Vegan Cooking continues with Chickpeas Vindaloo – Recipe #14 from the Revised Edition of Vegan Planet. This spicy Indian favorite is easy to make at home and is best served over freshly cooked basmati rice.
Chickpeas Vindaloo
from Vegan Planet by Robin Robertson
Serves 4 to 6
Ingredients
1 tablespoon olive oil or 1/4 cup water
1 large onion, chopped
1 green or red bell pepper, seeded and cut into 1/2-inch dice
1 serrano chile, seeded and minced
1 large sweet potato, peeled and cut into 1-inch dice
3 cups small cauliflower florets
3 garlic cloves, minced
2 teaspoons grated fresh ginger
2 teaspoons yellow curry powder
1 teaspoon ground coriander
1/2 teaspoon ground cumin
1/2 teaspoon ground cloves
1/2 teaspoon salt
1/4 teaspoon cayenne
1/4 teaspoon freshly ground black pepper
1 (28-ounce) can diced tomatoes, undrained
3 cups cooked chickpeas or 2 (15-ounce) cans chickpeas, rinsed and drained
2 to 3 tablespoons white wine vinegar
1/2 cup water, or more if needed
1 cup fresh or thawed frozen peas
Hot cooked rice, to serve
Directions
Heat the oil or water in a large pot over medium heat. Add the onion and cook until softened, about 5 minutes. Add the bell pepper, chile, sweet potato, cauliflower, garlic, and ginger. Cook, stirring occasionally, until slightly softened, about 5 minutes. Add the spices and cook, stirring, for 1 minute.
Stir in the tomatoes and their juice, chickpeas, vinegar, and water and bring to boil. Reduce the heat to low, cover, and simmer until the vegetables are tender, 15 to 20 minutes. Uncover, stir in the peas, then taste and adjust the seasonings, if needed.
Cook uncovered for 10 minutes longer to blend the flavors. If the stew is too thick, add a little more water. Serve hot over rice.
Are you keeping up with the One-Dish Vegan Blog Tour? Lots of sample recipes, great photos, and chances to win a copy of the book!