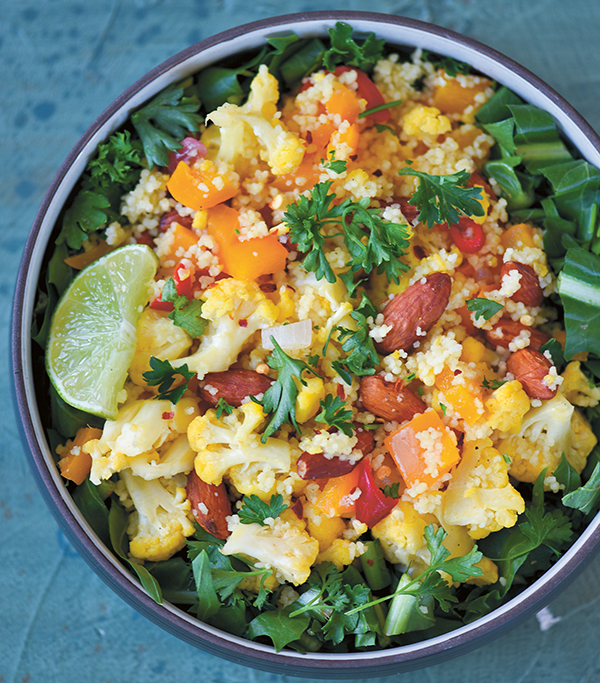 An easy, detailed introduction to plant-based eating, VEGAN RESET: The 28-Day Plan to Kickstart Your Healthy Lifestyle by Kim-Julie Hansen lays out 28 days of vegan meals with budget-friendly shopping lists, weekly meal prep guides, and daily menus including breakfast, lunch, dinner, and a snack – all brought to life with gorgeous photography throughout. Go beyond the reset with additional recipes, from smoothies and juices, to savory lunch and dinner dishes and luscious desserts. The book includes all the tools, tips, and tricks Kim-Julie wished she had known when she embarked on this new lifestyle path and follows an holistic approach, guiding you step by step on your vegan journey.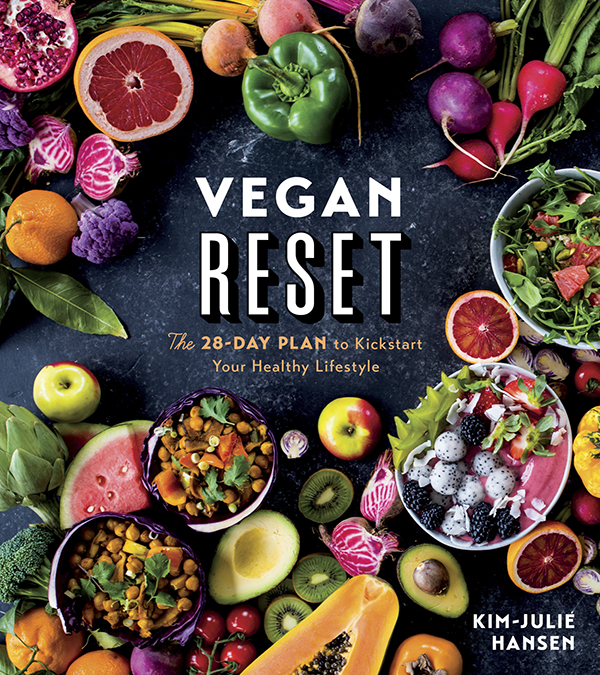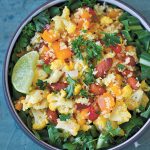 Chili-Lime Cauliflower Bowl
Ingredients
1

shallot, sliced

1

garlic clove, minced

1/3

head yellow cauliflower, chopped

1

bell pepper, chopped

1

tablespoon

olive oil

1/3

cup

whole almonds

¼

fresh hot red chile pepper, thinly sliced

2/3

cup

boiling water

½

cup

couscous

½

teaspoon

sea salt

½

teaspoon

ground cardamom

Juice of 1 lime

4

collard green leaves, chopped

2

cups

chopped curly kale

Handful of fresh parsley leaves, for garnish
Instructions
Sauté the shallot, garlic, cauliflower, and bell pepper in the oil in a pan over medium heat for 3 minutes.

Add the almonds and chile and cook for 5 more minutes.

Meanwhile, pour the boiling water over the couscous in a separate pot, add the salt, stir well, and let sit for 5 minutes. Add a little more water if the couscous looks too dry.

Stir the cardamom and lime juice into the couscous and transfer the couscous to the pan with the vegetables, stirring to combine.

Cook the collard greens and kale in a large pan with about 2 tablespoons water over high heat for 3 minutes.

Serve the couscous and vegetables over the greens and garnish with the parsley.
Recipe Notes
Excerpted from VEGAN RESET © 2018 by Best of Vegan LLC. Photography © 2018 by Best of Vegan LLC. Reproduced by permission of Houghton Mifflin Harcourt. All rights reserved.