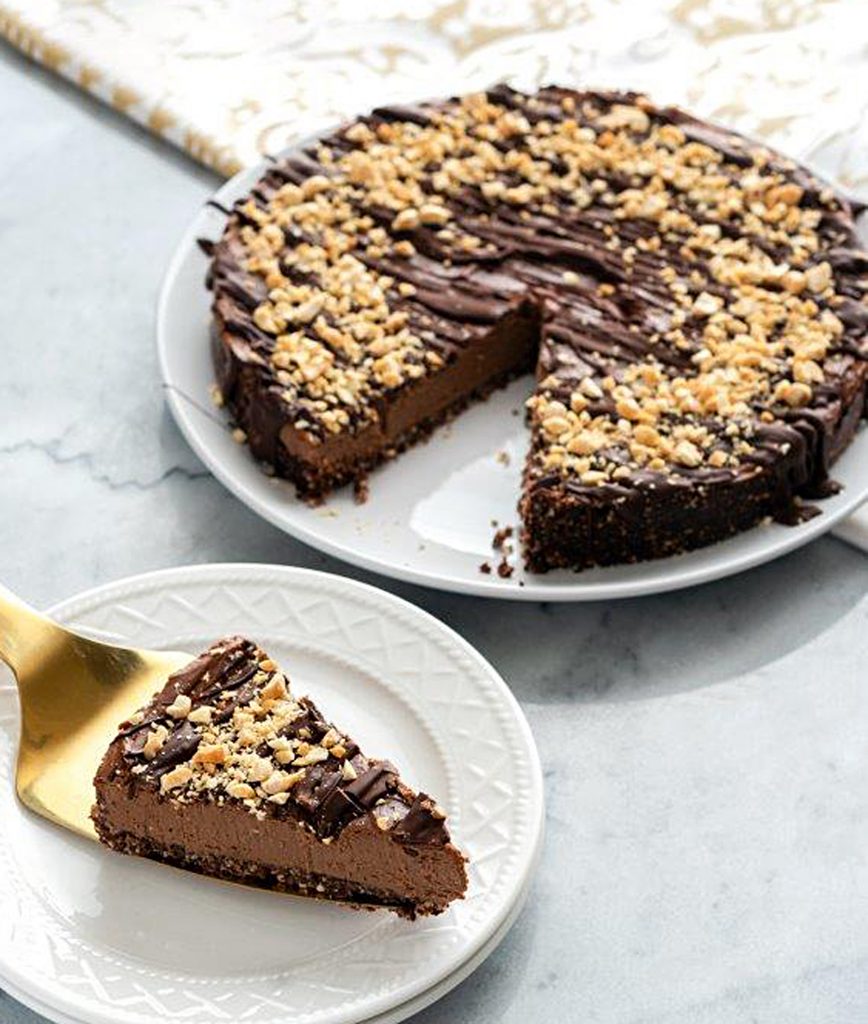 The Plant Protein Revolution Cookbook comes out in just four weeks. Let's celebrate with something sweet from the book!
The Chocolate-Kissed Peanut Butter Pie is everything you could want in a dessert and more.  The "more" being PROTEIN, of course! Each small serving of this decadent confection contains 12 grams of plant protein.
This peanut butter pie is complemented by chocolate because: chocolate. The addition of almond flour and tofu (plus the peanuts and peanut butter, of course) provide a wealth of protein to this decadent treat. If you prefer a firm fudgy texture, keep the pie in the freezer; for a softer, creamier texture, keep it in the refrigerator.
While the book concentrates mostly on the savory side of plant protein, this recipe shows that there are some sweet treats in store as well.  Best of all, the recipes are all plant foods — no protein powders are called for in any of the recipes.
Have you pre-ordered your copy of The Plant-Protein Revolution Cookbook yet? Do it now and get bonus recipes. If you pre-order before August 11, 2020, my publisher will send you additional bonus recipes that you can start using right away! Just send your proof of purchase to the following e-mail address: plantproteinrev@quarto.com and they'll send you the bonus recipes.
Now about that pie….
Chocolate-Kissed Peanut Butter Pie
This recipe is from The Plant Protein Revolution Cookbook by Robin Robertson (c) 2020, The Harvard Common Press. Photo by Jackie Sobon.
Crust
11/2 cups (129 g) almond flour
1/4 cup (22 g) unsweetened cocoa powder
1/4 cup (80 g) pure maple syrup
1 tablespoon (14 g) refined coconut oil, plus more as needed, melted
Filling
1 cup (175 g) vegan semi-sweet chocolate chips, melted
1 (12-ounce [340 g]) package firm silken tofu, drained
1 cup (260 g) creamy natural peanut butter
1/3 cup (106 g) pure maple syrup
1 tablespoon (5 g) unsweetened cocoa powder
2 teaspoons pure vanilla extract
Drizzle
1/2 cup (88 g) vegan dark chocolate chips
1/2 teaspoon refined coconut oil
1/4 cup (36 g) crushed unsalted dry-roasted peanuts
Line a 9-inch (23 cm) springform pan with parchment paper.
To make the crust, in a food processor, combine the flour, cocoa powder, maple syrup, and coconut oil. Blend until crumbly and well mixed. If the mixture doesn't hold together when pinched between your fingers, add up to 1 tablespoon (15 ml) additional coconut oil. Use your fingers to press the mixture evenly into the bottom and about halfway up the sides of the pan. Place the pan in the freezer while you make the filling.
To make the filling, combine all the filling ingredients in a food processor and blend until completely smooth. Pour the filling into the prepared crust and refrigerate or freeze for 4 hours, or until firm.
To make the drizzle, in a microwave-safe bowl, combine the chocolate chips and coconut oil. Microwave for 30 seconds, then stir. If not completely melted, microwave again for 10 seconds at a time until melted. Drizzle the melted chocolate over the top of the pie and sprinkle with the crushed peanuts. Store in the refrigerator for up to 3 days or in the freezer for up to 1 month.
Variation: Try swapping out the peanut butter and peanuts for almond butter and crushed almonds.