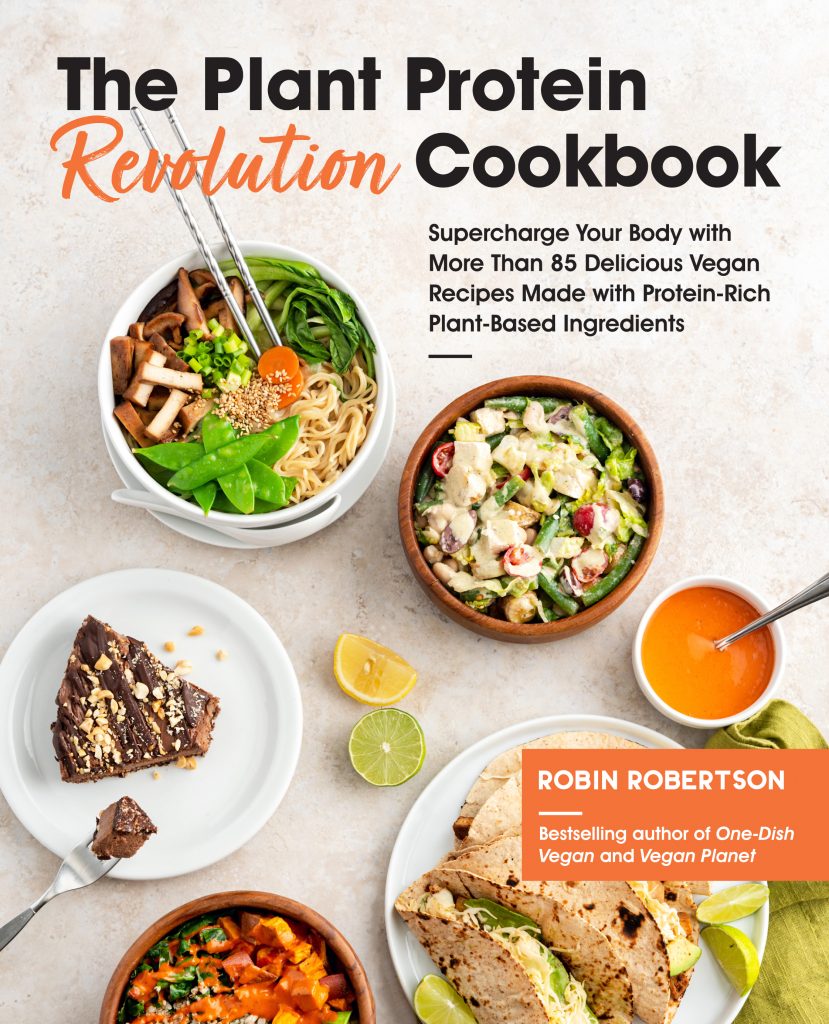 Chickpea salad sandwiches made in the manner of tuna salad sandwiches have been on menu at my house for years.
My latest version is one of the bonus recipes you'll get when you pre-order my new book, The Plant Protein Revolution Cookbook.
Instead seasoning it to tastes like tuna, I've changed up the flavor a bit to give it a smoky nuance reminiscent of a BLT.  In addition to the chickpeas, other protein-rich ingredients in this recipe include cashews and hemp seeds. You can serve this on whole-grain bread if you prefer, but I love it in a wrap.
Chickpea Lettuce and Tomato Wraps
Makes 2 servings
1/2 cup raw unsalted cashews, soaked in hot water for 1 hour, then drained
1/4 cup water
2 tablespoons fresh lemon juice
1 tablespoon ground hemp seeds
1 teaspoon yellow mustard
1/4 teaspoon garlic powder
1/4 teaspoon onion powder
Salt and ground black pepper
1 (15-ounce) can chickpeas, drained and rinsed
1/2 teaspoon smoked paprika
1/2 teaspoon Liquid Smoke
1/4 cup minced celery
2 tablespoons minced scallions
2 large whole-grain tortillas
4 large butter lettuce leaves
1 ripe tomato, thinly sliced
In a high-powered blender, combine the cashews, water, lemon juice, hemp seeds, mustard, garlic powder, onion powder, and salt and pepper to taste. Blend until completely smooth, scraping down the sides of the blender as needed. The dressing will be thick. Set aside.
In a large bowl, combine the chickpeas, smoked paprika, Liquid Smoke, and about half of the reserved dressing, mashing to break up the chickpeas. Add the celery, scallions, and as much of the remaining dressing as desired.  Season to taste with salt and pepper. Mix well.
To assemble, arrange a tortilla on a flat work surface. Place the 2 lettuce leaves in the lower third of the tortillas and top with a row of tomato slices. Spoon half of the chickpea mixture on top of the tomatoes, spreading evenly. Use your hands to gently roll up the wrap.  Repeat with the remaining ingredients. Cut each wrap in half and serve.
PRE-ORDER NOW:  If you order The Plant Protein Revolution Cookbook before August 11, 2020, you'll receive this and other bonus recipes that you can start using right away! Just send your proof of purchase to the following email address plantproteinrev@quarto.com and my publisher will send you the bonus recipes.