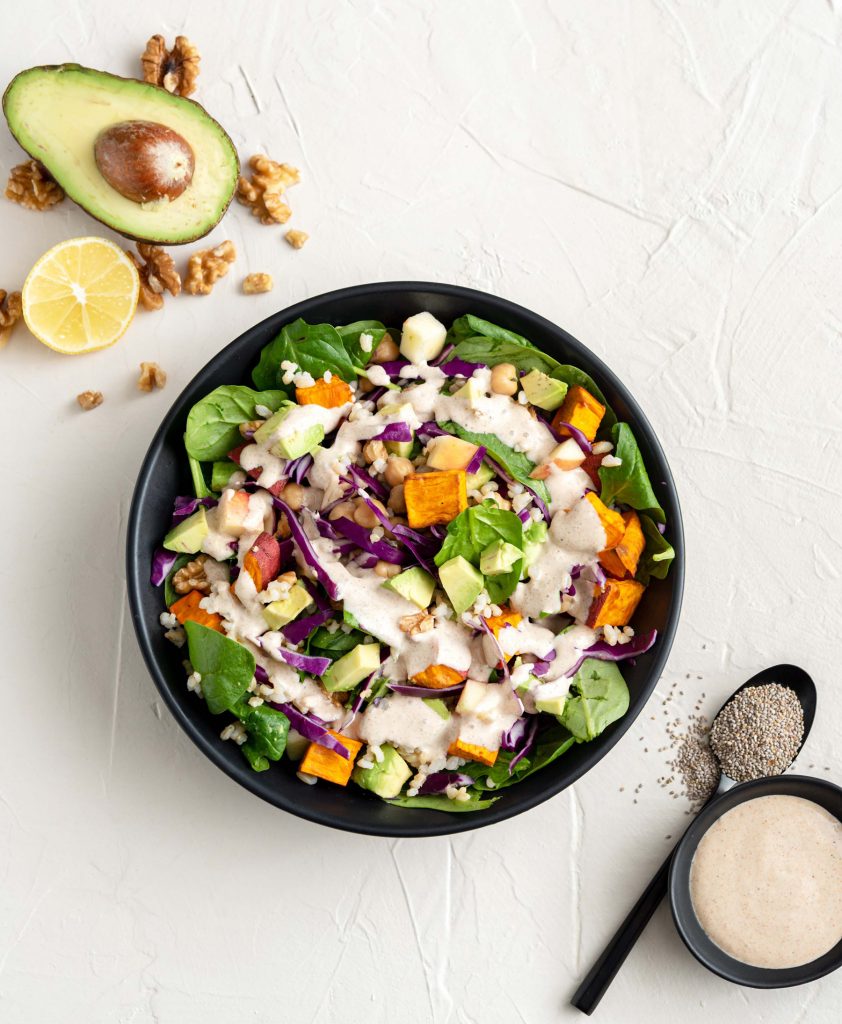 The Rainbow Salad with Lemon Chia Dressing is a refreshing and satisfying main-dish salad that is a great way to use leftover grains you may have on hand. If you roast your sweet potatoes ahead of time, this salad can come together quickly. For even more protein, you can add some diced smoked tofu or cooked chopped tempeh bacon.
This recipe is from my new book The Plant-Based Protein Revolution which comes out in just two weeks. If you haven't pre-ordered yet, do it today and receive bonus recipes. Just email your proof of purchase to my publisher at plantproteinrev@quarto.com.
Support for this book has been amazing, and I'm especially grateful for the kind words of Dr. Neal D. Barnard, president of Physicians Committee for Responsible Medicine.  About The Plant-Based Protein Revolution Cookbook, Dr. Barnard wrote:
"Robin Robertson is the expert when it comes to creating recipes that are delicious, healthful, and easy to prepare. This wonderful protein-packing volume proves that plant-based eating is the most satisfying way to power your day."
More coming soon, along with some great tips for getting more protein from plants.  For now, though, let's eat!
Rainbow Salad with Lemon Chia Dressing
This recipe is from The Plant Protein Revolution Cookbook by Robin Robertson (c) 2020, The Harvard Common Press. Photos by Jackie Sobon.
Salad
4 cups packed (120 g) baby spinach
11/2 cups (338 g) diced roasted sweet potato
2 cups (390 g) cooked brown rice or quinoa
11/2 cups (246 g) cooked chickpeas, or 1 (15-ounce [425 g]) can, rinsed and drained
1/2 cup (55 g) toasted slivered almonds or walnut pieces
1 cup (150 g) shredded red cabbage
1 large Gala or Fuji apple, cored and diced
1 ripe Hass avocado, peeled, pitted, and diced
Dressing
2 tablespoons (32 g) almond butter
2 tablespoons (30 ml) fresh lemon juice
1 tablespoon (15 ml) rice vinegar
1/3 cup (70 ml) water, plus more if needed
2 teaspoons pure maple syrup
2 teaspoons ground chia seeds
Sea salt and freshly ground black pepper
Salad: In a large bowl, combine the spinach, roasted sweet potatoes, brown rice, chickpeas, almonds, cabbage, apple, and avocado.
Dressing: In a blender, combine the almond butter, lemon juice, vinegar, water, maple syrup, and chia seeds. Blend until smooth. Season to taste with salt and black pepper. Set aside for 5 minute before using. Taste and adjust the seasonings, if needed. If the dressing is too thick, add more water, 1 tablespoon at a time.
To serve, drizzle the dressing on the salad and toss well to coat.
Makes 4 servings