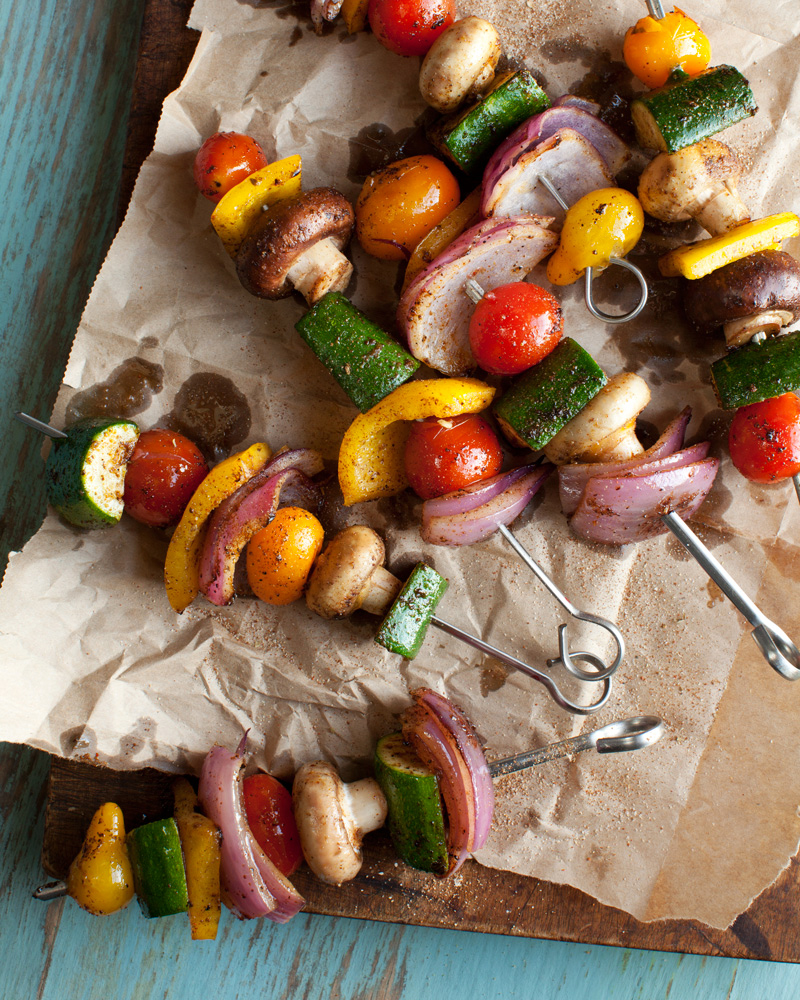 A recent trip to the vegan-friendly Nine Mile restaurant in Asheville, NC, reminded me how much I enjoy the flavors of the Caribbean.  When I'm at home, I like to make these jerk-spiced vegetable skewers, especially now that the weather is ideal for grilling outside.  I sometimes add seitan or extra-firm tofu for extra protein.  Otherwise, I serve it over coconut rice and beans. If you don't like the fussiness of skewers, you can cook the vegetables in a grill basket instead.
Jamaican Jerk Vegetable Skewers
This recipe is from Vegan Without Borders © Robin Robertson, 2014.
1 teaspoon dried thyme
1 teaspoon natural sugar
1 teaspoon salt
1/2 teaspoon garlic powder
1/2 teaspoon onion powder
1/2 teaspoon cayenne
1/2 teaspoon ground allspice
1/2 teaspoon smoked paprika
1/4 teaspoon ground nutmeg
1/4 teaspoon freshly ground black pepper
1 large red onion, cut into 1 1/2-inch pieces
2 yellow bell peppers, seeded and cut into 1 1/2-inch pieces
2 small zucchini, cut crosswise into 3/4-inch chunks
8 ounces small cremini or white mushrooms, trimmed
12 ounces cherry tomatoes
Olive oil
If using wooden skewers, soak them in water for 1 hour or overnight. (You should need about 8 to 12 skewers, depending on their size.)
In a shallow bowl, combine all of the spices, stirring to mix well. Set aside.
Thread the vegetables onto skewers, either alternating different vegetables or, alternatively, skewer one type of vegetable on separate skewers for even cooking. Brush the vegetables with olive oil, then sprinkle on the spice mixture, turning to coat all over with the spices.  Preheat the grill until hot.
Arrange the skewers on a lightly oiled grill and cook for about 5 minute per side, turning once, or until the vegetables are tender and nicely browned. Serve hot
Serves 4
GIVEAWAY WINNER:  The winner of The Good Karma Diet Giveaway is: Carolyn Strickland, whose favorite ingredients are avocados and butternut squash.  Congratulations Carolyn.  Send me an email with your mailing address so a copy of The Good Karma Diet by Victoria Moran can be sent to you.  Thanks to all who entered this giveaway!