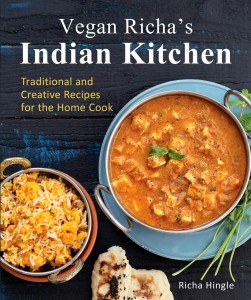 When paging through a cookbook actually makes me hungry, I know it's a winner.  That's what happened with Vegan Richa's Indian Kitchen, the new cookbook by Richa Hingle.  By the time I got to the dessert chapter, I needed an Indian food fix and was soon cooking up a batch of Carrot Halwa, and enjoying the fragrance of cardamom gracing my kitchen. I'm excited to participate in Richa's blog tour with a sample recipe from the book as well as a Giveaway for her Bonus Recipe Bundle.  More about the giveaway at the end of this post, but first, about the sample recipe…. As a card-carrying cauliflower addict, I naturally gravitated to the many distinctively delicious cauliflower recipes in this book, including this recipe for Spicy Baked Cauliflower Florets (known in Indian restaurants as Gobi 65).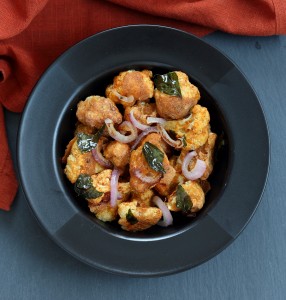 As Richa explains, "There are a few fried cauliflower (gobi) appetizers offered in Indian restaurants. One of the most common ones is Gobi 65, a spicy fried cauliflower in a cornstarch and flour batter with curry leaves. This is a baked version of Gobi 65. You can also fry the cauliflower for a restaurant-style version. Serve alone or with a side of mint-cilantro or coconut chutney."
Many of the ingredients in Richa's recipes can be found in any supermarket, although there are some items (such as the curry leaves in the following recipe) that need to be purchased at an Indian or Asian market or online.  Richa's easy-to-follow recipes accompanied by stunning photographs of all my favorites (and many soon-to-be favorites, I'm sure!) are positively transportive. Richa demystifies Indian spices and other ingredients and her welcoming voice comes through in the recipes, making you feel like she's in your kitchen with you. If you're a fan of Indian food but think it's too complicated to make at home, this book can be a game changer.
Spicy Baked Cauliflower Florets
Gobi 65
Prep: 20 minutes | Active: 20 minutes | Inactive: 30 minutes | Serves 4
To make these gluten-free, use 1/2 cup chickpea flour + 1/4 cup rice flour instead of unbleached all-purpose flour. (Recipe from Vegan Richa's Indian Kitchen, copyright © 2015 by Richa Hingle. Used by permission Vegan Heritage Press, LLC.)
BATTER:
2 tablespoons chopped red onion
3/4 cup + 2 tablespoons unbleached white flour
3 tablespoons cornstarch
1 teaspoon salt
1 teaspoon Garam Masala
1 1/2 to 2 teaspoons cayenne
1 teaspoon sriracha sauce, chile garlic sauce, or other hot sauce
1 (1-inch) knob of ginger
4 cloves garlic
12 curry leaves
2 teaspoons soy sauce
1 cup water
2 teaspoons safflower or other neutral oil
CAULIFLOWER:
Safflower oil spray, as needed
4 1/2 cups small cauliflower florets
GARNISH:
1 teaspoon safflower or other neutral oil
2 cloves garlic, minced
1/3 cup thinly sliced red onion
1/3 cup thinly sliced green or red bell pepper
10 curry leaves, chopped
1. Preheat the oven to 425°F. Blend all the ingredients for the batter in a blender and blend until smooth and pasty. Transfer to a large bowl. If the batter is too thin, add 1 tablespoon flour, or more, and mix well.
2. Add the cauliflower florets to the batter, toss to coat, and let marinate for at least 15 minutes. Mix to coat again. Place the florets on a parchment-lined baking sheet, and spray with oil.
3. Bake for 20 minutes, then rotate the baking sheet. Bake until a toothpick passes through the cauliflower easily, about 15 minutes. The total baking time is 30 to 35 minutes.
4. Make the garnish: Heat the oil in a skillet over medium heat. Add the garlic, onion, peppers, and curry leaves, and cook until the onion is golden, 7 to 9 minutes. Garnish the baked cauliflower with the onion mixture. Serve hot.
Bonus Recipe Bundle Giveaway:  The recipe bundle is a collection of recipes that did not make it into the book, including several that are tester favorites.  Leave a comment at the end of this post and tell me your favorite Indian dish or ingredient for a chance to win Richa's Bonus Recipe Bundle.  The contest closes at midnight Eastern Time on May 26th. A winner will be announced on Wednesday, May 27th. This giveaway is open internationally, so everyone can enter!  And if you don't have your own copy of Vegan Richa's Indian Kitchen cookbook, what are you waiting for?