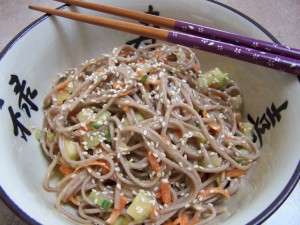 With the arrival of hot weather, my meal planning has been undergoing its own seasonal change, as I trade in some of my cold-weather favorites for warm weather options like the Fire and Ice Sesame Noodles from More Quick-Fix Vegan (my favorite of the "quick-fix" trilogy).  The evocative name refers to the heat from the sriracha and the cold since I usually serve this dish chilled. You can serve it at room temperature, if you prefer, but "fire and room temperature" just doesn't have the same ring to it.
The recipe is below, but first, I'd like to announce the winner of the Bonus Recipe Bundle from Vegan Richa's Indian Kitchen.  The winner is Ali @ Chickpeas & Change whose favorite Indian ingredient is tamarind sauce.  Congratulations, Ali! And thanks to all who entered the giveaway.
Now here's that recipe….
Fire and Ice Sesame Noodles
This recipe is from More Quick-Fix Vegan (c) 2014 by Robin Robertson, published by Andrews McMeel Publishing.
Serves 4
8 ounces buckwheat soba noodles
1 tablespoon dark sesame oil
1 medium carrot, coarsely  shredded
3 scallions, chopped
1/2 English cucumber, peeled and chopped
1/4 cup tahini sesame paste
1 tablespoon white miso paste
3 tablespoons soy sauce
1 to 2 teaspoons sriracha sauce, or to taste
1 teaspoon grated fresh ginger
1 teaspoon rice vinegar
1 teaspoon natural sugar
1/4 cup water
2 tablespoons toasted sesame seeds, for garnish
Cook the soba in a pot of boiling water according to package directions.  Drain well and rinse in cold water, then drain again (extremely well). Return the drained noodles to the pot.  Add the sesame oil, carrot, cucumber, and scallions and toss gently to combine. Set aside.
While the noodles are cooking, in a bowl, combine the tahini, miso, soy sauce, sriracha, ginger, vinegar, and sugar.   Blend until smooth.  Stir in the water and continue stirring until smooth and creamy.
Add the sauce to the noodles and vegetables and toss gently to combine.  To serve, transfer the noodles and vegetables to a large serving bowl or individual bowls and top with the sesame seeds.