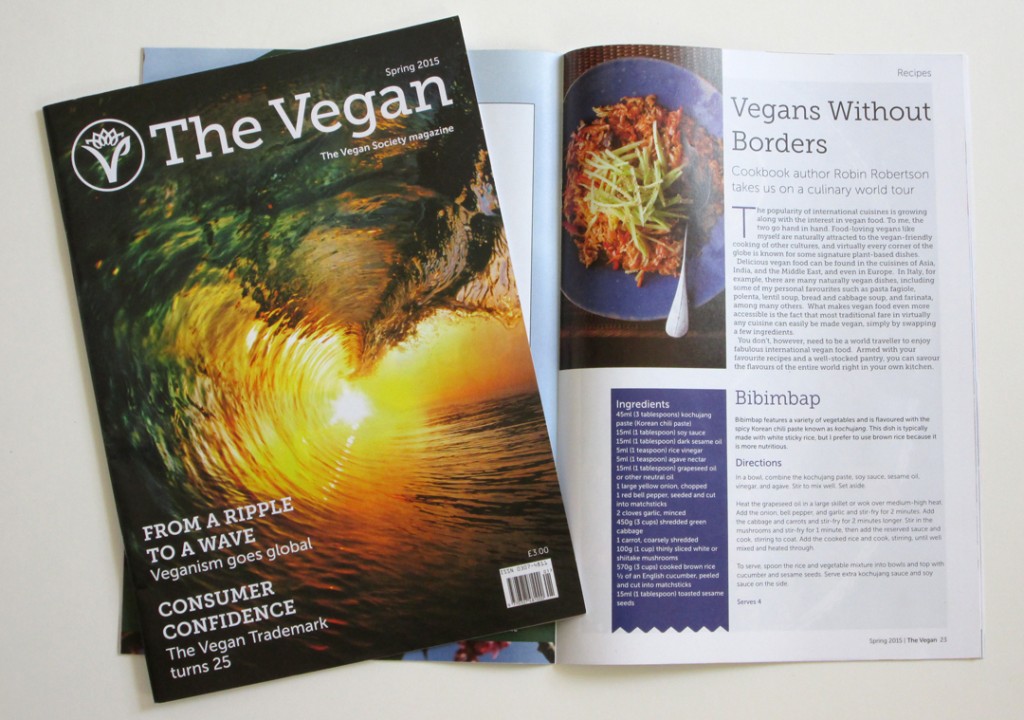 I was honored when asked to write a piece for The Vegan, the magazine of The Vegan Society in the UK.  Now that I have my hands on an actual copy of the spring issue of the magazine, I'm excited all over again!
In the feature, I write about the international nature of vegan cooking and share three of my favorite recipes from Vegan Without Borders.
The recipes I shared were for Farinata; Bibimbap, and Papri Chaat (photos by Sara Remington).In case you don't get The Vegan magazine (or in case you don't have Vegan Without Borders), at the end of this post, I'll share my farinata recipe.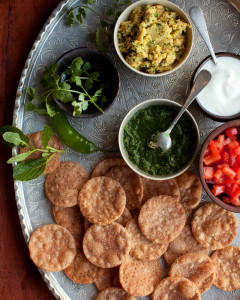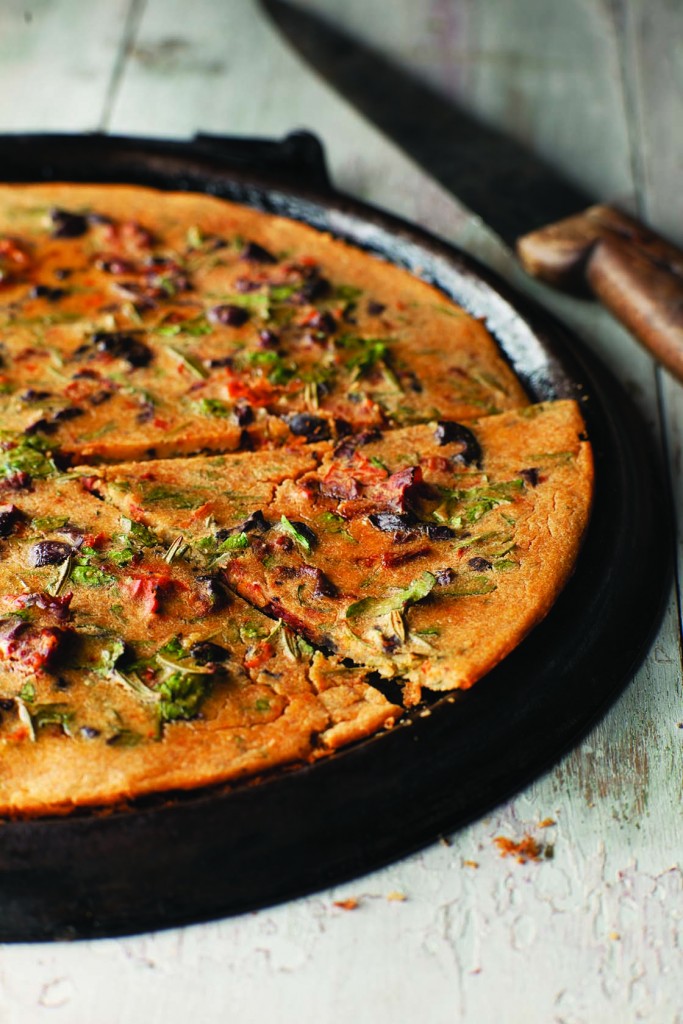 Farinata with Sun-Dried Tomatoes and Olives
When I travelled to Italy, I felt truly at home, not just because of my heritage but also because of how easy it is to eat vegan, especially with dishes such as this farinata. Made with chickpea flour, farinata is actually more of a savory pancake than a bread. It's easy to make this Ligurian specialty that can be served as an appetizer or as part of the main meal. Farinata is often prepared without embellishment, but I sometimes add a fresh herb such as rosemary, sage, or basil, and chopped olives and sun-dried tomatoes, as in this recipe. (This recipe is from Vegan Without Borders by Robin Robertson © 2014, Andrews McMeel Publishing.)
1 cup water
1 cup chickpea flour
2 tablespoons plus 1 teaspoon olive oil
1/2 teaspoon salt
Freshly ground black pepper
3 tablespoons minced kalamata olives
3 tablespoons minced sun-dried tomatoes
2 tablespoons torn basil leaves
In a mixing bowl, whisk together the water and chickpea flour until smooth. Add the oil, salt, a few grinds of pepper, olives, and tomatoes, and basil and mix until well blended. Cover and set aside at room temperature for 1 hour. Preheat the oven to 425°F. Oil a 12-inch pizza pan and heat in the oven until hot. Carefully remove the pan from the oven and add the batter, spreading evenly. Bake until the top is firm and the edges are golden brown, about 15 minutes. Cut into thin wedges and serve immediately.
Serves 6