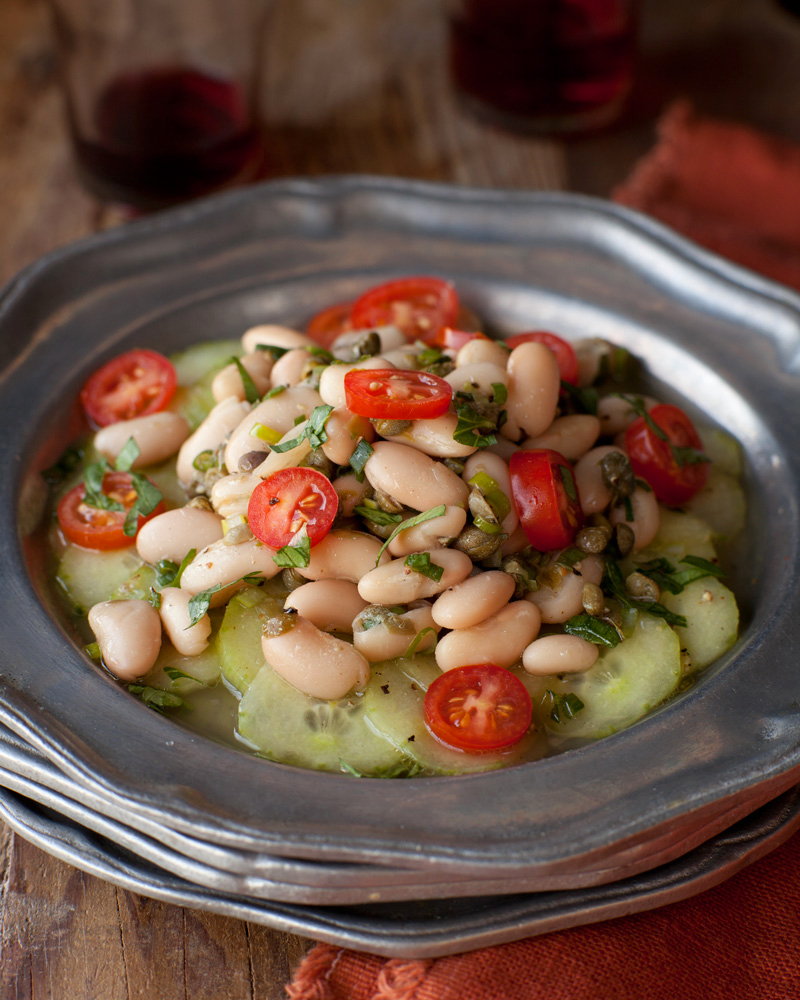 The hot humid weather is back in full force and so is my desire for quick and easy meal solutions.  One of my favorite salads from Vegan Without Borders is this Cucumber and White Bean Ceviche (photo by Sara Remington).
Traditionally made with raw fish or scallops, I like to make this lime-marinated salad from Peru with cucumbers and white beans for a nice contrast of refreshingly crisp and creamy.  The salad is great on its own, but I've been thinking that it can be even better as a main dish, so here's what I'm going to do…
For dinner tonight, I plan to toss this zesty salad with some cooked leftover rotini pasta and top it with diced avocado.  (I have a feeling it's going to taste delicious!)
Cucumber and White Bean Ceviche
This recipe is from Vegan Without Borders (c) Robin Robertson, 2014, published by Andrews McMeel Publishing.
1/4 cup freshly squeezed lime juice
2 tablespoons olive oil
1/4 teaspoon salt
2 scallions, minced
2 teaspoons chopped capers
1 1/2 cups cooked cannellini beans or 1 (15.5-ounce) can cannellini beans, drained and rinsed
1 English cucumber, peeled and thinly sliced
1 tablespoons minced cilantro or parsley
Freshly ground black pepper
5 cherry or grape tomatoes, thinly sliced or quartered
In a bowl, combine the lime juice, oil, salt, and scallions. Stir to combine. Add the capers and beans and toss gently to coat. Refrigerate, covered, for 1 hour.
Fan the cucumber slices in a circle in the center of a large platter or individual salad plates. Spoon the bean mixture on top of the cucumber slices. Garnish with tomato, sprinkle with cilantro, and top with a few grinds of black pepper.
Serves 4