Chocolate mousse pie has long been a stalwart of vegan desserts, but leave it to Laura Theodore (PBS's Jazzy Vegetarian) to "jazz up" this favorite with a few new (and delicious!) twists that are right in the recipe title: in this recipe chocolate teams up with coffee giving it a wonderful mocha flavor.  And then, it gets all fancy with a beautiful marbled effect, making it off-the-charts gorgeous.  Another thing to love about this pie is a crust made with dates, nuts, and coconut to add even more flavor and texture.
You can find this recipe and more in Laura's latest book, Vegan for Everyone.  In addition to many all-new recipes, the book features updated versions of 60 fan-favorite recipes from her earlier books.  Check it out, but first, check out this pie…..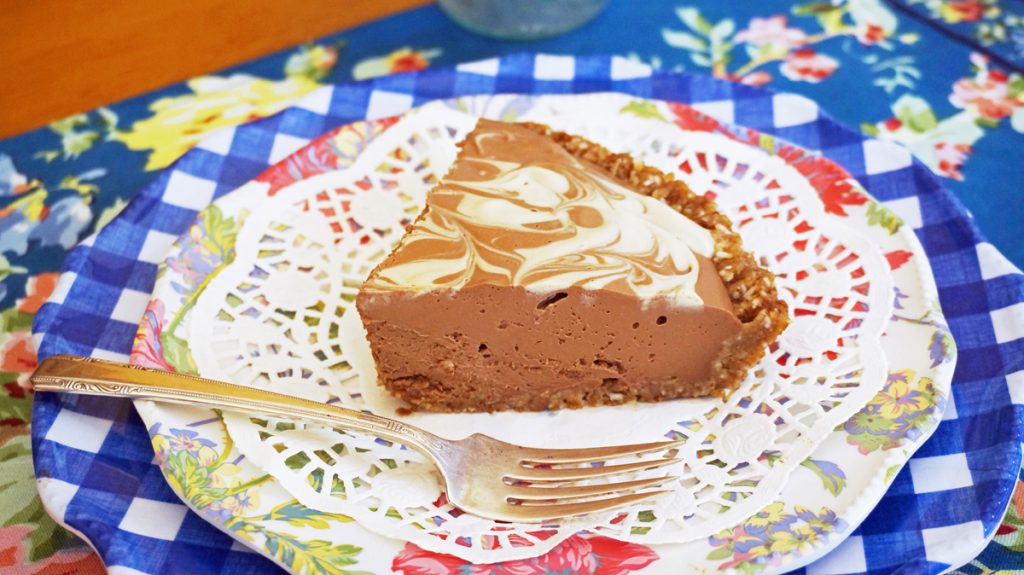 Mad Mocha Marbled Mousse Pie
MAKES 10 SERVINGS
This pie is gorgeous to look at, delicious to eat and a delight to serve! Your family and guests will think you slaved for hours creating the "fancy" marbled effect, but it's actually super easy to do! You will please chocolate and coffee lovers alike with this impressive sweet indulgence!
CRUST
1 tablespoon extra-virgin olive oil, plus more to coat pan
11 Medjool dates, pitted and chopped
2/3 cup chopped pecans
½ cup chopped walnuts
½ cup unsweetened shredded dried coconut
FILLING
1 block (14 to 15 ounces) extra-firm regular tofu, drained and crumbled
5½ tablespoons vegan cane sugar
½ cup cold, strong brewed coffee
1½ cups vegan dark chocolate chips (55% to 70% cacao)
½ cup unsweetened or sweetened nondairy milk
Generously coat a 9-inch round pie pan with olive oil. Put all of the crust ingredients in a high-performance blending appliance and process into a dough, stopping the machine and scraping the bowl several times. The dough will be very sticky. Transfer the dough to the oiled pan and press it into the bottom and up the sides of the pan (see note). Put the pie pan in the freezer for 6 to 8 minutes, and then transfer to the refrigerator while you prepare the filling.
To make the filling, put the tofu, sugar and coffee into a blender and process until very smooth. Transfer 1/3 cup of the tofu/coffee mixture to a small bowl and reserve. Add the chocolate chips to the top of the remaining tofu mixture (that is still in the blender container).
Put the nondairy milk into a small saucepan and bring it to a simmer over medium-low heat. Immediately pour the simmering nondairy milk over the chocolate chip mixture and process for 30 seconds to 1 minute, or until it becomes completely smooth. Pour the chocolate filling into the chilled crust (it will mound up slightly, above the crust). Immediately drop 5 to 6 spoonfuls of the reserved tofu/coffee mixture onto the top of the pie. Then, using a wooden skewer or the tip of a knife, gently swirl the tofu/coffee mixture into the top of the pie in a pleasing, marbleized pattern. Refrigerate for at least 3 hours (or overnight), until completely set. Slice and serve!
Chef's note: If you are cooking gluten free, make certain to purchase certified gluten-free tofu, available in most supermarkets.
Chef's note: If desired, create a decorative edge to the crust. Using the tines of a fork, press gently down around the entire outer edge of the crust to form evenly spaced lines.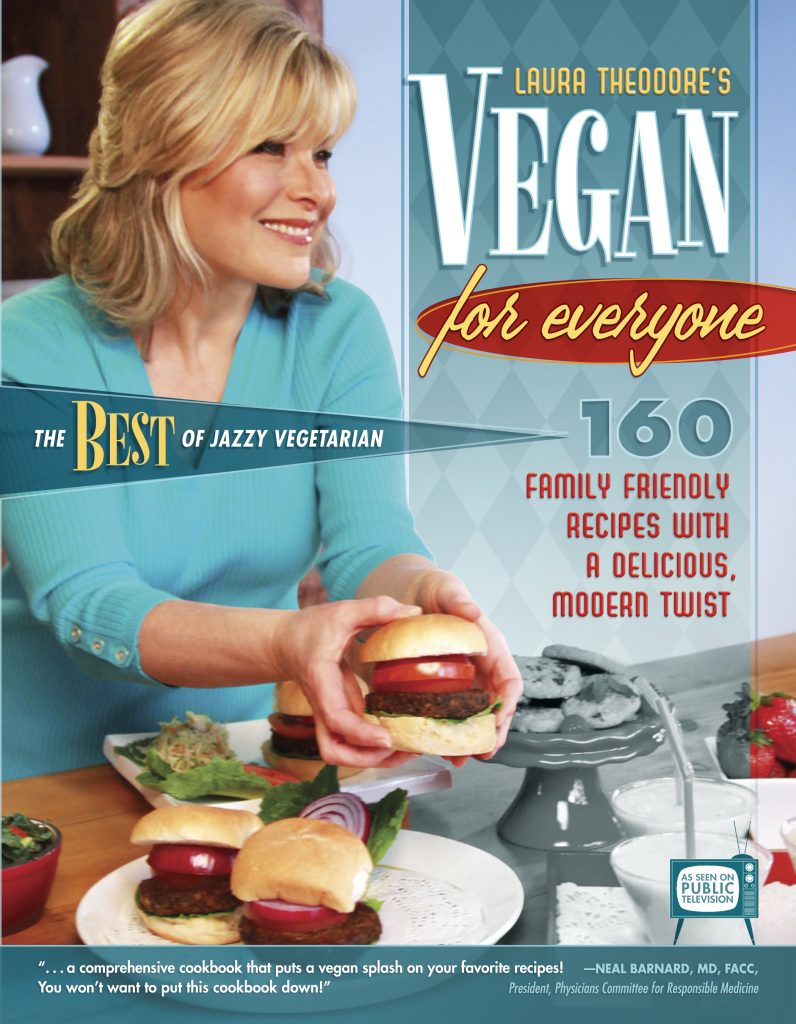 Photo Credit: Laura Theodore
Recipe from Vegan For Everyone by Laura Theodore Published by Scribe Publishing Company, ©2020. Reprinted by permission.