With a possible pandemic on the horizon, I've stocked up on toilet paper and hand sanitizer — just in case.  But I've also stocked up on enough food supplies to get us through the next couple of months, in case of quarantine.
I've been using the tips and recipes in my book, Cook the Pantry, to dictate my grocery list and keep my pantry full if the situation worsens.  The quick and easy recipes in Cook the Pantry use mostly items from your pantry and freezer (along with some optional fresh produce, if you have it on hand).
One of my favorite recipes from the book is the Artichoke Muffaleta Po Boys.  It's the best of two popular New Orleans culinary icons joining forces to create the ultimate sandwich made with artichokes and a piquant olive relish. Here's the recipe:
Artichoke Muffaleta Po' Boys
Makes 2 servings
Recipe from Cook the Pantry © 2015 by Robin Robertson. Photo by Annie Oliverio. Used by permission Vegan Heritage Press LLC.
3 scallions, chopped
1 garlic clove, crushed
1/3 cup pickled vegetables, well-drained
1/3 cup pimiento-stuffed green olives, well-drained
1 tablespoon olive oil
1 (14-ounce) can artichoke hearts, well-drained and halved
1/2 teaspoon Cajun spice blend
3 tablespoons Creole mustard
3 tablespoons vegan mayonnaise
2 small sub rolls
1 cup shredded lettuce
1 large tomato, thinly sliced
Pickled sliced jalapeños
Tabasco or other hot sauce, to serve
1. In a food processor, combine the scallion and garlic and process until finely minced. Add the pickled vegetables, olives, and pulse to make a relish. Set aside.
2. Heat the oil in a large skillet over medium heat. Add the artichoke hearts, season with the spice blend, and cook until nicely browned, about 5 minutes per side.
3. To assemble the sandwiches, spread the mayonnaise and mustard on the inside top and bottom of the bread. Spread the lettuce onto the bottom of each sandwich, followed by tomato slices. Top with the relish mixture, a few slices of jalapeños, and the artichokes. Serve at once with Tabasco.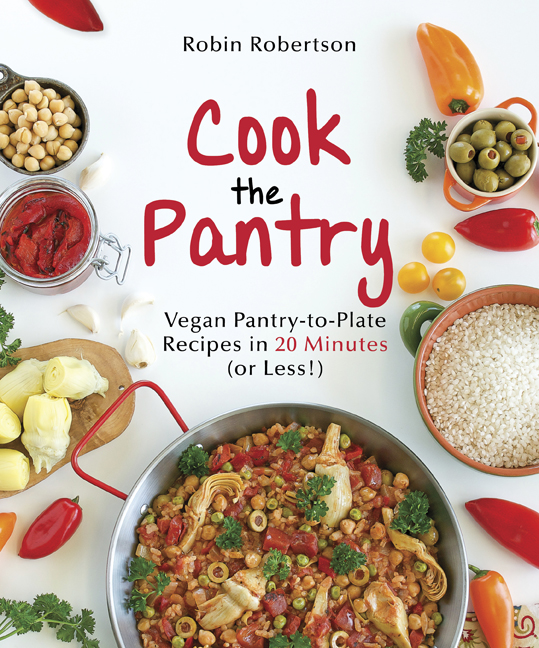 In case you don't already own Cook the Pantry, below is a list of the 100 recipes in the book. Check it out — you don't need to be quarantined to enjoy these easy and delicious recipes.
Cook the Pantry: Vegan Pantry-to-Plate Recipes in 20 minutes or Less
Soup, Stew, Chili
Tortilla Soup
Chipotle Corn Chowder
White Beans and Greens Soup
Hot and Sour Noodle Soup
Black Bean Soup with a Whisper of Sherry
Shiitake Happens Mushroom Soup
Pretty Good Gumbo
Minestrone Soup
Curry-Spiced Pumpkin Bisque
Creamy Peanut Soup
Pantry Plus Gazpacho
Vegetable Bricolage
Everyone's Favorite Black Bean Chili
Red Bean Chili
Moroccan-Spiced Vegetable Stew
Chana Masala Bowls
Salad Savvy
Five-Minute Couscous Salad
Amazing Technicolor Chickpea Salad
Moroccan Couscous Salad
Tabbouleh Salad
Pantry Pasta Salad
Hearts of Palm Ceviche
Composed Marinated Vegetable Salad
Pinto, Corn, and Red Pepper Salad
"Three's a Crowd" Bean Salad
White Bean Niçoise Salad
Taco Salad with Corn and Black Bean Salsa
Southwest Salmagundi
Asian Noodle Salad with Peanut Dressing
Zucchini "Pasta" Salad
Suddenly Sushi Salad
Asian Noodle Slaw
Avocado Goddess Salad
Three-Tomato Pasta Salad
Sesame Soba Salad
Sandwiches, Burgers, and Pizza
Crab-Free Sandwiches
Bean and Spinach Burritos
Artichoke Muffaleta Po Boys
BBQ Jack Sandwiches
Homestyle Hash Burgers
Black Bean and Walnut Burgers
Samosadillas
Artichoke Tartines
Black Bean and Spinach Quesadillas
Chunky Chickpea Sandwiches
Texas Caviar Wraps
Artichoke-Spinach Pizza
Pizza Nicoise
Black and White Pizza
BBQ Chickpea Pizza
Cheeseburger Pizza
Jalapeno-Hummus Pizza
Pinto Bean Nacho Pie
Stovetop Suppers
Hoppin' John and Collards
Paella from the Pantry
Cheesy Grits and Greens with Smoky Mushrooms
Polenta Fiesta
Quick Quinoa Pilaf
Asian-Style Vegetable Pancakes with Dipping Sauce
Dinnertime Scramble
Tofu and Broccoli Stir-Fry
Layered Tortilla Skillet
Lemongrass Jasmine Rice
Greek Freekeh and Spinach with White Beans
Pantry Bulgur Pilaf
Tuscan Chickpea Fritatta
Red Beans and Quinoa with Chipotle Queso
Chickpea-Artichoke Cakes with Dill Aioli
Black Bean Picadillo
Jerk Tempeh with Coconut Quinoa
Top Shelf Couscous Pilaf
Pantry Pasta Plus
Giardiniera Mac and Cheese
Capellini with Palm-Heart Scampi Sauce
Penne and Broccoli with Red Bell Pepper-Walnut Sauce
Kitchen-Sink Capellini
Ramen Fagiole
Pasta Marinara
Puttanesca in a Pinch
Rotini with Creamy Pumpkin Sauce
Penne with White Beans and Olivada
Speedy Lasagna
Rice Noodles with Spicy Peanut Sauce
Spaghetti Lo-Mein
Artichoke-Cannelini Pasta
Manchurian Black Bean Noodles
Sweet Treats
Rawklava
Easy as Chocolate Pie
Peanutty Energy Balls
Almond-Cranberry Haystacks
Coconut Lime Drops
No-Bake Oatmeal Cookies
Bananas Foster Dessert Nachos
No-Fuss Chocolate Fondue
Stovetop Peach-Blueberry Crumble
Ginger-Walnut Rum Balls
Chocolate-Almond Truffles
Pecan Pie Squares
Mangos with Pistachios and Cranberries
Fudgy Brownie Mug
Pastry-Wrapped Chocolate and Walnut-Stuffed Dates