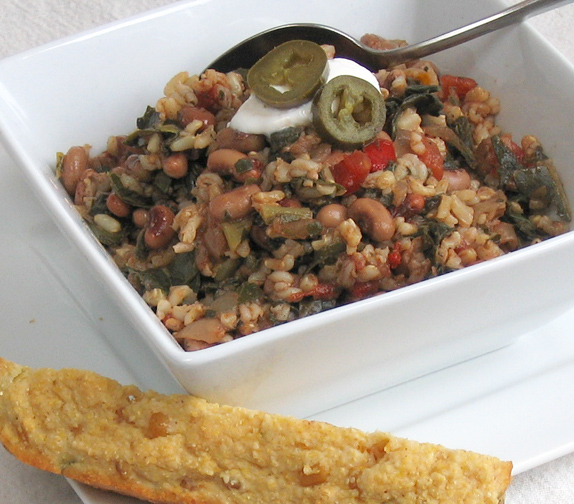 If it's January 1st, it must be time for Hoppin' John.  I love the tradition of making black-eyed peas with rice and collards so much!  I first discovered it when we moved to Charleston SC from Pennsylvania in 1983.  It's been a New Year's Day tradition ever since.  Most people serve the collards on the side, but I love to combine them. I sometimes add diced tomatoes just because.
My favorite way to serve them is topped with vegan sour cream, Tabasco, sliced jalapenos, with cornbread on the side. I like to cook the collards and black-eyed peas a day in advance and then add them to the rice on New Year's Day.
Here is my basic recipe (and more photos of Hoppin' John variations from previous years).  Happy New Year to all my friends. I wish you all the best in 2020!
Hoppin' John with Collards
1 tablespoon olive oil or 3 tablespoons water
1 sweet yellow onion, chopped
2 garlic cloves, minced
1 cup long-grain brown rice
2 cups  vegetable broth or water
Salt
3 cups cooked or 2 (16-ounce) cans black-eyed peas, drained and rinsed
3 cups chopped cooked fresh or frozen collard greens, well drained
1 (14-ounce) can fire-roasted diced tomatoes, drained (optional)
1 teaspoon Liquid Smoke
1 teaspoon Tabasco sauce, plus more to serve
1/4 teaspoon freshly ground black pepper
Vegan sour cream, to serve
Sliced pickled jalapenos (optional)
Heat the oil or water in a large saucepan over medium heat. Add the onion and garlic, cover, and cook until softened, about 5 minutes. Add the rice and broth or water and bring to a boil. Add salt to taste (the amount of salt needed depends on the saltiness of your broth or if you use water). Reduce the heat to medium-low and cook, covered, until the rice is tender, about 30 minutes.  About 10 minutes before the rice is tender, stir in the cooked black-eyed peas, the cooked chopped collards, tomatoes (if using), Liquid Smoke, Tabasco, and black pepper. Add more salt, if needed.
To serve, spoon into bowls and accompany with vegan sour cream, jalapenos (if using) and Tabasco at the table.
Here are pics of two other favorites from my Hoppin' John gallery:
Made in a slow cooker with a cornbread topping….
and Hoppin' John Collard Rolls…. (serve with Tabasco-Sour Cream)…