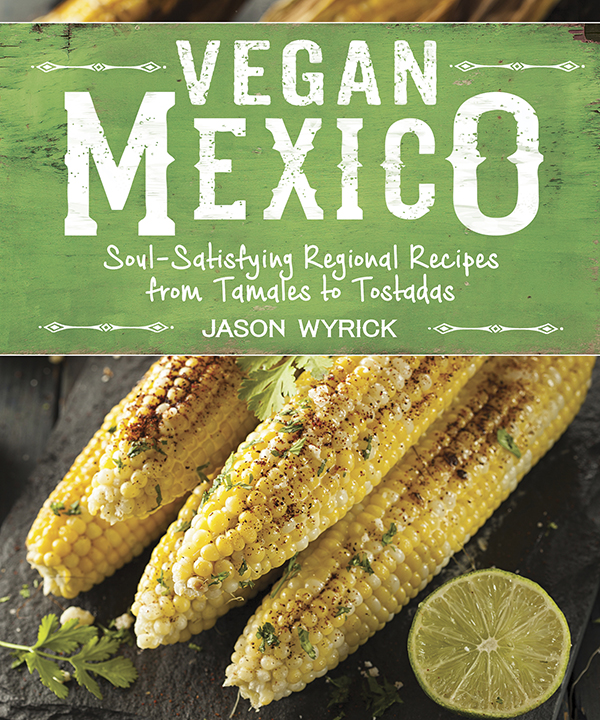 If you like authentic Mexican flavors, then you'll LOVE Vegan Mexico, the new book by Jason Wyrick. There's lots to love about this book, from the warming soups and refreshing salads to the fun dips and hearty sandwiches.  There are also loads of great recipes for Mexican favorites such as tamales, enchiladas, tostadas, tacos, and more. Corn Ice Cream with Candied Pecans, anyone?
As everyone who has cooked from Jason's previous book, Vegan Tacos, already knows — Jason understands Mexican cuisine and how to get as much flavor as possible out of the ingredients.  With so many great recipes in this book, it was difficult to pick just one for this blog tour of Vegan Mexico. Ultimately I went with the Plantain Chips with Orange Aioli — so easy to make and so much flavor.  (If you're avoiding oil, try making them in your air fryer!)   I hope you enjoy this recipe as much as I do.
Keep Vegan Mexico in mind for holiday gift-giving if you have any Mexican food-lovers on your list!
Plantain Chips with Orange Aioli
Chifles con Crema de Ajo
Makes 3 cups
Plantain chips, which are basically potato chips made with plantains, are common all throughout Central America. They can be found in convenience stores, in markets, and at many roadside stalls, especially in the south of Mexico.  Serve with Crema de Ajo (Orange Aioli). (From Vegan Mexico, copyright © 2016 by Jason Wyrick. Used by permission Vegan Heritage Press.)
Ingredients
6 cups corn or vegetable oil
2 medium green plantains
Zest of 2 limes
1/2 teaspoon salt
1/2 teaspoon chile de árbol powder or chile powder of your choice
Juice of 2 limes
1/2 cup Crema de Ajo (below)
Preparation
In a heavy pot at least 2 inches deep (preferably cast iron), heat the oil to 375°F. While the oil is heating, slice off the ends of the plantains and score the skin lengthwise along both ridges, then peel the plantains.  Cut the plantains diagonally into 1/8-inch thick slices.
In a large mixing bowl, combine the lime zest, salt, and chile de árbol powder and set aside.
Working in 4 batches, fry the plantains for about 1 minute until they are crisp and golden. Transfer them to a paper towel to drain. Once all the batches have been fried, transfer the plantain chips to the bowl with the zest, salt, and chile de árbol powder. Add the lime juice and toss to combine.
Crema de Ajo
Makes 1 1/4 cups
Crema de ajo is a fusion of Mediterranean garlic dips, like aioli and toum, with the Yucatecan twist of sour orange juice. You can adjust the garlic up or down as you like.
Ingredients
6 large cloves garlic
1 cup vegan mayonnaise
1/3 teaspoon salt
1/3 teaspoon freshly ground black pepper
Juice of 1 orange
Juice of 1 lime
Preparation
In a blender or food processor, purée the garlic, mayonnaise, salt, pepper, orange juice, and lime juice until smooth.