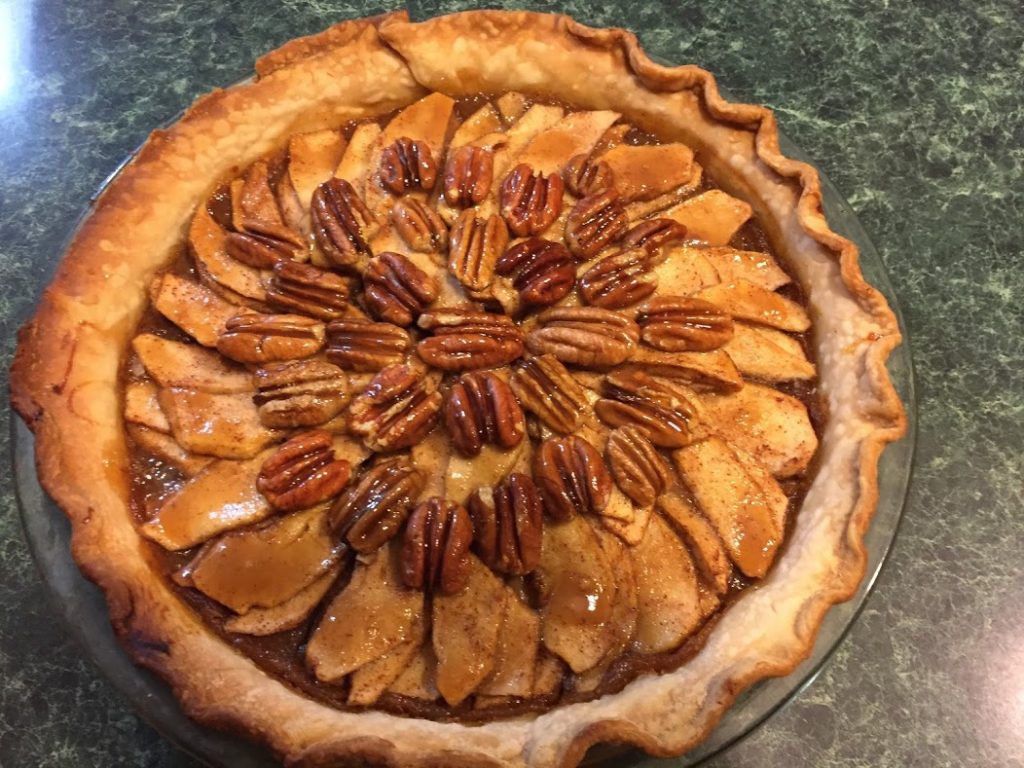 I actually started out making an apple pie and a pumpkin pie when I began thinking about how everyone has their favorite kind of pie and how tricky it must be to please everyone in a family where someone wants pumpkin pie, another wants apple pie, and still another prefers pecan pie.  With company coming for dinner, I didn't want to risk an experiment gone bad, so I made a basic apple pie to hedge my bets, freeing me to make a three layer Thanksgiving pie to (hopefully!) please everyone at the table.  (photo by Elissa Free)
I didn't actually use a recipe, so I've had to reverse-engineer what I did for this post.  But basically, just proceed with your favorite pumpkin pie recipe and then add a couple layers of thinly sliced apples (seasoned for apple pie filling). Cover and bake (I cover it so the apples don't dry out and to help them cook.  Then uncover and top with some gooey pecan halves (you can coat them in your favorite caramel topping, glaze, or date syrup — I did mine in kind of a hybrid date syrup-glaze combo. And then bake a few more minutes (uncovered) to meld all the flavors and finish browning the crust.
After chilling a couple hours (mainly to set the pumpkin layer) the pie is ready to slice.  When I made it, everyone else seemed to like getting a little bit of each of the three kinds of pie in every bite.  I guess that makes me more of a purist because I preferred eating one layer at a time, to experience the three pies on their own.
Whichever way you decide is best, I hope you enjoy this pie.  Happy ThanksLiving everyone!
Pumpkin-Pecan-Apple Pie
1 (9-inch) vegan pie crust
Pumpkin Layer:
1 (15-ounce) can solid-pack pumpkin
1 cup light brown sugar
1 tablespoon cornstarch
2 teaspoons pumpkin pie spice
Apple Layer:
2 or 3 apples (try Honeycrisp)
1/2 cup sugar
1 tablespoon cornstarch
2 teaspoons lemon juice
1 teaspoon ground cinnamon
Pecan Layer:
3 tablespoons dark brown sugar
1 tablespoon water
1/4 cup date syrup
1/2 teaspoon vanilla extract
1 cup toasted pecan halves
Preheat the oven to 400°F. Arrange the crust in a deep-dish pie plate, crimping the edges. Set aside.
In a large bowl, combine the pumpkin, brown sugar, cornstarch, and pumpkin pie spice. Stir until well mixed. Scrape the pumpkin mixture into the pie crust, and spread it evenly with a rubber spatula. Set aside.
Peel, halve, and core the apples, then cut them into very thin slices (about 1/8-inch thick) and place them in a large bowl.  Add the sugar, cornstarch, lemon juice, and cinnamon, and stir gently to coat the apple slices. Arrange the apple slices on top of the pumpkin filling, layering the apples in a circle, overlapping the slices, beginning at the outer edge and ending at the center of the pie.
Cover the pie loosely with foil and bake for 45 minutes.  While the pie is baking, make the pecan layer.  In a small saucepan, combine the brown sugar, water, date syrup, and vanilla, stirring over low heat until smooth and well blended.  Stir in the pecans and coat well until the pecans are glazed with the mixture.  Remove from the heat to cool.
Remove the baked pie from the oven, remove the foil, and beginning at the center, arrange the pecans in a circle on top of the apples.  Return the pie to the oven for 10 to 15 minute or until the crust is nicely browned.  Cool on a rack for about 1 hour, then refrigerate until chilled before serving.
Serves 8