So far this summer has been punctuated by heat, humidity, and lots of rain.  I'd gripe about the weather if it weren't for the lovely produce that has been popping up all over because of it.  Just this week a dear friend gifted me with loads of veggies, including this study in green: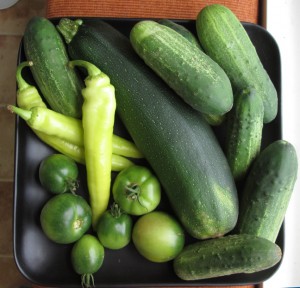 The zucchini, peppers, and (ripe) tomatoes went into my favorite summer vegetable dish — ratatouille (shown above, photo by Sara Remington).  The recipe is at the end of this post — it's from my book, Vegan Without Borders.
Our friend also brought us these zucchini blossoms, which I cooked up almost as soon as I got them — (and which we inhaled before I could snap a photo.) Here they are before cooking….
In between all the fresh produce, we've been happily nibbling on some of the delicious cheeses from Miyoko's Kitchen, including Fresh Loire Valley in a Fig Leaf — almost too pretty to eat.  I served the Aged English Smoked Farmhouse to my friend who brought over the veggies — it was so good with the black seedless grapes that I served with them.  While I do enjoy making my own cheese on occasion, it's such a treat to dig into all the amazing varieties that Miyoko has come up with.  I highly recommend them to any former (or current) cheese lovers.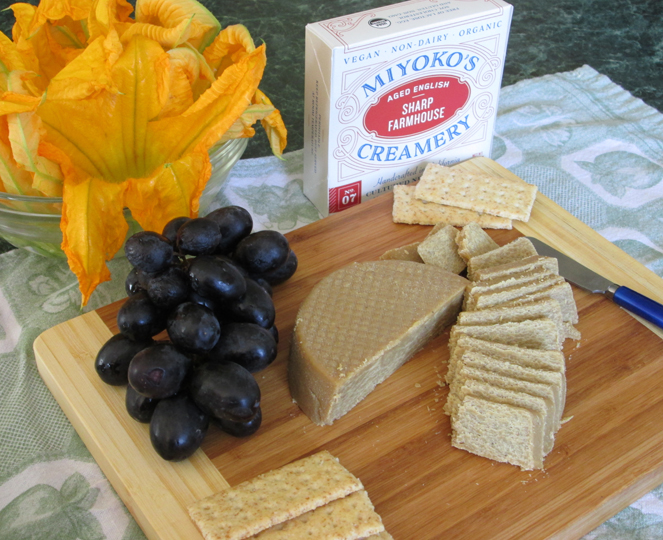 Now, here's that recipe I promised for the ratatouille.  It may seem to hot to be roasting vegetables, but roasting them really intensifies their flavors in this dish which is further enhanced by the addition of basil pistou. It's great served with a warm crusty baguette.
Roasted Ratatouille with Basil Pistou
This recipe is from Vegan Without Borders (c) 2014 by Robin Robertson, published by Andrews McMeel Publishing.
1 large yellow onion, chopped
1 eggplant, peeled and cut into 1/2-inch dice
2 zucchini, halved lengthwise and cut into 1/4-inch slices
1 red bell pepper, seeded and chopped
2 cups cherry or grape tomatoes, halved lengthwise
3 to 5 cloves garlic cloves, chopped
1 teaspoon fresh or dried thyme
1 teaspoon dried marjoram
1/2 teaspoon dried oregano
Salt and freshly ground black pepper
2 tablespoons olive oil
3 tablespoons Basil Pistou (recipe follows)
2 tablespoons chopped fresh Italian flat-leaf parsley
Preheat the oven to 425 degrees F. Lightly oil a large baking dish or roasting pan.
In a large bowl combine the onion, eggplant, zucchini, bell pepper, tomatoes, and garlic. Sprinkle on the thyme, marjoram, and oregano and season generously with salt and pepper to taste. Drizzle on the oil and toss to combine. Spread the vegetable mixture into a large baking pan. Roast until the vegetables are tender, about 45 minutes, turning once or twice to cook evenly. To serve, transfer to a serving bowl, add the pistou and parsley and toss to combine. Taste and adjust the seasonings, if needed. Serve hot.
Serves 4 to 6
Basil Pistou
Pistou is the French version of basil pesto. Made without cheese or pine nuts, pistou can be used in the same ways as pesto: as a pasta sauce, in salad dressings or soups, or to flavor vegetable dishes, as it does in the Roasted Ratatouille (page 000). Best of all, it freezes well, so portion it into 1- or 2 2-tablespoon amounts and freeze for later use.
2 cups packed fresh basil leaves
4 cloves garlic cloves, chopped
1/4 cup olive oil
1/2 teaspoon salt
A few grinds of freshly ground black pepper
In a food processor, combine the basil leaves, garlic, olive oil, salt, and pepper. Process until thoroughly blended, scraping down the sides as needed. Transfer to a container with a tight-fitting lid. Use immediately or cover and refrigerate until needed.
Makes about 2/3 cup pistou