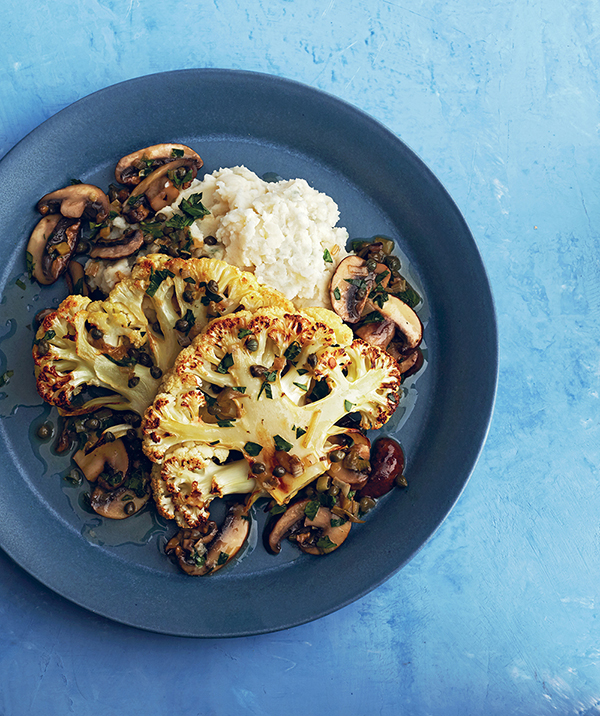 When you cut a head of cauliflower like you would a loaf of bread, the resulting slabs can be roasted and served as delicious steaks. My favorite way to season them is with a luscious lemony piccata sauce and mushrooms atop a serving of creamy mashers.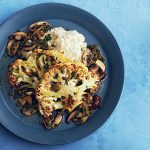 Roasted Cauliflower Piccata
Ingredients
1

head cauliflower, cored

Olive oil, for cooking

1

cup

sliced mushrooms

2

scallions, minced

1/3

cup

dry white wine or vegetable broth

3

tablespoons

fresh lemon juice

1 1/2

tablespoons

capers, drained

1/4

cup

minced fresh parsley

2

teaspoons

vegan butter, chilled

Your favorite mashed potatoes, to serve
Instructions
Preheat the oven to 425°F. Lightly oil two large rimmed baking sheets or line them with parchment paper.

Place the cauliflower on a cutting board, cored-side down, and use a long serrated knife to cut it into ½-inch-thick slices, as if you were cutting a loaf of bread. Arrange the cauliflower slices in a single layer on the prepared baking sheets and brush with a little olive oil or spray with cooking spray and season with salt and pepper to taste. Roast the cauliflower until tender and nicely browned, 25 to 30 minutes, turning once with a large metal spatula about halfway through.

While the cauliflower is roasting, make the sauce. Heat 2 teaspoons oil in a skillet over medium heat. Add the mushrooms and scallions and sauté for about 3 minutes, or until softened. Add the wine, lemon juice, and capers and cook, stirring, until the liquid reduces slightly. Just before serving, add the parsley, then stir in the butter to melt it into the sauce.

To serve, spoon a serving of the mashed potatoes onto each plate and top with a cauliflower steak. Spoon the sauce on top.
Recipe Notes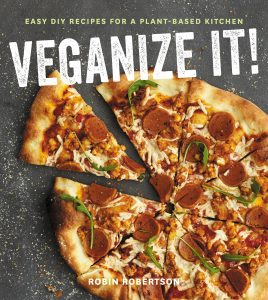 Text excerpted from VEGANIZE IT! © 2017 by Robin Robertson. Reproduced by permission of Houghton Mifflin Harcourt. All rights reserved. Photo by William and Susan Brinson.