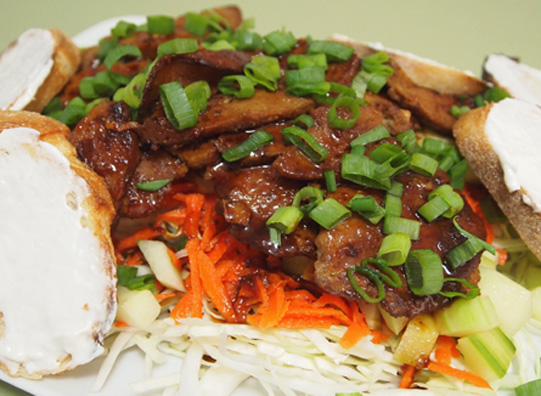 Deconstructed Banh Mi Salad (with seitan) from Quick-Fix Vegan
This has got to be one of the hottest summers ever, don't you think?  I never thought that temperatures in the mid-80s would be considered a "cooling" trend.  Most days, I try to plan ahead to get cooking out of the way early in the day, especially if I'm making something that will heat up the kitchen.  Sometimes a main-dish salad is the order of the day, with any cooked components being prepped ahead of time.
Often, I just put together a "kitchen sink" salad, using whatever is on hand.  But when I'm in the mood for particular flavor combinations, many of my favorites can be found in Quick-Fix Vegan.  Among my go-to salads are the Rainbow Noodle Salad (with added white beans or chickpeas); Corn, Red Beans, and Blueberry Salad with Mango Dressing; Panzanella with Grilled Vegetables; Quinoa Salad with Apples and Walnuts ("summer-ized" with peaches and other stone fruits instead of apples these days); and Black Bean and Sweet Potato Salad, served over lettuce and cucumber.
My absolute personal favorite salad, however, is the Deconstructed Banh Mi Salad.  Served with slices of toasted baguette, spread lightly with a spicy vegan mayonnaise, it contains all the refreshing flavors and texture of a Vietnamese banh mi sandwich – but with more veggies and less bread.
It can be made with strips of either tofu (below) or seitan (above) or you can use reconstituted Soy Curls instead. Serve it with as much or as little toasted French bread as you like and, depending on how much heat you prefer, use more or less sriracha sauce.  It's a great way to enjoy the salad days of August! (Note: the photos were taken by recipe testers Tamasin Noyes (seitan) and Kamber Sherrod (tofu). Whenever I make this salad myself, it doesn't stick around long enough for a photo!) For those of you who don't yet have Quick-Fix Vegan, I'm posting the recipe below — it's too good not to share!
Deconstructed Banh Mi Salad
Serves 4
The banh mi sandwich reconfigured for the salad bowl makes a luscious lunch or light dinner.  Use your choice of shredded cabbage or lettuce. This recipe is adapted from Quick-Fix Vegan. (Note: Sriracha sauce is a hot Asian chili sauce sometimes called "Rooster Sauce" because of the rooster on the bottle. Look for it in well-stocked supermarkets or Asian grocers.)
1 tablespoon neutral vegetable oil
8 ounces seitan or extra-firm tofu, thinly sliced (or reconstituted Soy Curls)
2 garlic cloves, minced
1 1/2 teaspoons grated fresh ginger
3 tablespoons soy sauce
2 tablespoons hoisin sauce
2 teaspoons sriracha sauce
1 teaspoon sugar
2 tablespoons rice wine vinegar
3 cups finely shredded cabbage or Romaine lettuce
1 large carrot, shredded
1/2 English cucumber, peeled, seeded and chopped
1 cup fresh cilantro leaves
1/4 cup minced scallions
1/2 French baguette, cut diagonally into 1/2-inch slices
Vegan mayonnaise (with a little sriracha added, if desired)
Heat the oil in a skillet over medium heat.  Add the seitan or tofu and cook until browned on both sides, about 4 minutes per side. Add the garlic and ginger and cook 1 minute longer. Splash with 1 tablespoon of the soy sauce and set aside to cool.
In a small bowl, combine the remaining 2 tablespoons soy sauce with the hoisin, sriracha, sugar, and vinegar, stirring well to blend.  Set aside.
Spread the shredded cabbage or lettuce on a large platter, sprinkle evenly with the shredded carrot, cucumber, cilantro, and scallions.  Arrange the cooked seitan or tofu on top and drizzle with the reserved sauce.
Toast the baguette slices and spread with a thin layer of vegan mayo.  Arrange the bread around the outside of the salad platter and serve immediately.