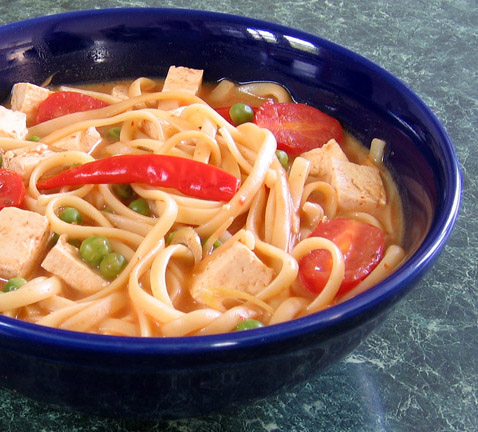 I realize the idea of "cooking with scraps" doesn't sound very appealing, but it's actually one of my favorite ways to cook.  Whether it's a kitchen sink pasta dish or a clean-out-the-fridge soup or salad, I love to use up odd bits from the refrigerator, freezer, and pantry to create something delicious.
Case in point is the soup in the photo above.  It consists of a small amount of leftover linguine, a few grape tomatoes, some frozen peas, a half block of tofu that was waiting to be used up, and hot chilies that I got at the farmers market.  For seasonings, I included some grated lemongrass I had in the freezer and the last bit of a piece of ginger, along with some Asian chili paste.  The soup tasted as good made with "scraps" as any I've made with more intentional ingredients.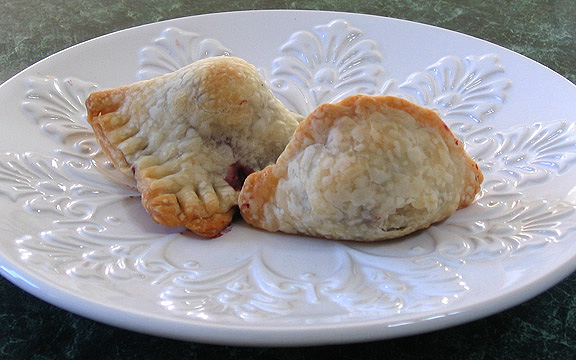 A second example of "scrap cooking" are these Chocolate-Stuffed Cherry Pie Bites.  After the success of my Cherry-Chocolate Pie Balls made with puff pastry, I wondered if we'd like them as well (or better) if they were made with pie crust.  I also wanted to experiment with shapes other than round.  Fortunately, I always freeze scraps of pie dough whenever I have it and I put it to good use with these pie bites.  I was able to make a few bites of various shapes (mini-turnover, dumpling, etc.) by rolling out just a small amount of dough to wrap around pitted cherries stuffed with a few chocolate chips.  One (or two or three) make the perfect "bite" of pie when you want just a little something sweet.  Verdict:  we like the pie bites made with pie dough just as much as the pie balls made with puff pastry.  Maybe we need to sample a few more just to be sure….