I'm excited to participate in the virtual potluck for Robin Asbell's new cookbook: Sweet & Easy Vegan: Treats Made with Whole Grains and Natural Sweeteners. For this "potluck" I was able to choose from among several luscious-looking desserts from the book, and I was immediately drawn to the Nectarine Cobbler with Cinnamon-Swirl Topping.
In my house, we're fans of cobblers, crisps, and other such fruit desserts, but what especially intrigued me about this particular cobbler was the topping that looks like miniature cinnamon buns perched atop the fruit.  How cute is that? I also like the addition of cornmeal to the topping, giving it an extra dimension of flavor that complements the cinnamon and the fruit.
I wish I had made this cobbler in August when nectarines were ripe and plentiful.  Instead, I had to substitute frozen sliced peaches to make this in October.  The good news is that the cobbler was still delicious, even when made with the frozen fruit, so I can only imagine it being even better with fresh nectarines!
Right now, I have my eye on a few autumn desserts that would be especially wonderful this time of year, such as the Pear and Maple Upside-Down Cake, Pumpkin-Cornmeal Scones, and the Miniature Caramel-Apple Tarts.  In addition to loads of dessert recipes, the book also has recipes for breakfast treats, quick-breads, and muffins.
COOKBOOK GIVEAWAY:  If you'd like a chance to win a copy of Sweet and Easy Vegan, simply leave a comment at the end of this post naming your favorite dessert.  That's it!  A winner will be chosen at random on Sunday 10/28 at midnight and announced on this blog on Monday 10/29.  Enter now!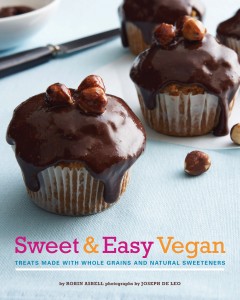 In the meantime, here's the recipe for that yummy cobbler:
Nectarine Cobbler with Cinnamon-Swirl Topping
Serves 8
Cobbler is usually a swath of fruit baked with a buttery biscuit topping, but this one has a twist. Instead of freeform biscuits, little cinnamon rolls float on the sweet sea of nectarines, making it like two desserts in one! Just about any juicy fruit makes a good cobbler, so feel free to experiment. Just note that you may have to increase the baking time if you use apples. This recipe is from Sweet & Easy Vegan by Robin Asbell.
3 lb/1.4 kg nectarines, pitted and sliced
3/4 cup/180 g maple syrup
2 tbsp arrowroot starch or cornstarch
2 tbsp water
2 tsp vanilla extract
Topping
1 cup/130 g whole-wheat pastry flour
1/2 cup/60 g unbleached all-purpose flour
1/2 cup/80 g cornmeal
6 tbsp/75 g granular palm sugar, palm sugar paste, or Sucanat
2 tsp baking powder
1/2 tsp baking soda
1/4 tsp salt
1/4 cup/60 ml canola oil or light olive oil
1/2 cup/120 ml nondairy milk
1 tsp ground cinnamon
Preheat the oven to 425°F/220°C/gas 7.
In large saucepan, combine the nectarines and maple syrup. In a cup or small bowl, whisk the arrowroot starch, water, and vanilla together to form a slurry. Stir into the nectarine mixture. Bring the mixture to a boil over medium-high heat, then cook, stirring constantly, for about 3 minutes, until it begins to thicken. Transfer to an ungreased 12-by-8-in/30.5-by-20-cm glass or ceramic baking dish.
To make the topping: In a large bowl, combine the flours, cornmeal, 2 tbsp of the sugar, and the baking powder, baking soda, and salt and whisk until well mixed. In a cup or small bowl, whisk the oil and nondairy milk together. Pour into the flour mixture and stir until just combined. Press the mixture together to make a firm dough.
In a small bowl, stir the remaining 4 tbsp/50 g of sugar and the cinnamon together until well mixed.
Transfer the dough to a floured work surface. Shape it into a 10-by-6-in/25-by-15-cm rectangle, gently patting it to an even thickness. Sprinkle the cinnamon-sugar evenly over the dough. Starting at a long edge, roll up the dough to form a long cylinder. Pinch the seam to seal. Place the roll seam-side down and cut it crosswise into 4 even portions, then cut each portion into in 4 slices to make 16 rolls.
Arrange the rolls on top of the nectarine mixture. Bake for 25 minutes, until the rolls are golden brown and cooked through and the juices are bubbling up around them.
Transfer to a wire rack to cool for at least 10 minutes. Serve warm. Stored in the refrigerator, tightly covered, the cobbler will keep for about 1 week.
So….what's YOUR favorite dessert?