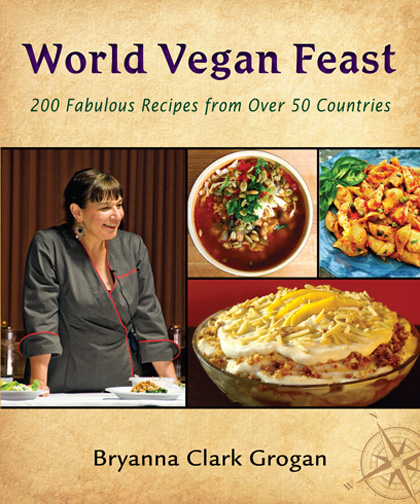 Thanks to the miracle known as the true random number generator over at Random.org, we have a winner!  The number randomly chosen to win a copy of World Vegan Feast by Bryanna Clark Grogan is lucky number 74 — Jennifer Manriquez, whose favorite comfort food is hot fresh French fries.
Jennifer, please send me an e-mail with your mailing address and I'll get a copy of World Vegan Feast in the mail to you. Congrats! I know you'll love this book as much as I do.
For everyone else, here are a just a few more drool-worthy reasons why you should own World Vegan Feast: Vegan Souffle Omelet, Greek-Style Lasagna, Vegan Sponge Cake, and other creative and delicious recipes such as:
or this….
or desserts like this one:
I hope everyone has a great weekend.  Be sure to come back on Monday when I will be participating in Robin Asbell's virtual potluck for her new dessert book (and I'll also be giving away a copy of her book!).