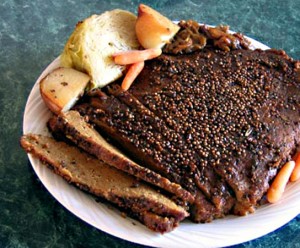 St. Patrick's Day is one of my favorite food holidays. I love coming up with fun new ways to enjoy green food — extra points for adding an additional Irish spin to the dish. I can't decide what to make this year. I can always go traditional and make the Corned Seitan and Cabbage from Vegan on the Cheap. It's made in a slow cooker so I can set it and forget it.
I might also get a second slow cooker on the job and make the Colcannon from Fresh from the Vegan Slow Cooker: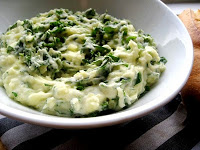 Or I could just have fun with colcannon,maybe some Colcannon Quesadillas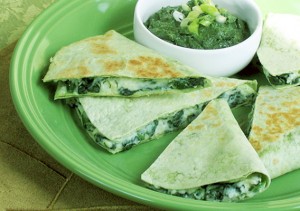 or these Colcannon Fritters: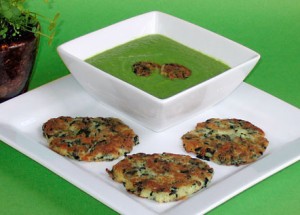 Then again, I might go all out and make the St. Patrick's Day Menu from Party Vegan:
~St. Patrick's Day Menu~
Pea Green Soup
Irish Whiskey and Soda Bread
Colcannon-Topped Irish Stew
Shamrock Vegetable Salad
Creamy Lime-Pistachio Parfaits
(I especially love the Irish Whiskey and Soda Bread!)  But most likely, I may simply "go for the green" this year with this Shamrock Pizza:
It's simple enough to make — just divide enough dough for a personal-size pizza into three equal pieces (after first pinching off a small piece for the shamrock "stem") — shape each of the three dough pieces into shamrock leaves (heart-shaped) and pre-bake the dough until almost done. Then fit the leaves together into a shamrock shape (you'll have to trim the ends so they fit into place where the leaves and stem join. Assemble the fitted shamrock pieces on a pizza pan and spread with your choice of toppings — I went all out with a vivid green spinach and white bean spread made by sauteeing onion and garlic in a skillet with spinach, salt, pepper, and a little basil and oregano. I then pureed the spinach mixture with cooked white beans, a few capers, a couple green olives, a dash of lemon juice, and 2 chopped scallions. (When it tastes good enough to eat with a spoon it's ready!) You could, of course, then top the spinach mixture with a little shredded Daiya, but I preferred to leave mine boldly green.  I may even wash it down with a green smoothie: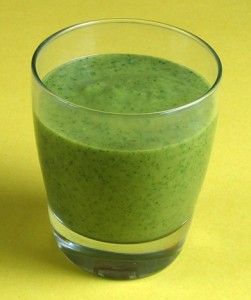 What are you making for St. Patrick's Day?