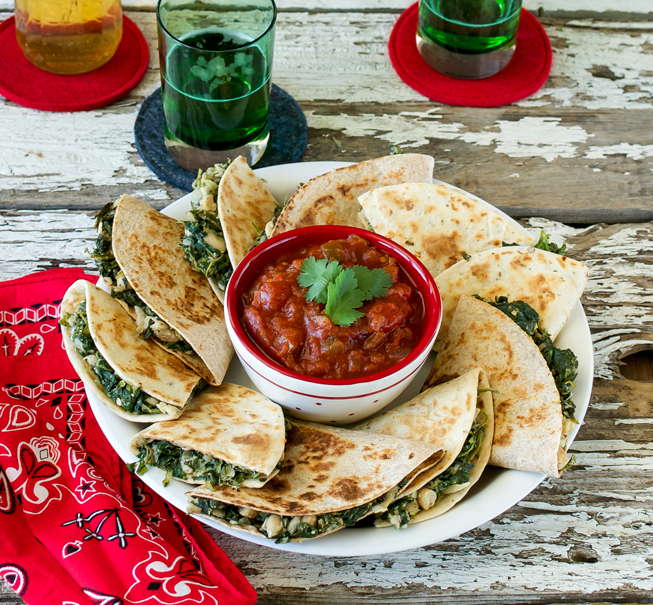 Today's recipe is another of my favorites from my new book, Cook the Pantry.  This one is for White Bean and Spinach Quesadillas and it couldn't be easier or quicker.  The recipe calls for canned beans and frozen spinach, but you can certainly use home-cooked beans and fresh spinach if you have them on hand.  The recipe easily doubles or triples, depending on how many hungry mouths you have to feed. Serve with your favorite salsa and lunch (or dinner!) is served.
White Bean and Spinach Quesadillas
Makes 2 servings
Frozen spinach and canned white beans combine with garlic and spices to make a delectable filling for these hearty quesadillas. No cheese needed. Serve with your favorite salsa. This recipe is from Cook the Pantry by Robin Robertson © 2015, published by Vegan Heritage Press. Photo by Ann Oliverio.
1 tablespoon olive oil
3 garlic cloves, pressed or minced
10 ounces frozen chopped spinach, thawed and squeezed dry
Salt and ground black pepper
1 (15.5-ounce) can white beans, drained and rinsed
1 tablespoon lemon juice
1/2 teaspoon ground coriander
1/2 teaspoon ground cumin
2 large flour tortillas
Heat the oil in a saucepan over medium heat. Add the garlic and cook until fragrant, 30 seconds. Add the spinach and season with salt and pepper to taste. Add the beans, lemon juice, coriander, and cumin. Cook, stirring, until the spinach is cooked and the flavors are blended, about 5 minutes. Mash the beans well while cooking. Set aside.
Place two large tortillas on a flat work surface. Divide the spinach mixture evenly between the tortillas. Spread the filling mixture evenly on half of each tortilla. Fold the remaining half of each tortilla over the half with the filling and press gently to enclose and spread the filling close to the edges.
Heat a large nonstick skillet over medium heat. Arrange the quesadillas in the hot skillet, one at a time or both, depending on the size of your skillet. Flatten with a spatula and cook until browned on the bottom, about 3 minutes. Flip the quesadillas and cook until the other side is golden brown. Serve hot.
IN OTHER NEWS…..
The winner of the Vegan-Ease Giveaway is: Cathy whose favorite easy meal is My favorite easy meal is a burrito made with a large whole grain tortilla filled with on-hand cooked beans, grains, and veggies.  Thanks to all who entered!  Cathy, please email me with your mailing address so a copy of Vegan-Ease by Laura Theodore can be sent out to you. And a big thanks to Laura for allowing me to host a giveaway and share her vegan omelet recipe!  Speaking of Laura Theodore….I will be her guest next Wednesday, November 18 on Jazzy Vegetarian Radio.  Be sure to tune in!