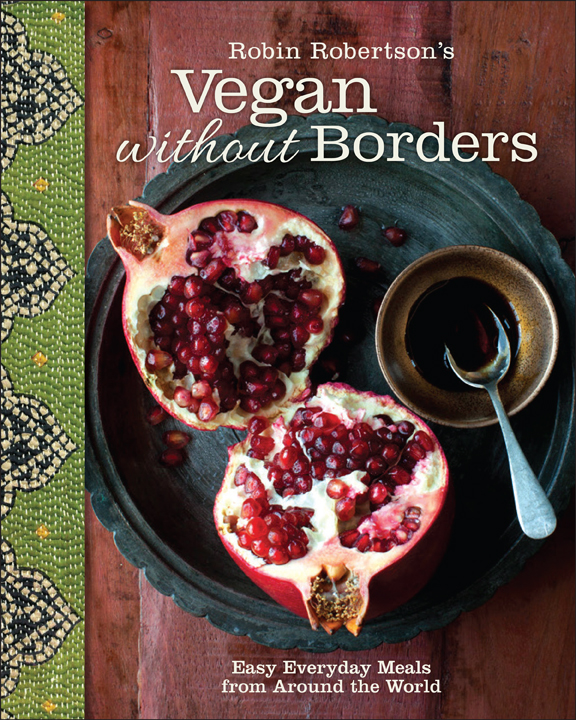 I am beyond excited to announce my upcoming cookbook, due to hit the shelves in early September.  It's called Vegan Without Borders and this hardcover full color book is truly a dream come true for me. Anyone who knows my work, knows that I'm crazy about international cuisines and I love the way vegan food has almost become synonymous with global fare. 
For a long time, I've wanted to share my absolute favorite recipes from around the world and the phrase "vegan without borders" sat in my idea file for a long time. As I explain in the Introduction, I call the book Vegan Without Borders because while fantastic flavors know no boundaries, neither do most vegans when it comes to enjoying great-tasting food. 
Another reason I'm especially excited about this book is the photos!  The super-talented Sara Remington took the gorgeous photos for this book – each one more beautiful than the next.  I just have to share one of my favorites so you can see why I'm so thrilled.  Here's Sara's photo of the papri chat.  I want this framed and hanging on my wall!
I hope you'll love Vegan Without Borders as much as I do!
I'll be sharing more about the book in the months to come, but for now, I just wanted to let you know about it.
It's now available for pre-order on Amazon. (Did you know that if you order a book, for example, my current tome, More Quick-Fix Vegan, and also pre-order Vegan Without Borders, you'll get free shipping for both of them.) Just sayin'….