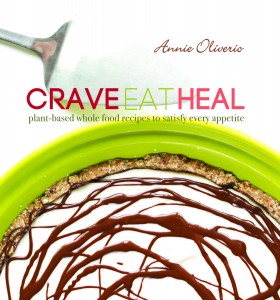 Crave Eat Heal: Plant-Based, Whole Food Recipes To Satisfy Every Appetite, a new cookbook by Annie Oliverio (who blogs at An Unrefined Vegan) is a book that will resonate with everyone.  When you think of it, what we eat is often tied directly to how we feel.  Certain foods trigger emotional responses in us, the most common of which is "comfort" food.
Crave Eat Heal has over 140 vegan, sugar-free, low oil, gluten-free recipes that focus on satisfying our various food cravings in a healthful way.  I love that the chapters are organized by craving:
Carbs   –  Chocolate –  Comfort  –  Cool  –   Creamy  Crunchy  – Green
Junk – Salty –  Spicy – Sweet – Tart – Warm
At some point or another, we've all craved foods in these categories (some more than others, right chocolate-lovers?). One of the great things about Annie's book is that she shares fantastic recipes to help satisfy this cravings – but in a healthful way.  Best of all, the book is filled with Annie's beautiful photography that positively envelope you with whatever "craving" you happen to be paging through.
I'm very happy to be participating in this blog tour for Crave Eat Heal and to share this recipe for BUCKWHEAT NOODLES WITH SPICY ALMOND SAUCE.
COOKBOOK GIVEAWAY….  Thanks to Annie and her publisher, I am also giving away a copy of the book to one lucky reader in the U.S. or Canada.  (International readers can enter to win a copy of the companion e-book, Crave. Eat. Heal. Outtakes).  At the end of this post, just tell me your most craved-for craving category from those listed above.  A winner will be chosen at random at midnight on 4/27 – Winners will be announced here on Tuesday 4/28.
Note: Crave Eat Heal is available for pre-order, but that hard copies won't be available until after May 4.  Winners will receive their copies as soon as they are available.   Now here's that recipe…..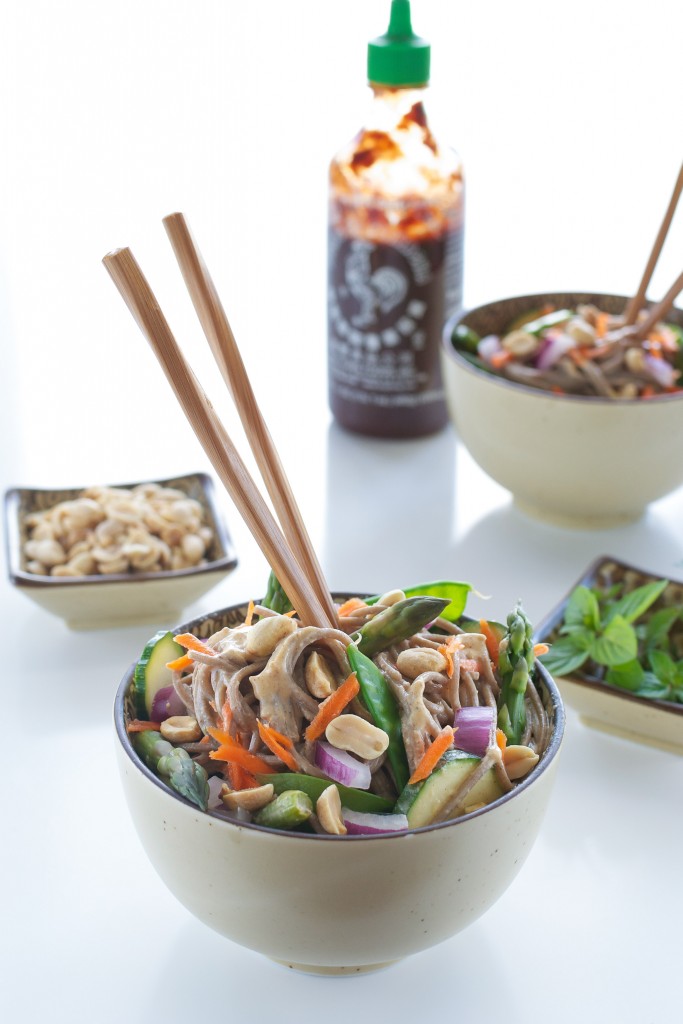 BUCKWHEAT NOODLES WITH SPICY ALMOND SAUCE
Serves 4
Gluten-free, Oil-free, Easy
INGREDIENTS
Sauce
4 Tbsp. natural almond butter
1 Tbsp. white miso paste
1/4 cup low-sodium broth
1/4 cup rice wine vinegar
1/4 tsp. garlic chile paste
Juice of 1 lime
2 Tbsp. tamari, soy sauce, or liquid aminos
2 tsp. pure maple syrup
1 Tbsp. fresh ginger, grated or minced
3 cloves garlic
Pinch of ground black pepper
Noodles
6-ounces (170g) buckwheat noodles
2 cups asparagus, cut into 1-inch pieces
2 cups snow peas
1 small zucchini, cut into 1/4-inch rounds
1/4 cup red onion, chopped
1 cup grated carrot
1/2 cucumber, seeded and chopped
Fresh cilantro, for garnish
Fresh mint, for garnish
Chopped roasted peanuts, for garnish
DIRECTIONS
Fill a large pot with water and bring to a boil.  Lightly cook the asparagus, snow peas and zucchini for about 3 minutes. You want the vegetables to retain their crunch and bright color.  Using a slotted spoon, remove the vegetables and rinse with cool water – or if desired, place the vegetables in a water/ice bath for a few minutes. Drain thoroughly and set aside.
Now add the buckwheat noodles to the boiling water and cook according to package directions.  Drain and set aside.
To make the sauce, place all of the sauce ingredients in a high-speed or regular blender and process until very smooth.  If desired, thin out the sauce with additional vegetable broth or water.
Combine the sauce with the noodles, the cooked vegetables and the red onion, carrot, and cucumber, and top with cilantro, mint, and peanuts.
Prep time: 10-15 minutes
Cook time: 10 minutes
Recipe reprinted with permission from Ann Oliverio and Front Table Books.
Now, tell me, what foods do you "crave" the most???