I'm very excited to participate in the blog tour for The Vegetarian Flavor Bible with a guest post by Karen Page about one of my favorite food topics: umami.  After you read Karen's wonderful post, be sure to leave a comment to enter my giveaway to win a copy of this amazing book.
How to Get More Umami Flavor From Plant-Based Ingredients by Karen Page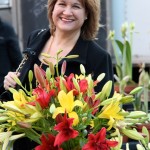 In our 1996 book CULINARY ARTISTRY, my husband Andrew Dornenburg and I were two of the first American culinary authors to mention "umami," a then-  fledgling concept vying to become known as the "fifth taste."  The fact that our book became a bestselling classic didn't hurt umami's rising profile globally as the Japanese-originated concept of savoriness / deliciousness gained new proponents among our readership of professional chefs.
When we came out with THE FLAVOR BIBLE in 2008 and shared our now infamous "Flavor Equation" that FLAVOR = TASTE + MOUTHFEEL + AROMA + "THE X FACTOR," the TASTE section featured the four basic tastes of Sweetness, Saltiness, Sourness, and Bitterness, alongside a mention of Umami (Savoriness) with the note, "…There is growing evidence of a fifth taste, umami…It is often described as the savory or meaty 'mouth-filling' taste that is noticeable in such ingredients as anchovies, blue cheese, mushrooms, and green tea, and in such flavorings as monosodium glutamate (MSG), which is the primary component of branded seasonings such as Ac'cent."
By the time we came out with THE VEGETARIAN FLAVOR BIBLE in the fall of 2014, umami had taken its place in the book as one of the five tastes responsible for "every delicious bite you've ever tasted…coming together on your taste buds." Since we started eating a plant-strong diet in May 2012, the concept of umami has taken on even more importance to us we seek its satisfying effects without meat or cheese.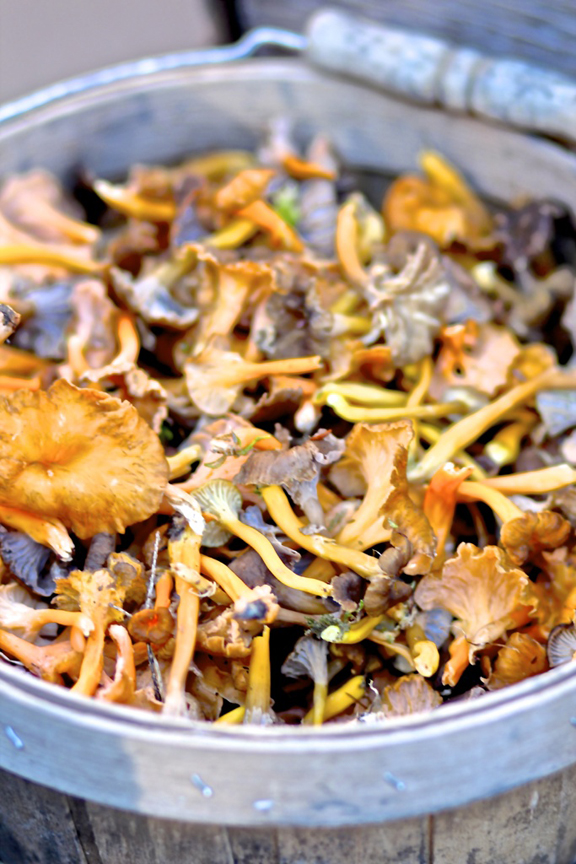 Where to find umami:  beer, beets, broccoli, carrots, corn, fermented foods (e.g, bean pastes), green peppers, green tea, ketchup, miso paste; mushrooms (dried, e.g., matsutake, shiitake), nutritional yeast, onions (esp. caramelized), peas, potatoes, sauerkraut, sea vegetables (e.g., dried, kombu), soy sauce, spinach, sweet potatoes, tamari, tempeh; tomatoes (e.g., ripe, paste, sauce), truffles, umeboshi plums and plum paste, vinegar (e.g., balsamic, sherry, umeboshi), walnuts, wine (esp. red)
It's easy when it comes to Asian dishes, such as miso soup with shiitakes, tofu, and wakami, which is an umami bomb.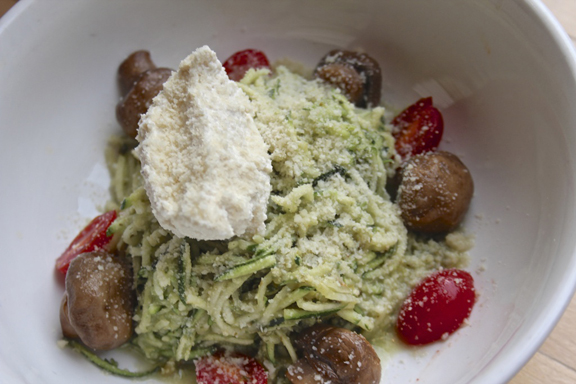 But what about Italian food?  Pastas with tomato sauce and mushrooms seem to cry out for something to take the place of umami-rich Parmesan cheese.  Happily, some of the Parmesan substitutes we've tried seem to be getting better (e.g., Parma brand vegan "Parmesan"), as have been the "cashew ricottas" we've been served on pasta dishes (including the zucchini pasta pictured here).
The number-one seasoning in our spice cabinet these days is smoked paprika, which gives legumes an irresistable flavor.  Andrew uses it in marinades for portobello mushrooms as well as seasoning his signature split-pea soup.  Kalustyans.com sells porcini powder made from powdered porcini mushrooms, which you can use to coat tofu as well as to season dishes.
Miso's umami-enhancing properties are so extraordinary that it was a staple in our kitchen long before we started our plant-strong diet.  Japanese fermented soybean paste is available in as many varieties in Japan as there are types of cheese in the U.S., so it's incredibly diverse.  We use it exactly the same way as we did as omnivores:  rub your choice of ingredients – such as tofu – with miso paste, cover, and refrigerate overnight.  The next day, wipe off the excess paste before throwing the tofu on the grill or baking it.  You'll be amazed by its extraordinary flavor. You can mix light and dark misos for more complex flavors.  As another tip, you can add miso to mashed or pureed vegetables and use this as a sauce.
Just as importantly, umami can be created through cooking techniques, such as browning, caramelizing, grilling, roasting, and sauteeing.  The most masterful examples can be found at temples of haute cuisine with celebrated veg tasting menus, such as The Inn at Little Washington and Picholine.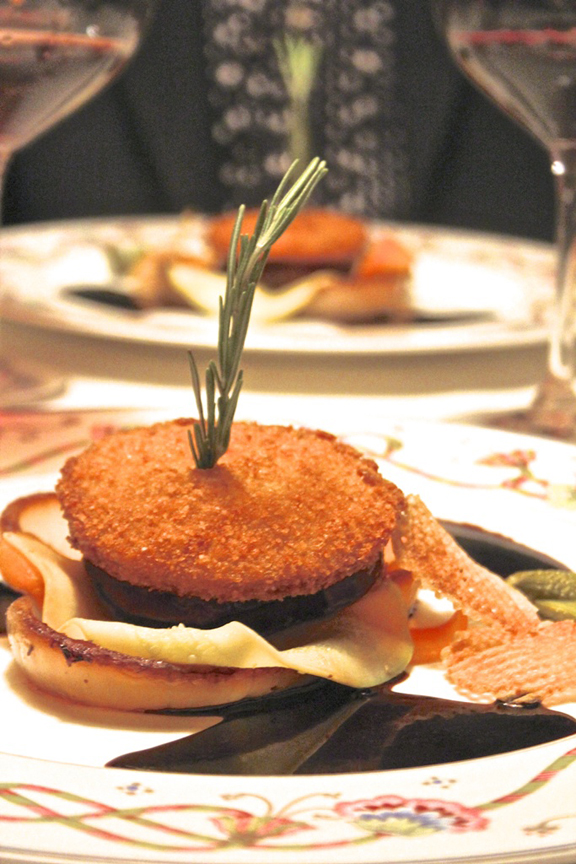 During what turned out to be the best vegetarian meal of our lives, The Inn at Little Washington in Virginia kicked things off by serving us popcorn with shaved truffles on top – later followed by a "Club Sandwich of Eggplant, Grilled Shiitake Mushrooms and Fried Green Tomato on Charred Onions with Burgundy Wine Sauce."  At Picholine in New York City, we were wowed by the savory "braised shortrib-esque" qualities of "Grilled and Smoked Eggplant with 'Chinoise Flavors' and Tapioca Pearls," which was served with a crunchy nori tempura accent.
The secret of adding umami to plant-based dishes?  Layering the flavor on, through the right selection of ingredients and application of cooking techniques.  If you're making risotto, take the time to caramelize the onions and/or butternut squash you add to it.  If you're making mushroom gravy, add a bit of nutritional yeast – or, better yet, toasted nutritional yeast, to enhance the flavor even further.  Every layer can help you make an even bigger flavor impact!
P.S.  Chef Nathan Lyon developed a recipe for "Vegan Umami Paste" that combines several ingredients renowned for their umami (e.g., balsamic vinegar, molasses, nutritional yeast, porcini powder, soy sauce, tomato paste) that adds wonderful umami flavor to a wide variety of dishes, including the roasted eggplant sandwich featured on his website.
 ~
I have a copy of The Vegetarian Flavor Bible for one person. (U.S. residents only, please.) To enter, leave a comment below telling me what your favorite way to add umami to your food when cooking is. For extra chances to win, follow me on Facebook, Twitter, and Instagram and leave a separate comment for each one to let me know.   This Giveaway ends Wednesday January 14 at midnight, EST.  A winner will be announced on Thursday January 15.