By now, many of you have dug into your copy of Vegan Mac & Cheese and have begun making recipes from the book.  I hope you'll share pics on social media so I can see what everyone is making!
Today I'd like to share a recipe from Vegan Mac & Cheese from the final chapter of the book called "Fun with Mac & Cheese."  This chapter is loaded with recipes for using up leftover mac & cheese (or you can whip up a quick batch just to use in the recipes if you don't have leftovers.)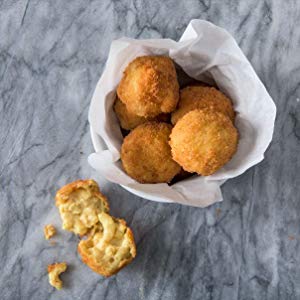 Among the recipes in that chapter are: Cheesy Mac Mug, Mac UnCheese Omelet, Waffled Mac UnCheese, Mac UnCheese Balls (above), Cheesy Mac Muffins (below), Mac UnCheese Quesadillas, and Mac UnCheese Pizza.  There are even two dessert recipes: Sweet Noodle Kugel and Indian Vermicelli Pudding.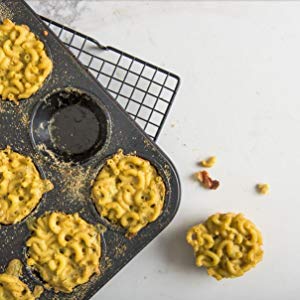 The recipe I want to share is for Cheesy Broccoli Mac Soup.  It's ideal for the fall weather that is bound to be just around the corner!  I hope you enjoy it.
BTW… If you haven't gotten your copy of Vegan Mac & Cheese, I hope you will.  And if you already have the book, I hope you'll do me a HUGE favor and write a brief review of the book on Amazon.  It only takes a minute and will really help spread the word.  THANK YOU!!!
Cheesy Broccoli Mac Soup
Cheesy broccoli soup is a cold weather favorite in our house, so it was a no-brainer to try it made with leftover mac uncheese. The results were so good, this is now our go-to way to make it. We especially like that the broth isn't too thick (which it often is in cheesy soups). If you prefer a thicker broth, simply use less vegetable broth. To make this recipe without leftovers, I suggest using the quick and easy recipe for One-Pot Cheesy Mac from Vegan Mac & Cheese.
1 tablespoon olive oil
1 small yellow onion, minced
2 garlic cloves, minced
4 cups vegetable broth
3 cups (weight varies) leftover or homemade mac uncheese
11/2 cups Cheddary Sauce (recipe follows)
1/2 cup plain unsweetened nondairy milk
1/4 teaspoon smoked paprika
Salt, to taste
Ground black pepper, to taste
2 cups steamed small broccoli florets
1/4 cup Nut Parm (recipe follows)
In a large saucepan over medium heat, heat the olive oil.
Add the onion and cook until softened, about 5 minutes. Stir in the garlic and cook until fragrant, about 30 seconds.
Add the vegetable broth and bring to a boil. Reduce the heat to low, cover the pan, and simmer for 15 minutes.
Stir in the mac uncheese and then add the Cheddary Sauce, stirring until thoroughly combined.
Add the milk and paprika and season with salt and pepper. Cook, stirring, until hot.
Stir in the broccoli and serve hot, sprinkled with the Nut Parm.
Makes 4 to 6 servings
Cheddary Sauce
1 cup unsalted raw cashews
1 large russet potato, peeled and diced
1 small carrot, chopped
1/2 of a small yellow onion, chopped
1 garlic clove, chopped
1 teaspoon salt
1/3 cup nutritional yeast, plus more as needed
2 tablespoons vegan butter
1 tablespoon rice vinegar
1 tablespoon fresh lemon juice
11/2 teaspoons white miso paste
1/2 teaspoon prepared yellow mustard
1/2 teaspoon onion powder
1/2 teaspoon smoked paprika
1/4 teaspoon ground turmeric
1 cup plain unsweetened nondairy milk, or water
In a saucepan, combine the cashews, potato, carrot, onion, garlic, and salt with enough water to cover. Place the pan over high heat and bring to a boil. Reduce the heat to maintain a simmer and cook until the vegetables are soft, 10 to 15 minutes.
Using a slotted spoon, transfer the cooked vegetables and cashews to a high-speed blender, reserving the cooking water.
Add the remaining ingredients and blend until smooth and creamy, stopping to scrape down the sides, as needed. Add as much of the reserved cooking water as needed to achieve the consistency you prefer for the sauce. Taste and adjust the seasoning, as needed. The sauce is now ready to use.
Makes about 4 cups
Nut Parm
1 cup unsalted blanched almonds, or unsalted raw cashews
1/3 cup nutritional yeast
1/2 teaspoon salt
1/4 teaspoon onion powder
Combine all the ingredients in a food processor and pulse until the mixture has a fine crumbly texture, stopping to scrape down the sides, as needed. Transfer to a shaker jar or other container with a tight lid. Store in the refrigerator.
Makes about 11/3 cups