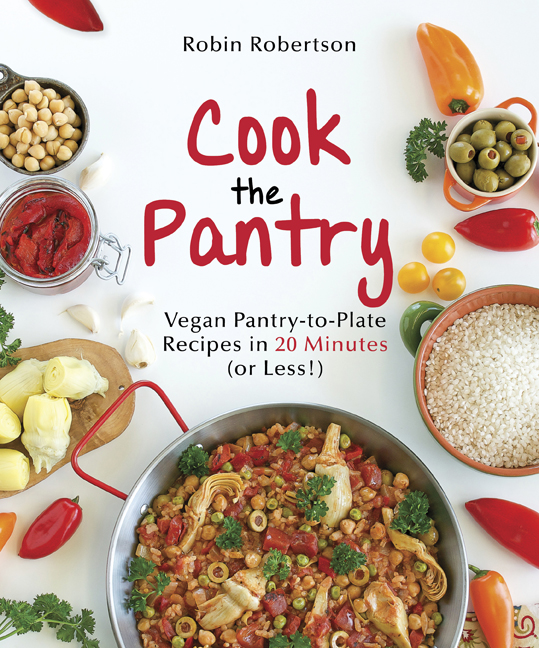 Today's the day!  My new book, Cook the Pantry is now available!  This book is filled with easy recipes using on-hand pantry ingredients that can be ready in 20 minutes or less.  And with gorgeous recipe photos by Annie Oliverio, what's not to love??  If you want satisfying delicious meals but don't want to spend all day (or more than 20 minutes!) in the kitchen — then this is the book for you.  It 's an ideal choice for anyone you know who is new to plant-based cooking because it takes out all the guesswork.
In honor of the book coming out today, I want to share one of the recipes: Everyone's Favorite Black Bean Chili.  It's perfect for this chilly fall weather — I make it nearly every week during the fall and winter months.  Even though the recipe can be on the table within 20 minutes, I often just toss all the ingredients in a slow cooker right after lunch and let it heat up slowly during the afternoon.  That cuts the active prep time down to about 3 minutes — just long enough to dump everything in the cooker and turn it on.  When it's time for dinner, you just have to dish it up!
I hope you enjoy this recipe and all the others in Cook the Pantry.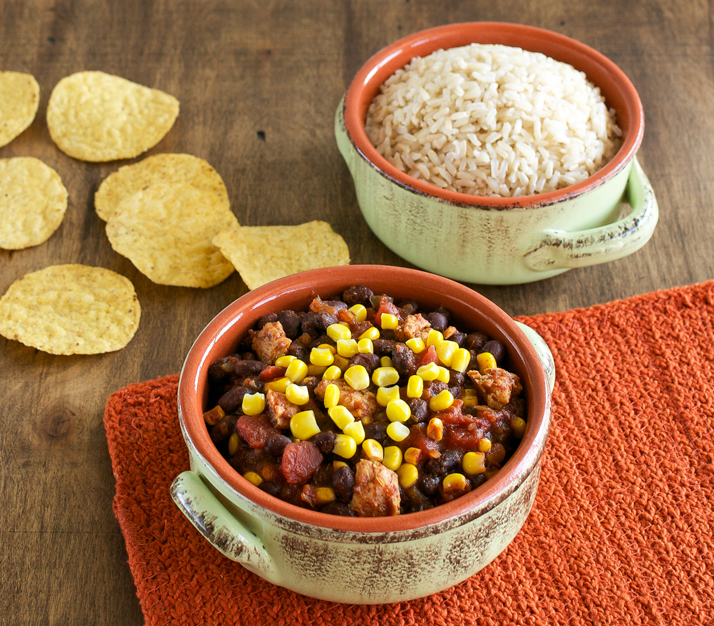 Everyone's Favorite Black Bean Chili
Makes 4 servings
This is my go-to chili recipe. If I have cooked lentils on hand, I use them instead of the Soy Curls. You can also add some dark red kidney beans, if you like, to change things up a bit. If using Soy Curls, place them in a heatproof bowl with enough hot water to cover and set aside for 10 minutes to reconstitute. (Recipe from Cook the Pantry © 2015 by Robin Robertson. Photo by Annie Oliverio. Used by permission Vegan Heritage Press LLC.)
1 cup reconstituted crumbled Soy Curls or texturized soy protein granules (optional)
2 (15.5-ounce) cans black beans, drained
1 (24-ounce) jar chunky tomato salsa (hot or mild)
1/4 cup bottled barbecue sauce
2 tablespoons chili powder, or to taste
1 teaspoon dried oregano
1/2 teaspoon ground cumin
Salt and ground black pepper, to taste
1 1/2 cups frozen corn kernels, thawed
Water, as needed
Combine the ingredients (including the reconstituted Soy Curls, if using) in a saucepan, reserving 1/2 cup of the corn. Cover and cook over medium heat, stirring occasionally, until heated through and the flavors are well blended. Add as much water as needed to create a sauce and prevent sticking to the bottom of the pan.
Reduce heat to medium and simmer, stirring frequently, until heated through and long enough to cook off any raw taste from the chili powder, about 15 minutes. Garnish with the remaining corn kernels.