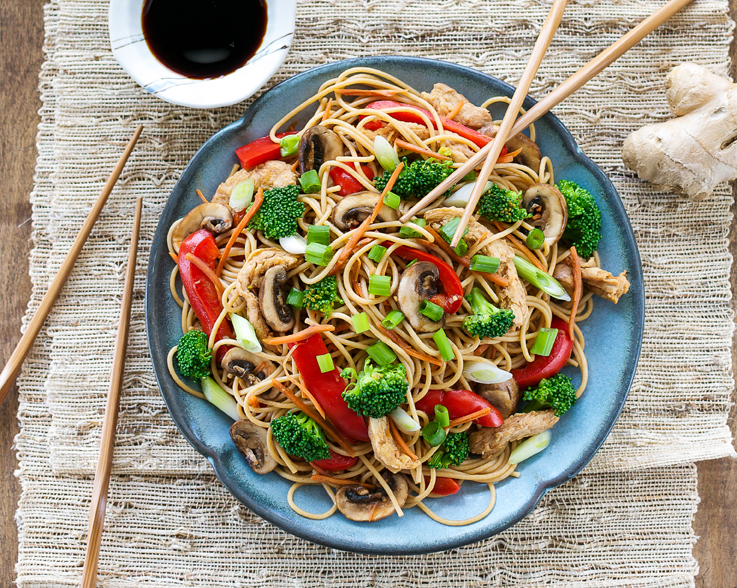 In our small town, the most vegan-friendly food available has been the local Chinese take-out restaurant.  Sadly, they closed down during this pandemic. To satisfy our cravings, I've included a few stir-fries in my menu rotation.  One of our favorites is Spaghetti Lo Mein.  (I make it with spaghetti because most traditional lo mein noodles contain egg and are therefore not vegan.)
This recipe is quite versatile.  Use fresh veggies if you've got them, but frozen veggies work quite well too. The last time I made them I used frozen bell pepper strips and substituted sliced zucchini for the mushrooms.  Use what you've got! Here's the recipe from my quarantine-friendly cookbook, Cook the Pantry:
Spaghetti Lo-Mein
If you are using leftover cooked pasta, steam the broccoli for 3 to 5 minutes. If you don't have fresh vegetables on hand for this recipe, substitute frozen stir-fry vegetables, cooked according to package directions. This recipe is from Cook the Pantry by Robin Robertson © 2015, published by Vegan Heritage Press. Photo by Annie Oliverio.
 8 ounces spaghetti noodles
2 cups broccoli florets
2 tablespoons tamari or other soy sauce
3 tablespoons hoisin sauce
1 teaspoon toasted sesame oil
1 teaspoon sriracha (optional)
1/4 cup water
2 tablespoons dry sherry (optional)
1 tablespoon neutral-tasting oil such as grapeseed oil
3 cloves garlic, minced
1 red bell pepper, cut into strips
2 cups sliced mushrooms
1 carrot, shredded
1/3 cup sliced scallions
2 teaspoons grated fresh ginger
1 cup reconstituted Soy Curls  or diced extra-firm tofu or seitan (optional)
Cook the spaghetti in a large pot of boiling salted water until just tender.  About 3 to 5 minutes before the pasta is done cooking, add the broccoli. Drain the pasta and broccoli and set aside.
While the pasta is cooking, combine the tamari, hoisin, sesame oil, and sriracha, if using.  Add the water and sherry, if using. Mix well and set aside.
Heat the oil in a large skillet or wok over medium-high heat. Add the garlic, bell pepper, mushrooms, carrot, scallions, and ginger. Cook, stirring frequently, until tender, about 3 minutes.  Add the Soy Curls, if using and stir to combine.  Stir in the reserved noodles and the sauce mixture, and gently toss to combine until heated through.  Taste and adjust the seasonings, if needed. Serve hot.
Makes 4 servings