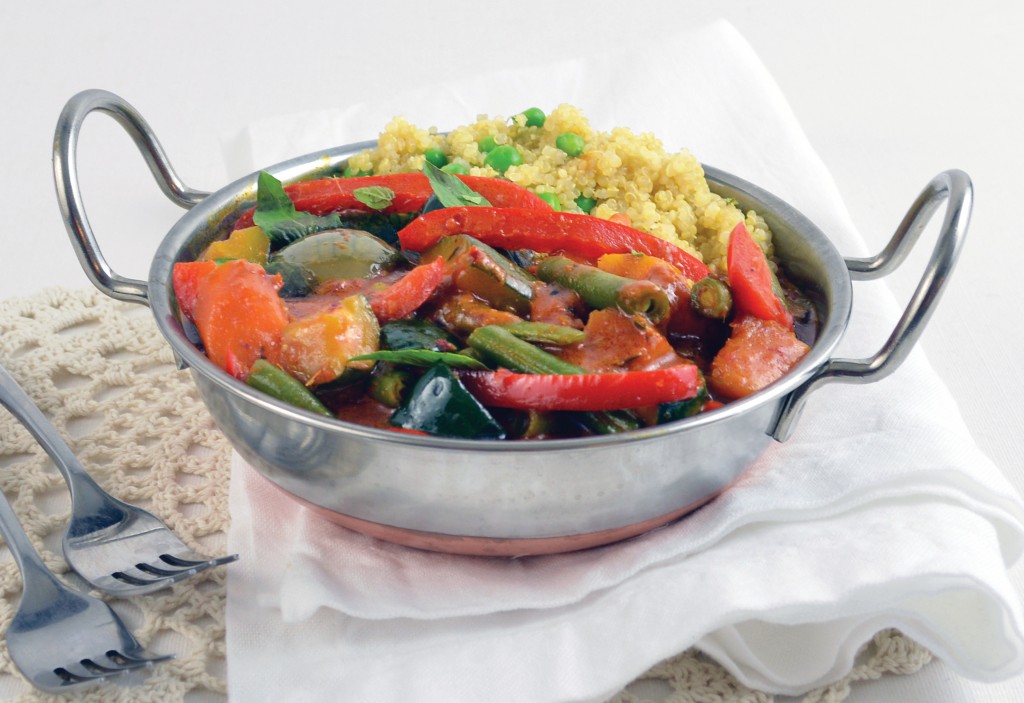 As a longtime bowl food fanatic, I'm super-excited about participating in the blog tour for Zsu Dever's new book, Vegan Bowls: Perfect Flavor Harmony in Cozy One-Bowl Meals.  Vegan Bowls is a book whose time has come — and Zsu Dever, with her restaurant background and gift for combining flavors, is just the person to bring it to you!
If you love the comfort and simplicity of enjoying dinner (and breakfast or lunch!) in a bowl, then this book is definitely for you. In addition to featuring some wonderful classic bowl-food recipes such as hearty soup, salad, and chili bowls, Zsu's creativity really shines in some of the unexpected and delightful bowl combos such as Philly Cheesesteak Bowl, Reuben Mac and Cheese Bowl, and an ingenious Holiday Bowl, just in time for the upcoming season.
One of the things I like most about the recipes is they are versatile and most can be made in less than 45 minutes — that's a COMPLETE meal, including protein, veggies, and grains, noodles or potatoes, all harmonized with a delicious sauce and garnish.  In Vegan Bowls, Zsu also provides a template showing how easy it is to build your own bowl using your favorite ingredients. Best of all, the versatility allows for use of on-hand or leftover ingredients.  For example, if you already have cooked rice or beans on hand, dinner can be on the table in just minutes.
As an example, in the the recipe for the Thai Panang Curry Bowl (provided below), the recipe calls for quinoa as a quick and delicious change from the usual rice.  However, if you prefer rice, or happen to have some on hand, then you can use rice instead.  Likewise, the recipe calls for 5 cups of chopped veggies — when I made it I cut back on the veggies just a bit and included some diced baked tofu that I had on hand for an even heartier dish.  I also left out the kaffir lime leaves (since I can't find them where I live) and opted for a squeeze of lime juice instead.  The resulting meal was better than the panang curry I usually get at the Thai restaurant an hour away.  With Vegan Bowls, the best bowl food doesn't have to come from a restaurant — it can come out of your own kitchen!
Before you head to the kitchen to make this recipe for Thai Panang Curry Bowl, take a minute and enter my Giveaway to win a copy of Vegan Bowls.  To enter, just leave a comment at the end of this post describing your favorite meal in a bowl.  That's it! You can enter more than once if you go to Facebook and Like my page: Robin Robertson's Global Vegan Kitchen then leave another comment telling me you Liked my Facebook page!
This giveaway ends Sunday night, October 4th at midnight.  A winner will be announced on Monday, October 5th.  Enter now!
Thai Panang Curry Bowl
SERVES 4
This is such a simple recipe that it almost feels like cheating. In addition to being quick, this curry is super flexible; use any variety of vegetables that you please. (Recipe from Vegan Bowls, copyright © 2015 by Zsu Dever. Used by permission from Vegan Heritage Press, LLC.)
QUINOA
1 cup quinoa, rinsed well
1 1/2 cups vegetable broth
1 garlic clove, crushed
1/4 teaspoon sea salt
1/2 cup green peas, thawed if frozen
CURRY
1 (13.5-ounce) can coconut milk, divided
1 to 2 tablespoons red curry paste
2 tablespoons peanut butter
3 (2-lobed) kaffir lime leaves
2 tablespoons reduced-sodium tamari
1/4 to 1/2 cup water
5 cups coarsely chopped vegetables (carrot, winter squash, summer squash, green beans)
1 cup sliced red bell pepper
Sea salt and black pepper
1/2 cup Thai basil or Genoese basil
SOY-FREE OPTION: Substitute coconut aminos and 1/8 teaspoon sea salt for the tamari.
QUINOA: Heat the quinoa, broth, garlic and salt in a small saucepan. Cover, bring to boil over high heat, reduce to medium-low heat, cover and cook for 15 minutes. Remove from heat and set aside for 10 minutes. Fluff with fork and add peas before serving.
CURRY: Heat 1/4 cup coconut milk in a large pot over medium heat. Add the curry paste and cook until the milk reduces a bit, about 1 minute. Add another 1/4 cup of the milk and the peanut butter and cook for another minute. Add the remaining milk, the lime leaves, tamari, and 1/4 cup of water. Add the tough vegetables (carrot, winter squash) and cook for 4 minutes. Add the soft vegetables (summer squash, green beans) and simmer over medium until the vegetables are tender. Add the bell pepper and cook until crisp tender, about 1 minute. Add more water if the curry is too dry. Season with salt and pepper. To serve, divide the curry and quinoa among 4 bowls. Garnish with the basil.