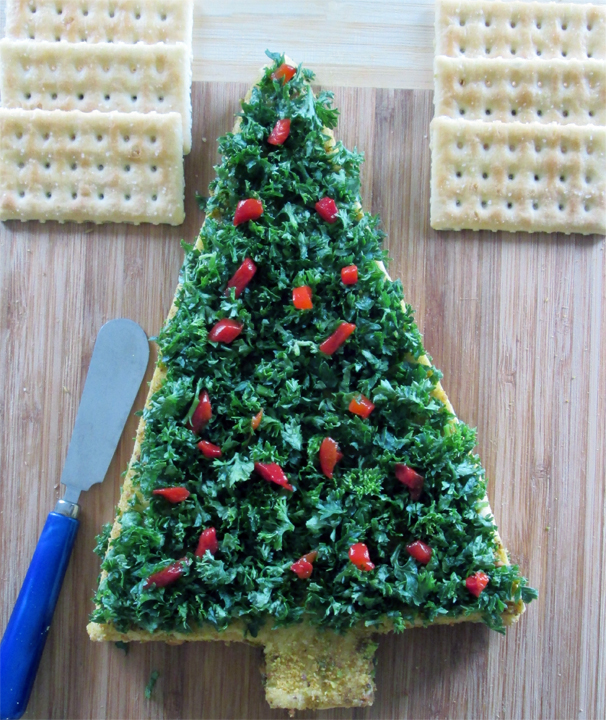 Thanks to the proliferation of plant-based cheese wheels, balls, and logs in recent years, vegans can now enjoy something other than hummus or salsa at holiday parties.  Whether you buy some of the fabulous vegan cheese now available from companies such as Miyoko's Creamery or Kite Hill or make your own using one of the many recipes available in cookbooks or online, a gorgeous vegan cheese board is no longer just a dream. Oh, Christmas Cheese!
There are a number of ways that you an arrive at the creamy texture and umami flavor you want, including kappa carrageenan, agar powder, rejuvelac, and others.  For my own part, I prefer to use the easiest and quickest method which relies solely on coconut oil combined with cashews to provide the firm yet creamy texture.  The flavor comes from the usual suspects found in many vegan cheeses: nutritional yeast, miso paste, lemon juice … plus I like to add a splash of wine or beer.
Over the years, my go-to cheese log has been made by simply adding some melted coconut oil to my favorite mac and cheese sauce base and then chilling it and then shaping it into a cheddary log encrusted in crushed pretzels or walnuts.  Today's recipe, however, is even more basic, using fewer ingredients for a milder flavor.  Best of all, it's shaped like a Christmas tree, just in time for the holidays.
Shown are two ways to "decorate" your tree — coat it with minced parsley and festoon it with pimiento ornaments, or go with a more subdued yet still festive combo of crushed pistachios and dried cranberries (or pomegranate arils).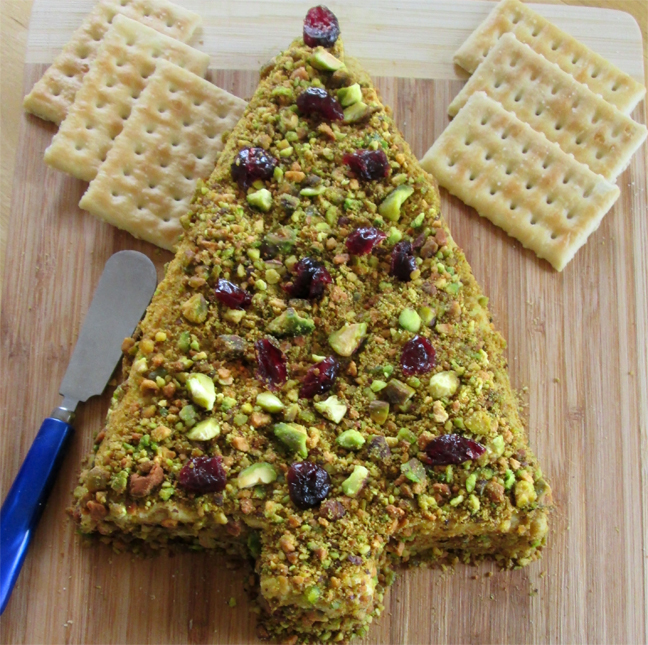 If you want to try your hand at some other vegan cheese recipes, there's a nice round-up here that features Somer McCowan's stellar sharp cheddar ball and Richa Hingle's glorious green goddess gouda.
And now here's my recipe for a Cheesy Christmas Tree!  Happy Holidays!!!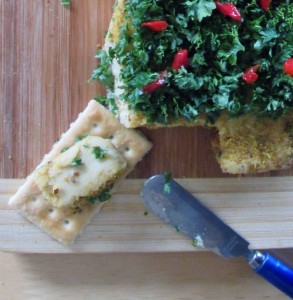 Cheesy Christmas Tree
1 1/3 heaping cups raw cashews, soaked 15 minutes in hot water, drained well
3 tablespoons nutritional yeast
4 tablespoons refined coconut oil, melted
2 tablespoon lemon juice
1 tablespoon dry white wine, beer, or rice vinegar
1 teaspoon light-colored miso paste
1/2 teaspoon onion powder (optional)
1/2 teaspoon salt
Your choice of: 1/3 cup crushed pistachios + 2 teaspoons dried cranberries (or pomegranate arils)
–or– 1/3 cup minced fresh parsley + 2 teaspoons chopped pimientos
In a food processor, combine everything except the pistachios + cranberries or parsley + pimientos. Process until smooth. Scrape down the sides as needed.
Place a sheet of parchment paper or plastic wrap on a small cutting board. Scoop the mixture into the center of the plastic wrap and top with a sheet of plastic wrap, then use your hands to shape the mixture into a triangle shape to make your tree. It should be about 1-inch thick. Top the cheesy mixture with another small cutting board (or other flat object) to be sure the "tree" is even. Refrigerate for 2 to 3 hours.
Remove from the fridge, remove the plastic wrap, and smooth the tree shape, using a knife to even up the sides and bottom. Shape a small amount of the cheese mixture that you trimmed from the tree into a small piece of trunk and attach it at the bottom of the tree.
Press the crusted pistachios or minced parsley evenly into the cheesy tree, on the top and on the sides, then place cranberries or pimiento pieces on the "tree" to represent holiday ornaments. Use a thin wide metal spatula to transfer to a plate or cheese board and chill until ready to serve.
Recipe by Robin Robertson (c) 2015.