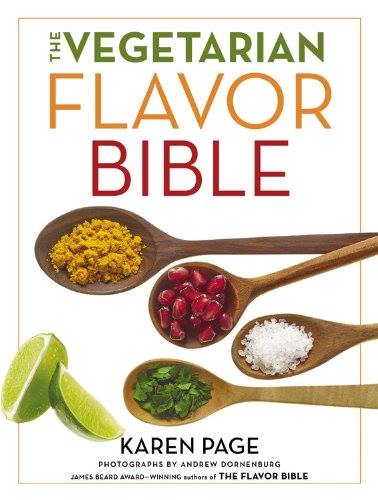 Because my day job is writing cookbooks, you'd think I'd want to relax by reading something non-food related, right?  Wrong!  My nightstand usually holds a stack of food magazines and cookbooks, that I read like novels.
The latest page-turner I've been enjoying is The Vegetarian Flavor Bible, a labor of love written by Karen Page with gorgeous photos by Andrew Dornenburg.  Since I was already an avid fan of The Flavor Bible, I knew I'd love this new book dedicated to all flavors vegetarian!  Like its predecessor, The Vegetarian Flavor Bible is not a cookbook — it's all about FLAVOR — specifically flavor pairings of virtually every vegetarian ingredient under the sun.  (note: dairy products are also in this book.)
If you're a "foodie" person, you'll love The Vegetarian Flavor Bible.  It's an indispensable resource for chefs, food writers, and cookbook authors, but even if you just like to cook, and want a better understanding of flavor dynamics — what combines well and why — you'll find the information in this book extremely interesting and helpful.
In other news:
There's been a lot of great buzz for my newest book, Vegan Without Borders.
Here are some highlights:
Named one of the best vegan cookbooks of 2014 on Vegan.com
Great reviews on GoodReads
Reviews, recipes, and more in a variety of print newspapers
Featured on lots of great food blogs including:
Hungry Vegan (there's a cookbook giveaway going on there now!)
…. and lots more.
In other, other news…..
I had the pleasure of attending a multi-course dinner event at Eatonville in DC last week to celebrate The Lusty Vegan by Ayinde Howell and Zoe Eisenberg.  The recipes were from the book and the meal was out of this world.  The place was packed!
The night before, however, was even better.  Ayinde cooked a fantastic meal for us at a friend's home including his insanely delicious crab cakes made with hearts of palm: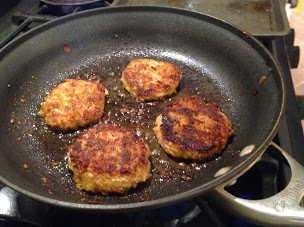 He also made his Devil's Pot Pie (with a hint of habanero), roasted winter vegetables, and a refreshing kale salad.  (I brought the appetizer and dessert!)  Here's a pic of Ayinde in action: